Silvia Laplana: "I had a difficult childhood in school because of my last name" | TV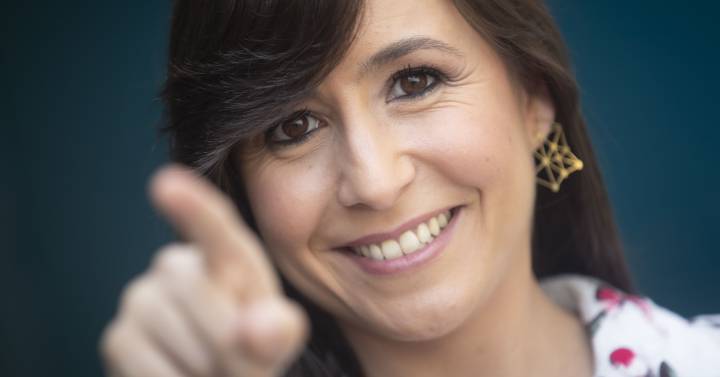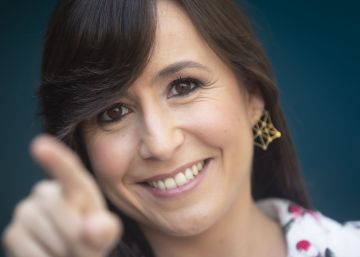 Last week, a tweet with a photo of a red-colored map of Spain and the following text: "Hell is coming", was the hanger from which they posted their information about the imminent heat wave in Europe as influential newspapers as The Guardian Y The Washintong Post. The fact is that hell came, the streets of the continent burned in the sun and the month of June was the hottest since records are kept. The tweeter, the woman who sings to us the day that awaits us while politicians and politicians discuss pacts and compromises in the debate table of The TVE breakfasts, It is not outrageous, but neither optimistic. More hells and more red maps will come. Better to know.
Mrs. Laplana, did you suffer a lot at school with that last name?
LOL. Yes, very much, really. In addition, it took me a long time to develop, until I was 16 years old I had no chest and it was raining puyas. I had a bad time. But now the first one that laughs with my last name is me, besides, it's different and that way it is not forgotten.
Even her boss, Mónica López, recently exploded on Twitter because of criticism of her body. To her, I say.

Is that there is still a lot of machismo in the stereotype of girl of the time. Machismo, in general, is disgusting and in our case too. It seems that we always have to go cute, divine, tight. No, sorry, I'm here because of my knowledge and my ability to communicate. I'm not a model, I'm a meteorologist.
How did he stay when he saw his tweet in 'The Guardian'?
Checkered I took a surprise of the ciborium, but I liked that it served to make people aware of what awaited us. My colleague Albert Barniol said the other day that people are not aware that heat can die. If you predict waterspouts, or hurricanes, people become aware and prepare. But if you say it's hot, people say how nice, warm, beach, pool.
In fact, there were those who called her an alarmist. That was not so bad.
Although she was born in Vilanova i la Geltrú (Barcelona) 35 years ago, Silvia Laplana feels of Monzón, Huesca, where her family is and where, as a child, she began to glimpse her future in the clouds and storms. For six years he 'sings' the time in Spanish Television.
There were skeptics who said "this is simple summer heat", but no, this is not summer heat. It's a very beastly heat. Historical records have been broken. This can even change the parameters, raise the threshold to determine what a heat wave is. Climate change is irrefutable, we are living it, temperatures are extreme and there is no option to doubt.
When I was a child, was I in the clouds?
As a child I wanted to see tornadoes, to know why it was raining, why it was windy. I studied optics by father's imperative. Parents want the best for you, and sometimes they are wrong. So I worked in an optics, all great, yes, but I saved, and I did a Masters in Meteorology in the Faculty of Physics. I'm Catalan-Aragonese. Nobody wins me by determination.
What do you talk about with the politicians who go to 'Los Desayunos'?
Of the time, hahaha.
Being 'time girl', you will never run out of conversation.
Well do not believe, sometimes I do Swedish. Especially with friends, who ask me if it's going to rain at the wedding they go to or if they can hang clothes or if they wear a cardigan. Trust is disgusting.
Do you feel the breath of the hoteliers in the back of your neck to avoid mistakes in the forecast on bridges and vacations?
You feel social responsibility, yes. You know that what you say depends on many reservations. That's why we are not alarmists. We say what is going to happen, without exaggerating. What happens is that sometimes you want to know the time minute by minute and kilometer by kilometer and that, although it will be achieved, is impossible at the moment.
And the forecasts to 14 days?
That does not work at all. It's as if I took out a crystal ball. Think that the atmosphere is chaotic. You can not go so far in time because a small change takes everything apart.
On vacations disconnects?
I try, but do not believe. A couple of years ago I traveled by car in the United States and I saw the beginning of a tornado, some brutal storms, there is everything to the beast, and I enjoyed it very much. It can be said that I am a friqui of time.
Your audience is huge. Why are we so fascinated by time?
Because it conditions us to the state of mind. We depend on him even to get dressed in the morning. That's why there are so many sayings related to time. It never rains to everyone's taste.
Do you recommend installing air conditioning right now or this is four days?
Put it now. Heat waves are going to be increasingly frequent, extreme and extensive. I feel sorry for those who can not, because energy poverty will no longer be due to cold. Summers will be harder and we will have a hard time.
What is the ideal temperature for a meteorologist?
For me, 25 degrees, neither cold nor hot. I'm just as hot as I am. I do not manage the ends well.
(tagsToTranslate) silvia laplana I had (t) childhood (t) difficult (t) cole (t) surname (t) meteorologist (t) tomorrow (t) tve (t) quote (t) the guardian (t) tuit (t) ) the (t) hell (t) i (t) coming (t) announcing (t) wave (t) heat (t) reinvindicating (t) humor (t) considering (t) friqui (t) time



Source link