Silver for Jesús Gómez and bronze for Fontes in the 1,500 of the European indoor track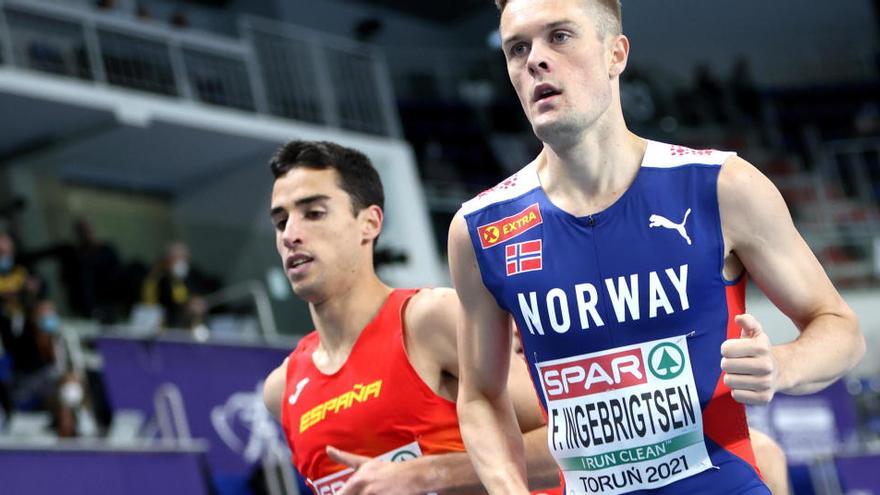 Norwegian Jakob Ingebrigtsen, who had won the 1,500 European indoor final in Torun (Poland), has been disqualified for step outside the street, allowing the Polish Marcin lewandowski revalidate his title in front of two Spaniards: Jesus Gomezsilver e Ignacio Fontes, bronze
Gómez, Spanish champion of 1,500 meters on the indoor track, climbed a step on the European podium (he was third in Glasgow 2019) and Fontes joins the medal table.
Ingebrigtsen, top seed, had beaten the defending champion with a 3: 37.56 mark, the Polish Marcin Lewandowski (3: 38.06) and Gómez (3: 38.47), who preceded Fontes (3: 39.66), but on Thursdays they disqualified him.
On the 14th anniversary of the historic Spanish triplet that Juan Carlos Higuero, Sergio Gallardo and Arturo Casado obtained in Birmingham, Gómez and Fontes have not missed the appointment with the podium in a discipline that has given Spain, with these, 25 medals – eight gold – in European indoor championships (22 in the men's category).
With the statistics in hand, the fight for the gold medal was reduced to a duel between Lewandowski, three times world champion and 33 years old European, and Jakob Ingebrigtsen, thirteen younger, who had just broken the continental record with a galactic mark of 3: 31.80.
"I'm in great shape and Marcin is getting older, almost twice my age," Jakob, 19, boasted after Thursday's series. The Norwegian had sworn it to the triple Polish champion, 33, who in Glasgow 2019 had prevented him from achieving the double by defeating him in the 1,500.
There was no room for calculation. Lewandowski, who also turns at Torun, took the lead in the first few meters but Already in the second round Ingebrigtsen made a sharp change and only the Pole followed in his wake, while from behind Gómez reduced the distance little by little.
Jakob passed the thousand in 2: 26.72, taking Lewandowski with the hook, who could not reduce those meters that the Norwegian had taken and in the final stretch he threw in the towel: looking back in case the Spanish champion demanded a plus, he conformed with the silver medal.
Fontes, the 2019 European Under-23 champion, was the best of the group, progressing to fourth place in the sprint. On Thursday he had already earned a space in the statistics of the Europeans in the room by crediting the best mark ever achieved in a first round (3: 38.68).