Silbon: the clothing store that was born in grandma's house | Economy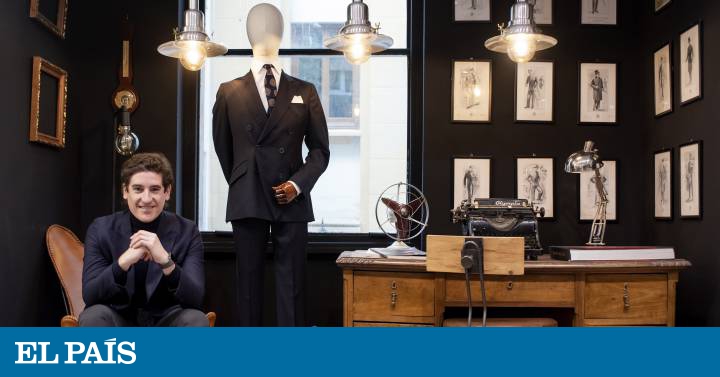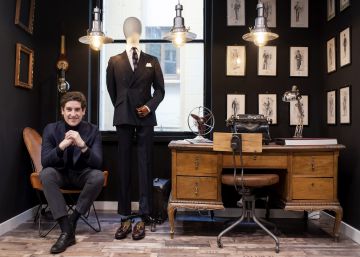 Just 10 years ago, Pablo López (Córdoba, 1980) was engaged in dressing an old apartment in the center of Córdoba, owned by his grandmother, to be able to host the 30 Americans he had commissioned together with his partner, Rafael Diaz, to a manufacturer from the neighboring city of Granada. That's how he started Silbon, a business dream then uncertain rooted in the family inheritance left by his tailor grandfather. With 3,000 euros of initial investment and no experience in the sector, "the beginnings were an odyssey," recalls the CEO origins of this men's fashion firm born in Córdoba in 2010 that celebrates its first decade.
"Our strategy was to try to seem more than we were. We arranged the living room of my grandmother's house and what might seem like some amateurs — we sold jackets in a private flat—, we turned it into a showroom private by appointment that seemed much more exclusive, "Lopez recalls.
Today Silbon, faces its tenth anniversary with an Ebitda growth of 100% compared to 2018, and a net turnover exceeding 10 million euros, 40% more than the previous year. "With an Ebitda of 700,000 euros, the balance is very positive, we are in a flat growth sector, so this data gives us a lot of confidence and encourages us to continue growing, highly supported by digital sales," López acknowledges. "We always had the clear idea of ​​doing something big," so the first major expense that this auditor faced, which began his professional career in firms such as Deloitte and the Sánchez Ramade and Montealto groups, was the opening of his first physical store in Córdoba in 2010 and the online store in 2011. Aware that multichannel is one of the fundamental pillars of the entity, López says they always bet "very strongly for the digital business. " "In 10 years the panorama has changed completely, but in 2011 the online sales in fashion had not yet exploded. We opened almost at the same time as Inditex and today we have nothing to envy," says the CEO.
Silbon last year invoiced 2.1 million euros through the Internet, which accounted for 28% of the total turnover of the company – "one in four garments is sold through the Network -", says López. Current billing growth in this channel is 72%. However, this line of business is parallel to the geographic expansion with the opening of physical stores: "We have verified that 80% of Internet sales are produced in provinces where we have face-to-face stores. It is a reinforcement that offers confidence to the customer, "he explains.
With a workforce around one hundred people and presence in 16 Spanish cities and seven corners from The English Court, Silbon made the international leap in 2018 with a store in Paris – from where it could be opened to the French online market -, while by 2020 it plans to open five new outlets in the southern and central parts of Spain; as well as continuing with the internationalization of the brand by raising the blind for the first time in Portugal. With the exception of two franchises in Tenerife and Seville, the rest of Silbon stores are their own. Similarly, it expects to grow in the digital market with the entry on the website of El Corte Inglés next February, and on Amazon.
The first point of sale outlet of the firm, which will be located in Córdoba, where Silbon's mother store is located, and the start of new business lines in home and sportswear (in 2019 they started with a cycling collection and in 2020 another one focused on running) complete a 2020 in which Pablo López hopes to have a growth of around 35%. "It is an important challenge, but we will do it in a moderate and thorough way," he says.
The level of technology and positioning of the brand in Google, associated with the preppy concept of the firm – "classic clothing updated to the trends of the moment," says López – are the keys on which the philosophy of Silbon pivots, born attracting a mature client – young professionals between 27 and 35 years old – and who has now expanded its range to all sectors. "Our fetish garment was always the American one, but now we have diversified and started to bet on sweatshirts, t-shirts and a more sporty style. The way of dressing has also changed in these 10 years and, although we started at the beginning working on our personal tastes , the client is sovereign and we have been updating based on demand, "explains the manager, for whom his maxim is still" the production of proximity and the commitment to quality. " "Silbon is already a brand image that people have believed and we cannot lose sight of," he says.
Controlled of marketing
The company manufactures 40% in Spain and the rest in Portugal (30%) and Asia (another 30%). Their challenge is to maintain quality "at reasonable prices", which allows them to ensure "the Silbon style", which, according to Pablo López, is associated by the public with elegance.
Silbon, who is also responsible for dressing the football teams of Real Sociedad and Real Valladolid off the field, now celebrates its first decade in the men's fashion sector and ensures that it does so with a clear commitment to social responsibility corporate In this sense, it is developing initiatives of a solidarity nature, "showing the human side of business activity," says López. The last one takes place together with the Vicente Ferrer Foundation in India, where Silbon will build a village for a total of 24 mothers and their families. It will also have an educational center and all the necessary conditions for the development of a decent life.