Siam Park is crowned best water park in Europe for the eleventh consecutive time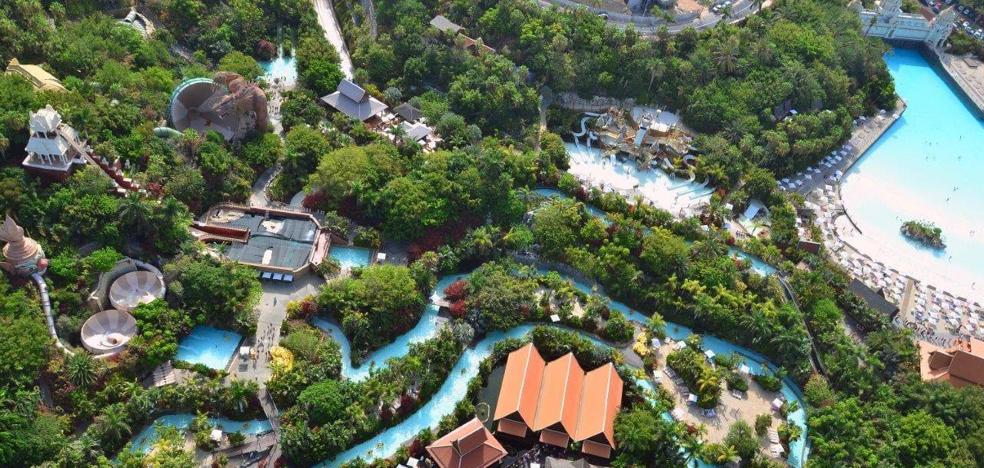 The distinction has been granted by the leading and reference publication in the evaluation of theme parks 'Kirmes & Park Revue'
Siam Park has won the European Star Award for the eleventh time, which has distinguished the
Tenerife water park as the best in Europe. To this award, given by the publication
leader and reference In the evaluation of theme parks Kirmes & Park Revue, the recognition of «Singha» as the best attraction on the European continent is also added.
This edition keeps Siam Park as
absolute champion of the European Star Awardan award that the Canarian water park has received in all editions of the award.
Also, one of the
star attractions of Siam Park, the spectacular
"singha",also won the award for
best attraction in Europereinforcing its leadership as a pioneering facility with an innovative water propulsion design.
Image of the attraction 'The Giant' in Siam Park. /

C7

These
awards further catapult the presence of Siam Park in national and international tourism. In 2022, it has also been awarded as the
best theme park in the world by tripadvisorr,the most important travel portal worldwide, with the
Traveler's Choice Award, one of the most important awards in the industry.
To select the winners of this award, the jury, made up of a
equipment Independent of experts, has distinguished those parks that have stood out, exceptionally, for their achievements in matters such as innovation or entrepreneurship. In this sense, Siam Park has the most
high quality and safety standards for both visitors and your staff.
This fact puts the
finishing touch to a very fruitful summer for the park, which has obtained record numbers of visitors throughout this season. After the pandemic, Siam Park has resumed its activity with a
resounding success. In addition, this achievement coincides with the celebration of the 14th anniversary of him.
About Siam Park

Loro Parque Group it's a
business group which includes Loro Parque Animal Embassy,
Loro Parque Foundationthe aquarium
Sea Poemthe acuatic Park
Siam Parkthe restaurant
Brunelli's and the
Hotel Botanico & Oriental Spa Garden.
Founded in 2008, Siam Park has become a
safe bet for fun for lovers of strong emotions thanks to its incredible attractions. In addition, it offers
relaxing spaces such as Siam Beach, the most paradisiacal artificial beach in the Canary Islands, where you can enjoy the many hours of sunshine thanks to the privileged climate of Tenerife.
All this while keeping a
firm commitment to the environmentthe application of the CO2=0 formula and its innovative water management system have led Siam Park to receive the Biosphere Park certificate from the UNESCO Responsible Tourism Institute (ITR), among other recognitions in environmental matters.