Shopping basket in the Canary Islands, between 30 and 50% more expensive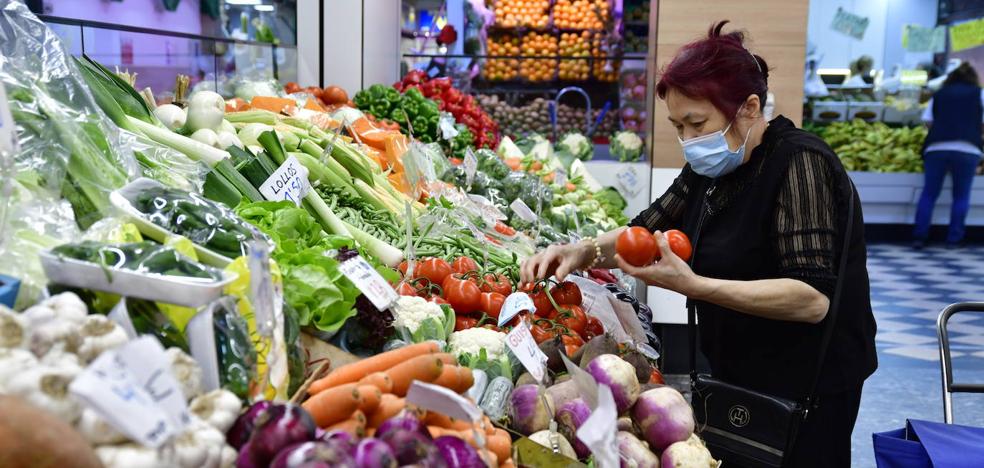 "Prices go up, but wages don't". This is one of the most repeated phrases on any given shopping morning at the Central Market of Las Palmas de Gran Canaria. A general increase that affects practically all food products -fruit, vegetables, meat, fish, legumes, dairy products...- and that shopkeepers also notice and suffer its impact.
The food price observatory of the Organization of Consumers and Users (OCU)
this figure rises by 9.4% from the beginning of the year until the month of April. It is directly related to the
energy crisis -from oil-, which has led to
financial problems forcarriers and so on chain.
In this regard, it indicates that the increase has not occurred gradually over time, since costs shot up 4.3%, only, from March 8 to the end of that same month.
The National Institute of Statistics (INE), for its part, collects in the Consumer Price Index (CPI) for the month of May -the last one published- the
11.0% increase in the price of food and non-alcoholic beverages, which is nine tenths more than the previous month. This is, according to the INE, the highest rate recorded since the beginning of this series, which dates back to January 1994.
Food products and non-alcoholic beverages rose 11.0% in May, according to the INE. /

arcadio suarez

According to the CPI for May, the products that have become more expensive are
cereals, bread, milk, cheese, eggs and meatcompared to 2021. On the contrary, the cost of legumes and vegetables has decreased, although they are still more expensive than last year.
The OCU notes that this rise in the price of the shopping basket will weigh down, as expected, the pockets of families. Specifically, an average household will be able to spend up to
500 euros per year more, when it comes to stocking your pantries and fridges. But, how is this reality lived in the Canary Islands?
Canarian consumers and shopkeepers speak

Josefina González, retired and client of the Central Market of Las Palmas de Gran Canaria, confesses that "everything has gone up a lot." She has noticed it, especially in oils, eggs, fish, vegetables and fruit. «Now I spend, in the shopping basket,
between 25% and 30% more than before. That is, if before she spent 50 euros, now about 75 or 80 », she reveals.
He assures that he has not deprived himself of certain products, although he does look more at prices; It is playing with the quality price. Another pattern that is repeated among the clientele of the Central Market is that they do not stop buying, but they do so in smaller quantities, Josefina sums it up this way:
"Now I take half as much cheese as I used to take".
Antonio Armas, behind the counter of the fruit and vegetable stand of the same name, also defends this position: «Customers have not stopped buying, what happens is that if before they took a melon every 15 days, now they take it every 30 because the situation is not so buoyant with the rise in electricity, gas...».
Armas calculates that the shopping basket has become more expensive
around 30% -He coincides again with Josefina González-. Regarding the products that he sells, he points out that the fruits that come from the peninsula have risen more, such as oranges, apples or melons. However, this increase is also noticeable in local products, such as avocado (at 6.98 euros per kilo at his stand, but around 9 euros in other establishments) and tomatoes, which are between 2 and 3 euros a kilo. "Imagine how expensive it can be to make a sauce," he adds. In fact, if two kilos of the product are required to prepare a natural tomato sauce for six people, it would cost between
4 and 6 euros.
María del Mar Serra Soberats, an architect by profession, says that at home they are a couple with a 'little one' and that they have noticed a general increase in the shopping basket. «Before we used to spend more or less 250 euros a month and
now we are spending up to 300 euros and a little more», he asserts. The rise in food prices has not led this family to change their diet "directly", although "it is true that we are now cooking with less protein, with less meat and fish and with more fruit and vegetables", which is a bet, Also, for a healthier diet.
«Before we used to spend more or less 250 euros a month and now up to 300 and a little more»

Maria del Mar Serra
architect
How is the price of meat?

One of the cheapest foods par excellence on the market is chicken, whose price, however, has also increased. Ana Cardona, from Pollería Ana, says that the price of chicken has risen, from March to now, at least seven times.
«Before it was 3.48 euros and now it goes for 5.50». In his case, it is also repeated that customers continue to buy, but in smaller quantities. "Whoever bought a kilo, he now takes half a breast," he specifies.
The truth is that products are not only more expensive for consumers, but also for sellers. This is how Patricia Santana, from the Lorenzo Santana Butchery, relates it: "The cost, week by week, practically in the last four months, has been an increase", especially notable in the yearling, that is, red meat. This has become more expensive about "two euros gross", something that has been reflected in the final price, the one paid by the consumer. Santana assures that they have done everything possible so that this increase does not reach the public, but
the situation was becoming "untenable".
The worker details the increase in the price of different meat products in the following list:
rises in the meat
The pig's foot, a month ago, was at 3.95 euros and now it is at 4.50, as are the knuckles

Bacon has gone from 4.95 euros to 5.95

Chops have risen between 50 cents and one euro depending on the type

The sirloin at the beginning of the year was 29.95 euros per kilo, now it is 40 euros

The yearling chop used to cost 10.95 euros, now it is worth 14.95

The entrecote has gone from 14.95 euros to 16.95
"Where the increase is most reflected is in red meat," clarifies Santana.
On the other hand, note that, for business,
the rise in light has been "much more" unfavorable than the rise in price of the products. "For us it is of first necessity," he emphasizes, since they require it to be able to keep the food they offer in good condition.
On the impact of this chain of increases in business, he clarifies: "The benefits are lower, although thank God it is enough to cover expenses and collect each one's salary, but for little else."
Patricia Santana, from the Lorenzo Santana Butcher Shop. /

arcadio suarez

What about fish, legumes and dairy products?

The price of fish has not risen as much, at least at Nasamar Pescadería. One of his employees, Lorenzo Artiles, also known as 'El Sargo', says that the price of the seafood they offer remains quite stable, as well as that
What has risen the most is the cephalopod -octopus and squid-. The octopus, specifically, has gone from about 13.95 euros to about 15.95, 16.95 or 18.95, depending on its size.
Esther Gordillo, from Gordillo Especialidades, in addition to being a shopkeeper, is the mother of two small children and assures that she now spends up to twice as much on the shopping basket. She notices it, especially in
dairy and cereals.
At his stall he sells, among other things, vegetables and cheese, both of which have risen
two and three euros. A kilo of lentils and chickpeas, for example, now costs 5.40 and 6.90 euros, respectively, while faragesto artisan cured cheese, one of the favourites, costs 24.30 euros. Your business has been particularly affected by the
transport crisiswhich causes the prices of the products to increase, even from one day to the next.
Lorenzo Artiles, 'El Sargo', an employee of Nasamar Pescadería. /

arcadio suarez

The shopkeepers regret not having the solution to stop this increase in prices, although they agree that measures must be taken to relieve the pockets of citizens, who are with a noose around their necks, given the various rises in different areas, such as the light, fuel or food.
«
What has been seen is that everything that goes up does not come down. I don't know what the solution is, but measures should be taken, people should take to the streets or do something, because it's getting a little complicated, "concludes Ana Cardona.