Sheep wool hats and ecological silver jewelry at Fedac Gran Canaria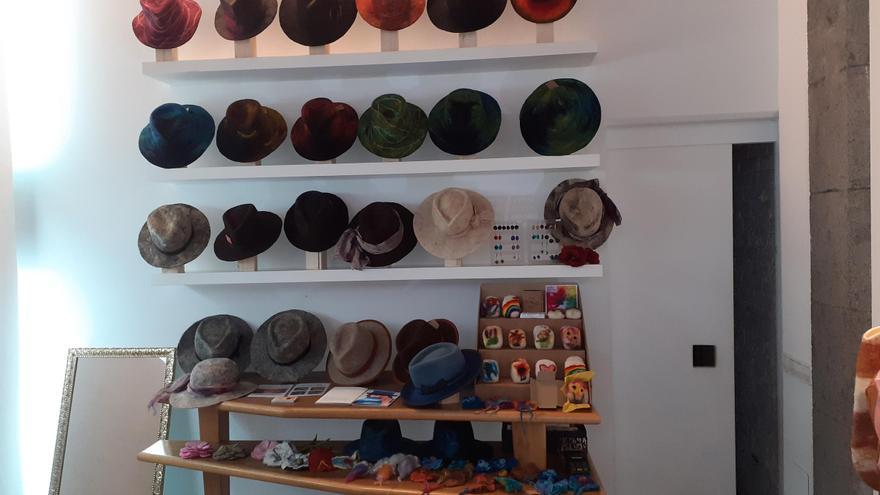 The Canarian sheep wool hats by Lesley Bohncke, the multifunctional and reversible shoulder covers and hat by the dressmaker Arantxa Arenas, the ecological silver jewelery with semi-precious stones such as quartz or aquamarine by Paola Duque, will be exhibited in the Sala de la Fedac del Cabildo from Gran Canaria until next October 30.
There will also be ceramic and stoneware creations inspired by the nature and mythology of Liuba Nosova and natural soaps with virgin olive oil from Santa Lucía de Tirajana by Belinda Caldera, reports the Cabildo de Gran Canaria in a statement.
Lesley Bohncke's trade is felt, which consists of making a textile from loose strands of sheep's wool, which when added with soap and water and rubbing, intertwine and give rise to a seamless fabric.
Using this technique, the artisan makes hats for men with sheep wool from the island, a way to take advantage of the wool that is produced, and for women, which she later decorates with a silk scarf.
It also exhibits some hats made with merino sheep fleece from America, Australia or New Zealand and also wraps soaps with sheep's wool, which acts as a sponge and is exfoliating.
For its part, the dressmaker Arantxa Arenas, which is characterized by creating multifunctional and reversible garments, exhibits shoulder covers inspired by the typical scarves but in this case made of cotton and with a small hole in the back that makes it turn into a poncho.
In addition, the artisan also presents the hat from her new collection, also one hundred percent cotton, with four different positions and which she developed when she was in Germany to protect herself, since with a single piece she could cover different needs.