Sex and love go hand in hand on the set of 'Are you coming or am I going?' on the island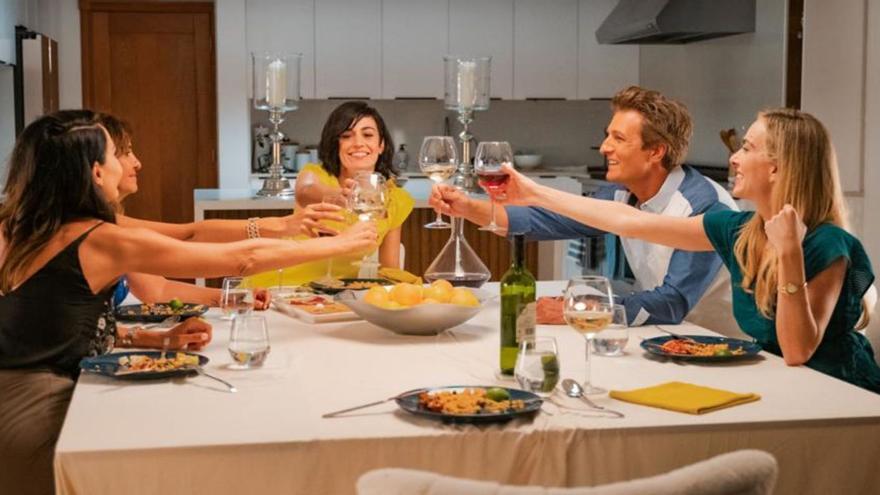 In the month of March it is planned to start in The Gran Canarian palms the shooting of the feature film You come or I go?, a comedy written by and starring Davi Vega from Gran Canaria that began recording in 2021 in the Dominican Republic, one of the places of residence of the Gran Canarian journalist and sexologist who has been living between Santo Domingo and Miami (USA) since 2010. The cast of the film is made up of, in addition to Vega, who is also the film's executive producer, Kira Miró, Jesús Olmedo, Melani Olivares, Jorge Perugorría, Pastora Vega and Jorge Sanz.
Set in present-day Spain, Are you coming or are you going? is a romantic comedy that portrays the sentimental and sexual experiences of four friends; three women and a man (Diana, María, Loles and Ramón) and the close friendship that unites them.
The central character, Diana Vega, is a sexologist who deals with sexual and relationship problems. All the characters go through his consultation. She reflects the model of today's independent, hard-working woman with an active sex life.
Kira Miró, Melani Olivares, Jesús Olmedo and Pastora Vega complete the cast of the 'long'
Diana has several constant lovers, whom she loves, and each one complements some of her emotional needs. Esteban is stability (crazy about lingerie), Simón is passion (exhibitionism excites him) and Juan is the fun of youth (heels lover). But she begins to want changes in her life when she turns forty and the call of motherhood becomes more acute when she becomes pregnant by surprise. Now the puzzle will be to know which of them is the future father. Imbrollo, where his friends and Giorgio (his personal assistant) will have to help clarify.
With those wickers the director of Come or I go?, Jaime Bottle, to raise this story. «When we face a project, the first thing we see are its possibilities for it to advance and to connect with the public. You come or I go? It is a film that meets these requirements: eroticism, family values, unconditional friendship, current motherhood, allowing you to restart at any age when you don't know what the hell you want, even the search for love, for love of ourselves... But above all all there is one that seems to me particularly attractive: comedy, "he explains.
From that premise or starting point it is easier or more difficult, but surely more attractive, to tell a story. «Comedy allows us to see from a perspective a reality that can be harsh or even boring, but it gives us a lightness to meet and empathize with its protagonists. And I think this is the case about the universe of sex, of relationships... Something on the other hand that is tremendously current, seeing how today the universe of our way of relating has changed", says Botella, recognized for his work behind of the camera in series such as Tierra de Lobos, Doctor Mateo, Six Sisters... and Dangerous Moms.
"Starting to write a story is not usually easy," says Davi Vega. «But in the case of Are you coming or am I going? instead of missing words, I have missed pages; since, as I developed more and more characters, it was impossible for me not to fall in love with each one of them. Comedy," he says, "is a dramatic genre that is just opposite to tragedy and therefore almost always related to stories with a happy ending. Writing a choral comedy where all the characters are important in the plot triggers many endings that can be happy for them even if they are not fairytales", assures this professional who, in addition to being a journalist, is a "sexologist and pianist", they explain from the production.
The film is directed by Jamie Botella and Paco Sánchez Polo is in charge of photography.
This project by DVega Films Production and Lune Films Productions, according to the press kit, chooses to film in Gran Canaria, among other reasons, "because of its infinite sunsets, starry nights" and the volcanic origin of "an island with a lot of charm" , a description that is accompanied by images of the Santa Ana cathedral, the Literary Cabinet and a view of a sunset at La Cícer, on Las Canteras beach, all natural settings in Las Palmas de Gran Canaria.
About the Dominican Republic, the other scene of Come or go?, They emphasize that it is "a miniature continent" of beautiful colonial architecture, in addition to its majestic "very diverse" landscapes.
You come or I go? It is a film that involves values ​​such as solidarity or respect for differences and, the project team explains, it is aimed at an audience capable of creating opinion, having as a link dealing with the different sexual situations that can be suffered, living or enjoy at any age.