Seville: 'West Side Story' beats the record of spectators in the Maestranza | Culture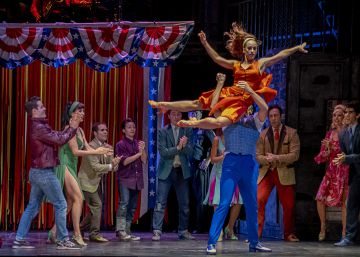 The eternal story of an impossible love continues to attract public attention five centuries after Shakespeare wrote Romeo and Juliet. That's why the musical West Side Story, the version of that history of hate and racial violence carried out in the twentieth century by Leonard Bernstein and Arthur Laurents, has broken the box office record of the Teatro de la Maestranza in Seville. The work, with stage direction and adaptation of the choreographies of Federico Barrios, it has sold 15,000 locations for its 14 functions, from Thursday 5 to December 14.
The assembly by SOM Produce – which has also produced the Spanish versions of Billy Elliot and Cabaret– It arrives on the Spanish stages in its full version, as it was premiered on Broadway in 1957 and has a team of 100 professionals, 32 of them actors and 14 musicians. West side story He has many other records to his credit, but among them stands out that it is the only work that has never ceased to be interpreted anywhere in the world since its creation.
Tony and Maria, the lovers separated by the rivalry between the Sharks, Puerto Ricans, and the Jets, of Anglo-Saxon descent, relive their impossible love story over and over again. Currently, Spieberg is working on the assembly of a new version of West side story whose premiere is scheduled for 2020.
The production that can be seen in Seville, with musical direction by Gaby Goldman, is the same one that has been on the bill at the Teatro Calderón in Madrid in the 2018-2019 season and that 250,000 spectators have seen. The work has been on tour in Spain since June and after the Sevillian stage it can be seen at the Tívoli Theater in Barcelona. The tour, which will continue until May 2020, will end at the Teatro Principal de Vitoria.