Sevilla takes over Elche and puts pressure on Real Madrid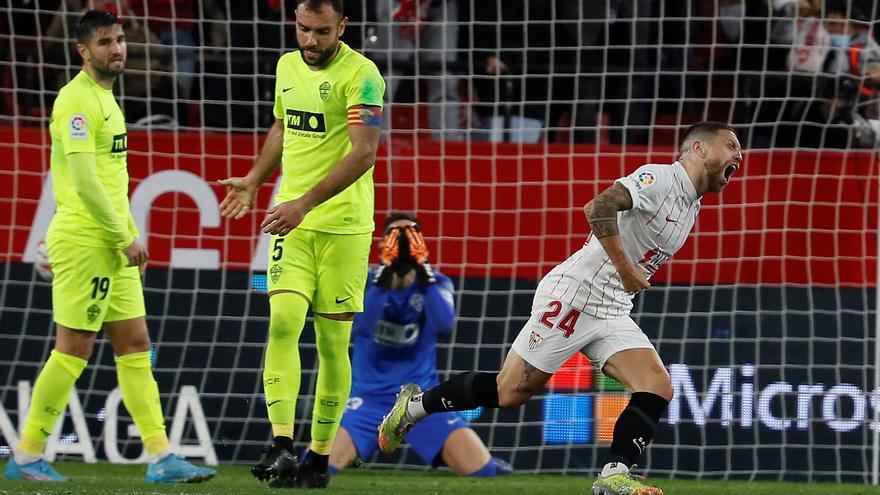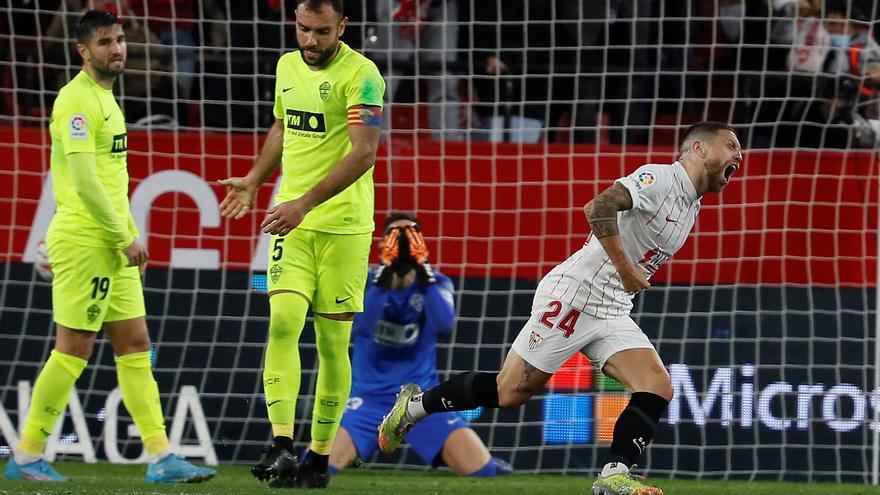 The SevilleAfter three consecutive draws in The leaguewon again and put pressure on the leader of the classification, the Real Madridfrom which he is provisionally three points after a 2-0 victory that was forged in the second half against Elchea rival who arrived on a roll and who showed his good disposition at the Sánchez-Pizjuán, although he did not know how to react when he conceded.
The locals already in the first part had more options than the visitorsbut it was in the second, in which he put one more gear, when he scored goals through the mediation of the Argentine Alejandro 'Papu' Gómez and Rafa Mir, both very close together (minutes 70 and 75), to which the opponent had no response .
The Seville team, despite their privileged second position, came to the game with doubts generated by a streak of three draws but the defeat in the Cup against Betis, quite the opposite of the man from Elche, who with the presence of Francisco Rodríguez has moved away from the relegation places and is one of the most productive in this start of 2022.
The sevillista coach, Julen Lopeteguias usual for several months, waited until the end to see what he could count on and on this occasion, among others, the Argentine winger Lucas Ocampos was again absent and joined the already known casualties of the two right backs , Jesús Navas and the Argentine Gonzalo Montiel.
On the other hand, he has already brought back two midfielders who had been out for several weeks, such as the Brazilian Fernando Reges and the Danish Thomas Delaney, who waited for their opportunity against an Elche in which their line-up was the most common, although with the outstanding Last-minute absence due to injury to Argentine striker Lucas Boyé, who was replaced by his compatriot Guido Carrillo.
The locals came out with an eleven with many creative players, such as Papu Gómezthe Croatian Iván Rakitic, the Mexican Tecatito Corona or the Frenchman Anthony Martial, the latter in his debut at the Sánchez-Pizjuán after making his debut as a Sevilla player last week in Pamplona against Osasuna.
Despite this, the first attempt on goal was a shot by Guido Carrillo after six minutes but without too much danger, although Sevilla then responded with a good deep pass from Tecatito that Moroccan striker Youssef En-Nesyri failed to take advantage of.
Those moves between the lines was what Lopetegui's formation attempted against a well-guarded rival but who saw how his goalkeeper, Édgar Badía, had to make a great save on Rakitic in a lace that En-Nesyri again failed to culminate in the rebound .
Sevilla had the ball most of the timealthough a series of consecutive stoppages to serve footballers slowed down the rhythm that was beginning to have in search of opening the scoring, at the same time that Elche dared to climb towards the vicinity of Moroccan goalkeeper Yassine Bono.
The final stretch of the first period, in which the right back, the Colombian from Elche Helibelton Palacios had to be removed on a stretcher after receiving a ball to the facelasted up to six minutes due to these breaks, but only a shot from distance by Papu Gómez gave Sevilla options.
In the second half, Munir El Haddadi came out from the start for his compatriot En-Nesyri with the intention of giving his team other offensive solutions, and Sevilla soon scored in almost consecutive approaches, although Elche, now, also tried counterattacks in a game with more speed in which Édgar Badía returned to respond to Rakitic with another good save.
The sevillistas did not take advantage of this initial push and the Alicante formation wanted to find solutions to stop the rival's attacksalthough after seventy minutes Papu Gómez appeared again, who, with the involuntary collaboration of visiting defender Gonzalo Verdú, made it 1-0 and his fourth goal of the season in LaLiga.
Francisco made a triple substitution after conceding the goal but with a quarter of an hour to go before regulation time, Rafa Mir, who had also left shortly before, defined very well with his head to make it 2-0, his seventh lightweight and tenth in all competitions.
Data sheet:
2 - Seville: Bond; Koundé, Diego Carlos, Rekik, Acuna; Jordán (Delaney, m.60), Rakitic (Óliver Torres, m.93); Tecatito (Rafa Mir, m.60), Martial (Fernando, m.81), Papu Gómez; and En-Nesyri (Munir, d.46).
0 - Elche: Edgar Badia; Palacios (Barragán, m.39), Roco, Gonzalo Verdú, Mojica; Tete Morente (Kike, m.74), Mascarell, Gumbau (Josan, m.74), Fidel (Pastore, m.58); Pere Milla (Piatti, m.74) and Guido Carrillo.
Goals: 1-0, M.70: Papu Gomez. 2-0, M.75: Rafa Mir.
Referee: Miguel Ángel Ortiz Arias (Madrid Committee). He warned the visitors Verdú (m.35), Gumbau (m.36), Édgar (69), Pastore (m.80) and Roco (m.88) and the local Acuña (m.90).
Incidents: Match of the twenty-fourth day of LaLiga Santander played at the Ramón Sánchez-Pizjuán stadium before 33,411 spectators according to data provided by Sevilla. Sevilla players wore black armbands for the death of Lopetegui's brother-in-law on Thursday.