Sevilla recovers its best tone and stops Osasuna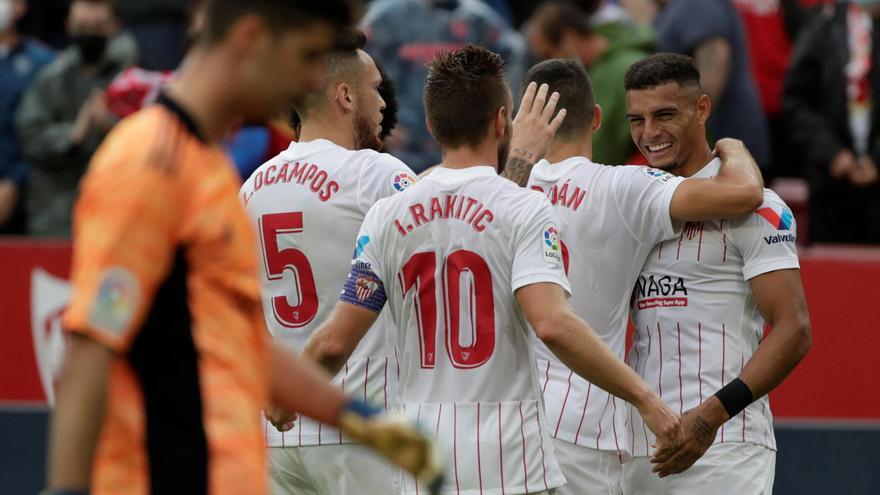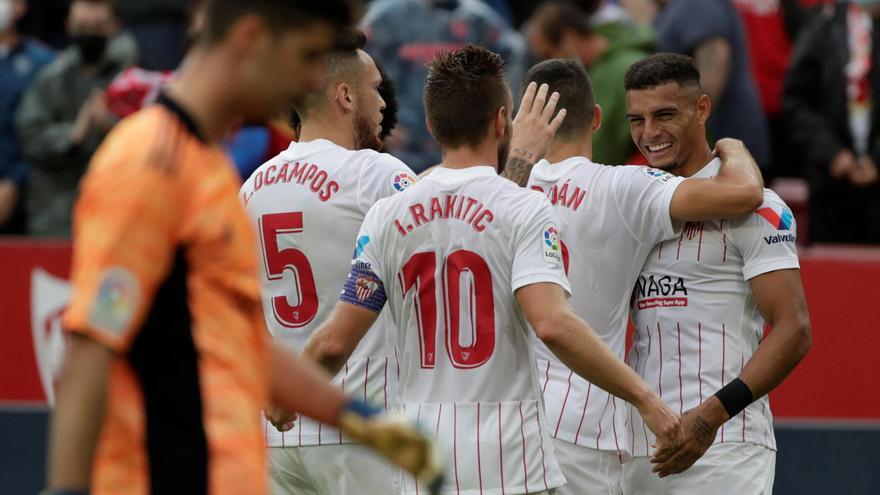 The Seville clearly won2-0) to Osasuna, which in the Ramón Sánchez-Pizjuán was not as fearsome as a visitor as it had been, and clings to the heights of the table by settling in third place and slowing down the Navarrese team, which, without verticality or offensive power, lost its condition from undefeated at home.
A goal from the Brazilianor Diego Carlos Santos, with an impeccable header from a corner kick at 40 minutes, and another from the Argentine Lucas OcamposAfter a defensive failure at the time of the game, they sealed a clear victory for the sevillistas, dominators and who did not go through any difficulties to secure a valuable victory.
In a duel of teams on a streak, two league victories and one draw for Sevilla, and three and two Osasuna, two teams with crossed paths were measured in Nervión: the second best local after Rayo, with 4 wins in a row; against the second best away from home after Real Madrid, backed by 4 wins and a draw away from El Sadar.
The Sevilla coach, Julen Lopetegui, presented five changes in the eleven compared to 1-1 in Mallorca, with the Argentines Gonzalo Montiel, Lamela and Ocampos, the Croatian Rakitic and the Danish Delaney, by Navas, Suso, Munir, Óliver Torres and the Brazilian Fernando. The one from Osasuna, Jagoba Arrasate, revolutionized it with eight novelties, with the youth goalkeeper Juan Pérez for the injured Sergio Herrera.
In the Navarrese team, only the center-backs Unai García and David García and the Argentine forward Chimy Ávila repeated as headlines., and returned to the left-handed side José Ángel Valdés 'Cote', after serving a suspension in the 0-0 of his team at the Bernabéu. And Osasuna started well in the Seville fiefdom, pressing very high to force errors on his rival.
Even so, It was Sevilla who clearly led the initiative in the face of the intensity and the forward pressure of the rojillos, which lacked depth to create more problems for the Andalusians.
Lopetegui's team, after warning with a shot outside Lamela, very heeled, at 9 minutes, intensified its dominance from the quarter of an hour, but did not finish clearly reaching the goal of the young Juan Pérez, while Oier Sanjurjo also tried it against the local goal by heading slightly deflected a corner.
Although the Pamplona people, well planted and brave, won almost all the rejections, they did not have much offensive presence, with Chimy Ávila very alone, against a Seville that did not shine, but controlled and monopolized the goal options as in a deflected header from Rafa Mir and, in the 36th, a header from Jordán to the post to the center of Rakitic.
The reward for his insistence came five minutes before the break, when a corner kick was thrown to perfection by Croatian Ivan Rakitic The Brazilian central defender Diego Carlos Santos headed him to goal, with an impeccable shot full of momentum and strength against which Juan Pérez could do nothing.
In the resumption, the 1-0 gave more tranquility to the premises against an Osasuna who tried, but without danger, unable to react. Sevilla, for their part, maintained their dominance, no longer haste or haste, and controlled well, commanding in midfield and with punctual attacks in search of increasing their income.
It gathered its fruit at the edge of the first hour, when Ocampos made his debut this season as a scorer by making it 2-0, with an empty goal, after a serious coordination failure between full-back Jesús Areso and goalkeeper Juan Pérez on a long ball, as neither of them cleared and left it to the Argentine to score from outside the area.
From there, Sevilla never lost control, nor with the carousel of changes introduced by Lopetegui, when Jesús Navas first entered through Montiel, with physical problems, and then Gudelj, Fernando and En-Nesyri, after overcoming his injury, by Jordán, Delaney and Rafa Mir. Arrasate also moved, but without any success.
The visitors, already with Moncayola and strikers Kike García and the Croatian Ante Budimir, who reappeared after his injury, on the field, wanted to stretch, although without much conviction. Then Ontiveros and Rober Ibáñez entered, also looking for more verticality, but to no avail.
The sevillistas slept the game intelligently, they made an effort not to loiter the danger in their area, which they achieved, and even Ocampos was able to score the third, but in a heads up he smashed the ball in the face of Juan Pérez at 7 from the end, while Ontiveros shot high in the final stretch and the final 2-0 did not change.
Data sheet:
2 - Seville: Bond; Montiel (Jesús Navas, m.58), Koundé, Diego Carlos, Acuña; Jordán (Gudelj, m.70), Delaney (Fernando, m.78), Rakitic; Lamela, Rafa Mir (En-Nesyri, m.78), Ocampos.
0 - Osasuna: Juan Pérez; Areso, Unai García, David García, Cote; Roberto Torres (Rober Ibáñez, m.79), Oier (Moncayola, m.69), Íñigo Pérez (Budimir, m.69), Darko Brasanac; Chimy Ávila (Kike García, m.69), Rubén García (Ontiveros, m.79).
Goals: 1-0, M.40: Diego Carlos. 2-0, M.59: Ocampos.
Referee: Carlos del Cerro Grande (C. Madrileño). He admonished the locals Jordán (m.61) and Bono (m.88), and the visitors Areso (m.54) and Budimir (m.70).
Incidents: Match of the twelfth day of LaLiga Santander played at the Ramón Sánchez-Pizjuán before 20,335 spectators.