Sevilla fulfills its role against a struggling Lucena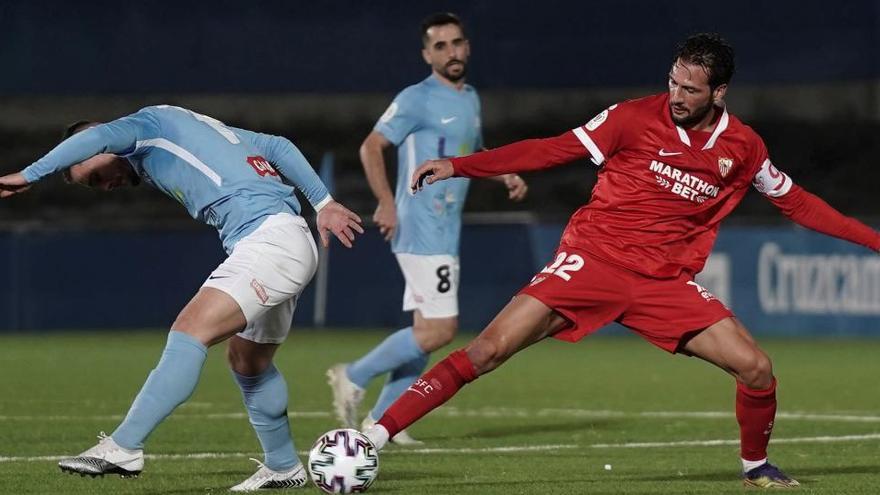 Sevilla fulfilled the planned script and eliminated Ciudad de Lucena with a resounding 0-3The result of the powerful start of the Sevillans against a spirited rival but who saw how in the first half the rival solved the round pass with the three goals of the match.
In just fifteen minutes, Julen's team Lopetegui deactivated the hope of the Cordoba team with a couple of goals. The first was signed by Óscar Rodríguez with a fantastic definition after receiving a pass from Óliver Torres with only two minutes left.
The celestial tried to step forward, but their bravery cost them to fit the second after a boarding run by Moroccan Oussama Idrissi with a pass to the Dutch keeper Luuk de Jonk, who outwitted his defender and scored calmly before the desperate departure of goalkeeper Adri Soto. With the score in favor, Sevilla slowed down and controlled with their technical superiority a Ciudad de Lucena who sought the Bono area with combinations and pressing the exit of the ball from their opponent.
Morillo was the first to test the Moroccan goal, but Sevilla always created danger in their arrivals and thus Óscar Rodríguez could make the third and Idrissi, for his part, crashed a shot off the post. In the most inspired phase of Ciudad de Lucena Sevilla hit. In the last minute of the first half, Zurdo shot down Óscar Rodríguez in the area and the referee signaled a penalty that Jordán calmly transformed to make it 0-3.
With the sign of the party decanted, both teams went down in fierceness and the game slowed down in the second half, in which, in addition, the changes broke the rhythm despite the animosity of the team that Dimas Carrasco trains, but the control of time and the game was always from a superior Sevilla.
Data sheet
0 – City of Lucena: Adri Soto; Toni Pérez, Pablo Gallardo, Álvaro Pérez, Zurdo (Pablo Molina, m.46), Adri Ruiz, Michael Conejero (Juanma, m.83), Mario Ruiz, Nacho (Marcos Pérez, m.58), Víctor Morillo (Mario Sánchez , m.67) and Maero (Guille Roldán, m.46).
3 – Seville: Bonus; Aleix Vidal, Gudelj, Sergi Gómez, Rekik; Joan Jordán (Koundé, m.86), Franco Vázquez (Gnagnon, m.60), Oliver Torres (Ocampos, m.80); Óscar Rodríguez, Idrissi (Zarzana, m.79); and De Jong (Carlos Fernández, m.46).
Goals: 0-1, M.02: Óscar Rodríguez. 0-2, M.13: De Jong. 0-3, M.45: Joan Jordán, from a penalty.
Referee: Javier Alberola Rojas (Castellano-Manchego Committee). He gave a yellow card to local Michael Conejero and visitors Franco Vázquez and Sergi Gómez.
Incidents: Match of the first round of the Copa del Rey contested at the Ciudad de Lucena Stadium before four hundred spectators, the maximum allowed by the anticovid security regulations in Andalusia.