Seven stories that intersect at the foot of a dormant volcano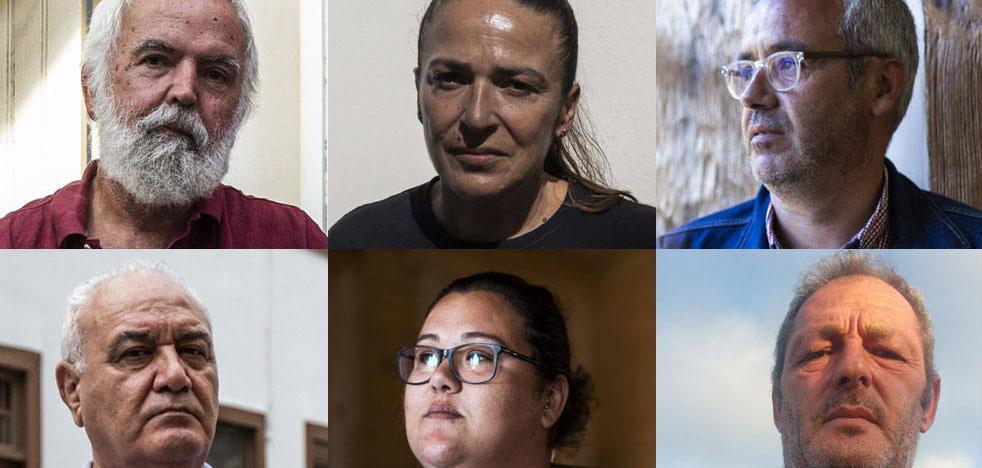 Those who live on the wounded side of La Palma see the top of their new volcano, which rises 1,200 meters above sea level, with resentment. In one of the modular houses where a hundred people who lost their homes live, for example, two girls, 12 and 7 years old, who prefer cloudy days: the fog covers the volcano, omnipresent from the sofa of the television and the garden. Others continue scientific observation to unravel its evolution and refute hoaxes: it is false that lava flows persist under a few meters of the surface. Or they look down to see how to reform the house that was still standing or revive the withered banana tree where some stems try to re-green. These are their voices, what they say under the shadow of the Cumbre Vieja:
Fran Simón and Ana Luna, with their dog Colo, at their house in Las Manchas. /

Paul Cobos

Ana Luna and Fran Simón. The Stains. 69 and 68 years

Fran Simón's grandfather built his home on the Las Manchas road more than a hundred years ago, at the foot of what would become the Cumbre Vieja volcano. His father emigrated to Venezuela in the 1940s and never came back. But yes Fran with his wife, Ana Luna, and his two children. She is a pharmacist, now 69 years old; and pharmacy assistant, he, today 68, tried his luck in Barcelona and then decided to go to La Palma in 2019, where at least they had that old house with high ceilings, an inheritance from his mother. They fixed it up and began to earn a living doing odd jobs and renting the front of the house, where there was a store.
With the volcano "our life changed completely," says Luna. «I would never have gone to live where there is a volcano, and you see. But we have survived and you become more sensitive as a person, "he says. Evicted for seven months, the house remained standing, with the door open due to the weight of the ashes one and a half meters high. "It was so hot that it even burned the mattresses, broke the windows," she recalls. But the store did not reopen, because this town is one of the most isolated by the imperfect roads of the island.
Benefiting from aid from the town hall, the council and the Red Cross, Simón, a carpentry enthusiast, installed plugs, doors and windows, fixed furniture that was given to him and cleaned thoroughly. They decided to return in April. They live in poverty. "I go to the market grateful to be able to buy something and there are people who have even lost their homes," says Simón. "You have to find a way not to stay, because living like this makes no sense."
Victor Bonilla. The Cabreras. 51 years

Farmer Víctor Bonilla, with bushels of bananas in various parts of the island, lost his farm in Las Cabreras to the lava "and they also passed a trail over him." He now tries not to lose this year's harvest on his lands in Los Llanos, La Laguna and Las Mantillas. He lives with the anguish of the days. "The plant takes twelve months to harvest the pineapple," says Bonilla. "Planting time ends in September. But we don't have water. We pay for the tanks out of pocket. Are you going to plant them in winter? To take out a small bunch if anything? We're going out of time."
Among the farmers are those who lost their banana trees under the floods, those who see them die due to lack of risk, those who had ponds and recovered their greenhouses, and those who found the bushels destroyed and dirty. "It is worth between 12,000 and 15,000 euros just to clean them," he maintains. "The aid has not arrived and they are working with borrowed money. Four people and their families live from each crop: the one who harvests, the one who packs, the one who takes it to the dock and the farmer. It is useless to raise the prices of a few that remain standing. These four are out of a job."
How are the palmeros facing the slowness of the works to return the water to the affected areas? "Here the palmero is very peaceful and calm," she reflects. "When it comes to claiming they tell us that we are flattened and it is true. A year has passed and people are more and more desperate and depressed. Next year you'll see people drooling all over, like in zombie movies."
David Calvo, spokesman for Involcán, on the days of the eruption. /

CR

David Bald. Involcan. 46 years

In La Palma there are rumors about the volcano, since it went out on December 13. On humid days it is seen to smoke and it is said that rivers of lava flow that were discovered when an excavator dug a hole three meters deep. "The volcano is in a post-eruptive stage. It is a process under the island that cannot be seen on the surface but is still there. The degassing of the magma that remained without leaving continues and the earthquakes continue, which indicate a settlement of the volcanic cone, now an unstable building, "explains David Calvo, spokesman for Involcán, who remains in continuous scientific monitoring of the Cumbre Vieja.
«The main novelty is that it happened in an urban environment and the gases that are expelled are lethal if they are concentrated in basements or low places. But we don't know how long it will continue", indicates Calvo, who denies the supposed liquid lava that continues to flow. It's a hoax. «The incandescence (ember on the rock) is seen in some areas, as an effect of the very high temperatures. It is over 500 degrees Celsius, but there is no lava moving in the crater area."
A year after the eruption, "there is a normal behavior of the volcano," he says. "We don't see a downward trend in gasification. Gases can be at the same level for years. You have to be patient".
Leticia García, in the wooden house in Los Llanos de Aridane. /

p. cones

Leticia Garcia Sanchez. The campsites. 34 years

With three children, the youngest with a heart condition from birth, Leticia García Sánchez lost her land house, which she had renovated with a "personal loan", under the lava in Los Campitos. Her partner, Alberto, had gone to save what she could, she recalls. "He took out the chickens and told me he was staying to put that out and hiding from the firefighters." She appeared at night. For months they slept in a basement and a "little bird." All in two beds. «She called the rentals but they asked me how many we were in the family unit. I did not get it".
At the beginning of April, this 34-year-old woman who works with dependents while leaving her two older daughters in the care of Sonrisas, was given one of the Cabildo's five wooden houses, with a three-year lease. One of the few buildings that have been built in these months for the victims. Some twenty container homes are still under construction. His neighbors are from Todoque and La Laguna, who also lost their properties. "I live in denial. I think I'm going back home. Am I capricious for wanting what I had?
Miguel Ángel Morcuende, in Santa Cruz de La Palma. /

P. Cobos

Miguel Angel Morcuende. Holy Cross of La Palma. 67 years

He was Pevolca's technical director during the emergency that ended on December 25 and became the face known to viewers of the volcanic eruption. Sitting on a terrace in Santa Cruz, where he lives, he reviews those days, while the residents of this city greet him with respect as they pass and he drinks a very cold beer. «I had the civil protection book, but the post-emergency is totally different and involves more people, such as economists, engineers, lawyers... We must bear in mind that it is the first time that there is a volcano in Europe in a conurbation and with such a high population».
From that zero hour he remembers that the first questions he asked himself were: «What to do with the evacuated people? What to do to guarantee their quality of life? », She recalls. "We took them to the 'fort' and started looking for hotel accommodation. But they were never going to be at home. Then we had to worry about food for everyone who worked in the emergency. The first objective is always that there are no fatalities.
With the volcano silenced, Morcuende has engraved in its memory the changes in direction of the flows due to the rupture of the volcanic cone. "It has been destroyed and built almost every day, with a diversity of very fluid lavas that could reach the populations very soon."
Carmen Castro, in front of her premises in Puerto Naos, still in the exclusion zone. /

p. cones

Carmen Castro. Naos port. 48 years

He had an ice cream parlor and a bar with a pool table on the Paseo Marítimo in Puerto Naos. The lava did not take them but they are sequestered by the toxic gases. Carmen Castro, 48, is the daughter of a restaurateur also from that vital tourist center for La Palma, who had a restaurant called Orinoco on the next street. She planned to open another store, but now she plans to take her business to the Llanos de Aridane. "When we were starting to get out of the pandemic and we had tourists, the volcano arrived and they sent us to evict, the very first day," she recalls. "We were here but we saw it on TV."
She is one of the merchants that cannot reopen due to the security measures that are still in force in the exclusion zone. «I try not to be bad. We support each other among the brothers. Life goes on », she assures in front of her shop, where she has gone to pick up some furniture. "They are spoiling and we have had to put poison for mice because they had already begun to eat the electrical cables."
Jose Luis Rodriguez Arias. Everything. 56 years

He lost his country house, his orchard, his car and the neighborhood with his brothers when Todoque was buried by the lava flows, and he was the first to receive a two-bedroom, one-bathroom flat from the council for rent in Tazacorte, near the previous one, built by his grandmother, and that he had grown bigger for the grandchildren becoming independent. A year after the eruption, he is better heard than in December, when he lamented his situation and was not in his new home. "I have adapted quite well," he confesses. «It's different living here, but my life is still very similar to before, because I'm already half-retired. The problem is the change of environment.
With a low rental price for three years, he is still waiting for the compensation promised for his house, twenty meters under the lava. «I had no land left and now they are very expensive. People have taken advantage of the situation. With the compensation it is not enough for me to build. My house was worth five times more. But I'm waiting to see if I have the chance to keep this flat to do a little renovation, put some lamps on it », she says. The future? "I have always been optimistic, always thinking about getting ahead."