Seven former students of La Salle reveal abuses by the same teacher who raped Palomas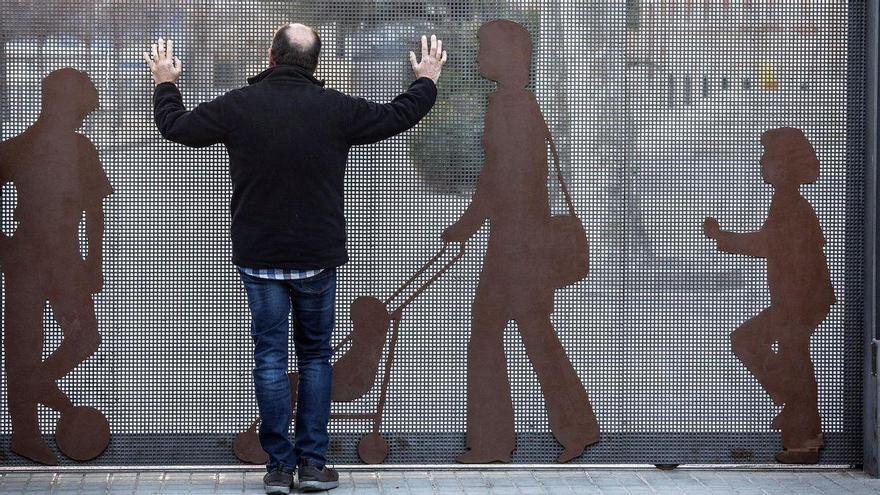 The testimony of the writer Alejandro Palomas has stirred up the past of the La Salle Premià de Mar school (Maresme). Seven alumni of this center, moved after hearing the sexual assaults suffered by Palomas, have wanted to show solidarity with him and reveal that they also suffered abuse by the same teacher, the brother Jesús Linares, as confirmed by a joint investigation by El Periódico de Catalunya and elDiario.es. The new testimonies have brought to light how the religious institution covered up Linares, from the early 1970s to almost the present day. A story that does not appear in the book 'Cent Anys de la Salle Premià de mar' written by Linares himself, a prominent member of the community. Palomas has already filed a complaint in court against his former teacher.
foreboding graffiti
Intense, egotistical, friendly, manipulative, storyteller, histrionic. Jesús Linares arrived at La Salle de Premià at the end of the sixties. Like the rest of the brothers, he lived inside the three-story building that the religious order, of French origin, built at the beginning of the century by the sea. On the upper floor were the community rooms and on the two lower floors, the classrooms from first to eighth of EGB. Linares was a professor of Spanish Language and Literature. He was also in charge of the infirmary and the promoter of the school soccer team. Immediately the rumor spread among the students that Linares touched them in a strange way.
"It was an open secret. One day when I was alone with him in the classroom, he grabbed me by the cheeks and I remember crying, terrified.. I had heard too many things and I was afraid that he would do to me what I had heard", recalls student JE, who adds that a large graffiti appeared on a wall at that time that said "Linares pig". "He went from class to class furious, trying to find its author."
In the summer of 1973, the army set up an encampment on some land adjacent to the school compound, it was to welcome sailors who would participate in a competition with which La Salle collaborated. "I helped the brothers with those preparations," recalls another former student, whose initials are JS. "One of the days, I was alone with Linares in a locker room. I He said that my pants were not fastened wrongly and he asked me to come closer: he sat down, put me in front of him, turned me around, unbuttoned my pants and started groping my genitals inside the underpants. I think she heard some noise because she stopped in her tracks after a while. He pulled my pants up, buttoned them up, and told me we could go now." The episode became a very uncomfortable memory for JE, who was then 8 years old and that she went to her mother but the woman chose not to do anything. "For fear of retaliation," she explains.
The complaint of the family of Alejandro Palomas
During the 75-76 and 76-77 courses, Linares repeatedly cornered Alejandro Palomas. According to the writer's complaint to the Premià de Mar district court, the teacher abused him when he was between 8 and 10 years old and even raped him during an endless night in a summer house. The letter assures that his family went to the school to file a formal complaint about these events and that the management replied that it would fix it but, in exchange, for making sure that he did not touch his son again, he requested "discretion," he stresses. .
According to two former students, GOES Y JT, schooled at that time, Linares disappeared from school, supposedly to study, a year after the denunciation of the parents of Palomas. They assure that he did not act as a teacher in the course 79-80. Linares returned to resume his Spanish classes, the control of the infirmary and the coordination of the La Salle team one or two years later. "When he came back we had to ask him how his grades had gone and he, straightening his hair, replied: 'all outstanding'", they remember. However, Linares, as the author of the book 'Cent Anys. The Salle Premià de Mar', omitted this absence. And, to the contrary, he wrote – referring to himself with the third person – that "Brother Linares" left school in the 82-83 academic year, to "study" in Madrid, "after 14 years" in the center . And he also detailed that he returned a year later, in 1983-84, to assume "the direction" of the school.
Arbitrary punishments
This investigation has also contacted two students, DA and JP, who claim to have suffered abuse by Linares, which they place in classes 81-82 and 83-84 following the same strategy: punishing them arbitrarily. "He led a classmate and me to his classroom, from fifth grade B. He sat us down at two parallel desks and stood behind me. He held me tight with one hand on the shoulder and he was doing strange movements like that. When she finished, she told us to leave. My partner, who had known what Linares had done while he was holding me, asked me, very scared, if he was okay. Now I know what happened was that he masturbated inside his pants".
"He punished me several times by forcing me to come on Saturdays to copy phrases like 'I won't speak in class' on the blackboard 200 times," explains DA. "The school was closed and he always left me in an empty classroom, writing. I remember thinking that I was never going to finish copying that sentence. Linares would appear from time to time: at first very angry, so much so that he scared me, and later, more relaxed, "he describes." In the end he would sit down and tell me 'come here.' He would sit me on his lap and tell me that he had been forced to punish me. Later, he got up, leaned against the teacher's table and with my legs open he made me stand between them and with my back to him and He played tickle me. I felt the bulge of his erection against my back and he put his hand in his pants – of tweezers, or corduroy with hardly any relief – and I think it had a hole in the pocket so that it could be touched".
departure and return
Linares was sent by order to another school "unexpectedly", as he himself writes in the centenary book, in 1986. Another episode of touching occurs from this time on the last day of the course, during the celebration of the festival. It belongs to a female student – ​​the girls had just joined the school, until then exclusively boys. "My leg was in a cast and Linares helped me into the car. While my father was walking around, he took the opportunity to grope my ass. It gave me a very unpleasant feeling, which I still haven't managed to forget".
Linares returned to Premià de Mar in the 2003-04 academic year. Appointed superior of the community of brothers and with more than 70 years of age, he continued in contact with students despite the fact that there were only 4 brothers left in the faculty. He reconnected with the soccer team and took charge of the infirmary. This newspaper has contacted two former students, S. and IC, who suffered it in the office where he played at being a doctor. "He would put the thermometer on us with any excuse, even if our hands hurt, and he would take advantage of that contact to touch our boobs. Or she wanted us to sit on her lap and I think she almost always had a boner. It's something that with my friends we have always remembered", explains IC. The other student, S., Linares had candy inside her pants when she was 5 years old. The situation, although she does not know if it should be classified as abuse, it bothered her enough to tell her at home and her mother asked her to avoid going back to the infirmary.
In the 2004-05 academic year, a school secretary raised a complaint to the director of the center that ESO students had sent her about Linares: "he was very lively in the infirmary." That notice from the employee, always according to her account, confronted her harshly with Linares and also with another teacher from the center. This second brother even physically assaulted her. In the summer of 2005, La Salle changed directors and the secretary, weeks after the alleged attack, was fired.
A spokeswoman for La Salle has denied that the management has evidence of reprisals against a worker who denounced Linares' pederasty in 2005. She also denies that complaints reached the school from any family – not even Alejandro Palomas' parents. The same spokeswoman asks those affected to contact the institution so that it can "repair" the damage it may have caused them.