Serrat and Sabina, two free birds in Buenos Aires | Culture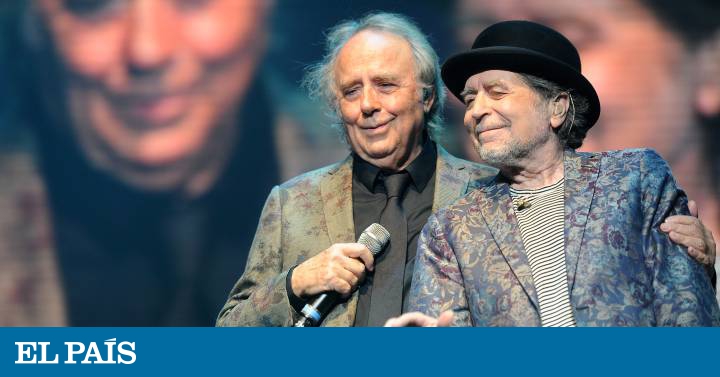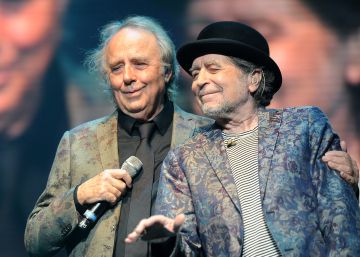 Two lifelong friends laugh at the passage of time, the aches of age, the aftermath of the nights of the party and the lost songs. They could be in the privacy of a hidden table in a bar, celebrating that their health has not removed them from battle. But there is no bar table or dark spaces, but a stage that turns on before 10,000 people in a new stadium, the Movistar Arena, built at full speed in the middle of the transit of Buenos Aires. Joan Manuel Serrat Y Joaquin Sabina or Joaquín Sabina and Joan Manuel Serrat, without prominence, renew once again their love with themselves and with Latin America.
There are no two without three This new tour is called, the first one in seven years and the third one that finds them together since that presentation that was born almost as a game in 2007. The full rooms that the artists hope to find in Paraguay, Uruguay, Costa Rica and Mexico (they have had suspend Chile for the political situation in that country) gave them courage and added functions in Madrid. The first, scheduled for January 20, sold out tickets in four hours and forced them to schedule another one for the next day.
We are in the third of the four functions that the couple will give in Buenos Aires. Serrat and Sabina are in a good mood. Minutes before the concert they have not put on stage clothes and take things slowly, to the desperation of the producers, who feel the pressure of the applause coming down from the stalls on the backstage. Between jokes, they look like two teenagers who hide their last pranks from their parents. The same chemistry will overflow immediately on stage.
In Buenos Aires there is talk of "the two shores" to refer to the proximity between Argentina and Uruguay. These "two birds" have created an interoceanic bridge. "People feel very close to us because we have always pretended to be close, close to people and what was happening. And this has its ups and downs, but it always has an anchor that unites you, which can be respect and trust. People have confidence in us, "says Serrat. "The strange thing is that we are still here so many years later, many bookmakers sank on the first tour because they were betting against us, we didn't even know if we were going to be able to finish it."
That tour was called Two birds with one stone and yes they finished it. It started in Zaragoza in June 2007 and he finished in Buenos Aires six months and 72 concerts later. Then came Two birds fight back, in 2012, and despite the farewell taste there was a third. The artists recognize that a lot of water has run under the bridge since the first concert in Zaragoza, but they have managed to keep the important thing standing. "The world changes on its own, but I don't have to change following the rules and customs of this changing world," says Serrat. Sabina insists on the issue of age. For the 70 years he adds and 75 his friend. "I wanted to say that in my case I set out many years ago to grow old without dignity and I am getting it," he says, and everyone laughs again.
Talk time is running out. Across the stage they will accuse accusations of past betrayals, passing envies and the occasional issue of skirts. Until Serrat puts an end to it, without turning: "People deserve better than two old cotos fighting." And the "old" will then sing, as a couple or one at a time, exchanging songs and celebrating the applause of the other. Sabina will commit "the blasphemy" of putting the lyrics to tango Hand to hand Gardel and Serrat will remember at night when the Argentine Alberto Cortéz he lent him the music he had composed for Onion Nanas from Miguel Hernandez And before the grand finale, they will toast with cava on a small round table located next to the stage. It will be almost three hours of music and stories, full room.
The tour began as a Latin American diversion, departed in Buenos Aires and arrived on December 17 in San José, Costa Rica. But at the last moment, the artists decided to add a function in Madrid for January 20 at the WiZink Center. And they did very well. No two without three vHe had 10,000 entries in four hours and had to add a new date for the next day. "What has happened is fantastic, you always aspire to preserve this relationship with people and you reach unsuspected limits. I feel very happy to have to add functions, "says Serrat. "If they have sold out the first day's tickets in such a short time it is because they have mercy on the Catalans," says Sabina laughing, willing to take nothing seriously. And in that accomplice tone the two will fly for the rest of the night.
. (tagsToTranslate) serrat (t) sabina (t) two (t) bird (t) free (t) buenos aires (t) musician (t) renew (t) alliance (t) latin america (t) announce (t) concert (t) madrid



Source link