Serra: «We will increase the vacancies for the master's degree for teachers, it is a priority»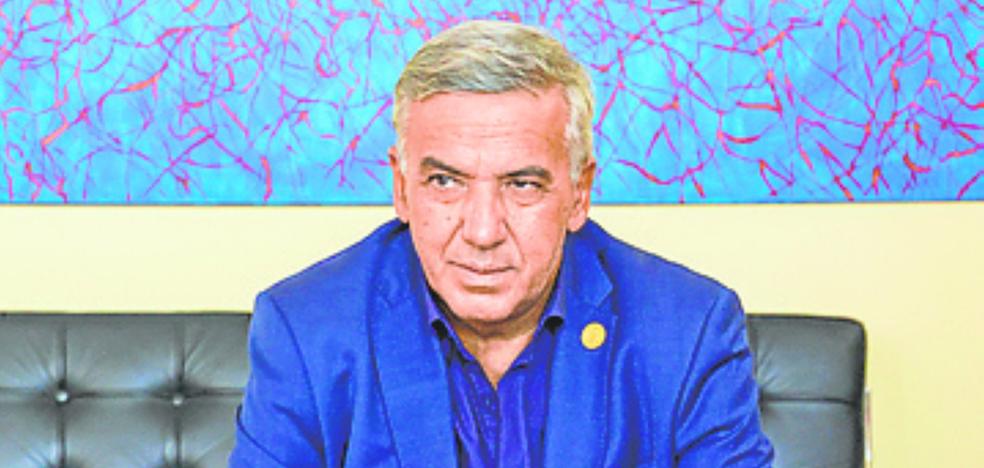 The students of the ULPGC start classes this Monday without restrictions and on Thursday the official opening ceremony of the course is held. It will be Lluís Serra's second as rector and in it he wants to highlight the role of the university in the development of the Canary Islands.
-What will be the basic lines of your course opening speech?
-I will explain what we are doing at the university, how we are responding to current problems and what our medium-term goals are. It is important to explain what we do, people do not know the number of graduates we have and how they have contributed to the business fabric of the Canary Islands. And how can we contribute with the Next Generation funds to solve the serious problems we have, such as the digital transition, the issue of microchips, the industry, the aerospace issue...
- Will you do self-criticism as requested by the Ministry of Education?
-The fact of presenting ourselves to the elections was an exercise in self-criticism. The reflection we made and everything we try to improve goes in this direction.
Are you worried about college tuition dropping?
-We still don't have the definitive data for this course, but more or less we are on the same lines as last, with some 4,000 new students. It is true that in previous courses we fell but both in the past and in this one we remain at acceptable figures. It is an issue that worries us but does not obsess us.
-After the ordinary registration period, there were vacancies for the first year in 33 degrees, including all engineering. Aren't they hooking the students?
-Can be. In Medicine we have 3,000 applications to enter, more than a thousand in Nursing, in Physical Activity, Translation, Sciences and Education... and then there are other degrees that have almost automatic work but there are many vacancies. The engineerings have almost all immediate exit with important salaries. It is a pity that we have so many places not covered, I would feel bad having to make a decision.
-What decision are you talking about?
-Well, for example, in Geomatics Engineering there are only two covered places.
-And they are considering eliminating degrees with such low demand.
-It is an issue that the Government should help us make this type of decision. As a university it can be easy to know what is new, and we have a physics and mathematics engineering, another biomedical and a degree in biotechnology on the horizon. They are highly demanded. But we have to do that by withdrawing others without demand, and we have to see it.
-Are students opting more for VET cycles?
-The idea is that vocational training is an option, and in fact a lot has been invested. In the Canary Islands more is invested in Vocational Training than in the university from the economic point of view. And this is good, we have to establish bridges with the FP so that it is not an end point and people can continue in the university. I believe that people have to decide well, not think that university is the only way out, although we know that having a university degree gives you more professional opportunities and a higher salary. We have very interesting projects to work on together with the FP.
-Is it a reproach to the Government to say that the Canary Islands invest more in FP than in the university?
-No. If they really do a study and it is seen that VT needs more investment than university, it does not represent a problem for me. But what is clear is that at all levels of the Government of the Canary Islands, the university is seen as something very necessary and in need of support. They must guarantee us at least what we have from chapter I and II, this is basic. The rest we can discuss. But what cannot be left out, for example, is in the personnel chapter the increase that corresponds to teachers.
-The two Canarian public universities request 301 million in 2023 to avoid service cuts. Do you think you will get it? From the Ministry of Education it is said that it is unattainable.
-We ask for the two universities 40 million more, twenty and twenty. I believe that there is political will for it and we hope to obtain an important part, I am convinced. In addition, we see that many things are asked of the university. We are preparing the candidacy of the Canary Islands to the Spanish aerospace agency, if we have to think of any other project of energy transition or circular or archaeological economy, we turn to the university. It is logical and we have to be there, but one thing is the operation, the financing we need to be able to open, and then there is the rest that can come through other channels, through research, through science...
-Do you feel that they believe you when they say that they need this money to be able to open?
-I think they do believe us and personally I am in good agreement with the Canarian Government, but we are going to stop asking, asking, because we are not only asking for money, and we are not asking for anything other than for the students, so that the grades and training are of better quality, so that the buildings do not have leaks, so that there is a good Wi-Fi connection or we can pay the Erasmus students in a timely manner. This type of thing requires adequate financing, because if we don't go up in water.
-They also negotiate the program contract for multi-year financing in exchange for meeting objectives. Do you agree that one is lowering the drop rate?
-Yes, it is clear that there are several objectives set, although we do not have the definitive list, but the program contract will be linked to the fulfillment of a series of objectives and the dropout rate was already raised in the recent visit of the Minister of Universities, that the Canary Islands have an important rate. We have to try to ensure that people have minimum standards in their training, for example in mathematics or physics, and help them to achieve it. And there are other influencing factors that have more to do with the dynamics of the university and we have set up a program of 300 student mentors who, in exchange for academic credits, will be assigned several new students. They will guide them, they will guide them in subjects... The idea is that the ULPGC has to be a regional service, have the best training for people who cannot afford to go to other universities, but we can also consider being an excellent university that attract students from other countries. That is another issue that should be in the program contract, attracting talent from other places. The Canary Islands are going to return to 16 million tourists in no time and we have to be a first-rate university destination and that must be a government commitment and that means, for example, taking more degrees in English.
-Would you describe the dropout rate of some degrees as alarming?
-In some maybe yes, for example Legal, where we have many students, the most crowded center, and many have entered because they can't find a place in other studies they had initially chosen and maybe they don't have as much motivation. Another factor is that there are students who drop out because they find work. Everything is also linked to the socioeconomic level of the region and the economic sector, with more work linked to the service sector, the same thing happens in the Balearic Islands. But the abandonment figures are not much higher than the rest.
- Do you contemplate the possibility that the program contract will not be closed in this legislature?
-It can be, yes
Wouldn't that be a failure?
-It would be a certain failure but we have tried and the management of the universities continue to meet with the general director of Universities and I hope that we reach an agreement. But we had, and we have until 2025, a kind of program contract, a minimum commitment, and there is a clause that says that the budget of public universities has to grow at the same percentage as that of the Ministry of Education or the community autonomous.
-And it is not fulfilled?
-No, because the community is going to grow a nine and we will not reach a three. We are hopeful that this will change, there are good signs from the Government that both the 2023 budget and entering 2024 with well-defined multi-year financing have to be resolved.
-What are you going to do in the face of the lack of public places in the secondary master's degree, the most demanded? The education sector demands that they increase supply now.
-We will do it. One of the things we want to do, and for that we need the program contract, is to make investments in the Obelisk campus and we have requested buildings now used by the Ministry of Education such as the school that is attached to Education Sciences and is within the campus. I have already raised it with the counselor, it would serve to expand the teacher training center and for the master's degree. Right now we don't have physical space, and I don't think there are a few places, there are more than 300.
-According to Education, they offer less than those authorized.
-The centers there have a lot of autonomy and I know that there is an intention to solve it. We are gradually improving the infrastructure with the support of other institutions, such as the Cabildo.
-What would you say to someone who wants to be a teacher and cannot pay 7,000 euros for a private master's degree?
-I promise that next year there will be a significant increase in the number of vacancies for the teaching staff's master's degree. It is also true that there are private universities that do it online and face-to-face universities cannot do it because it is enabling and it would be interesting if they let us do some non-face-to-face edition. Let's find solutions. It's a priority and we'll fix it.