Sergio Serrano, the spiritual passion for the bull, the point and apart of a life | Blog The bull, by the horns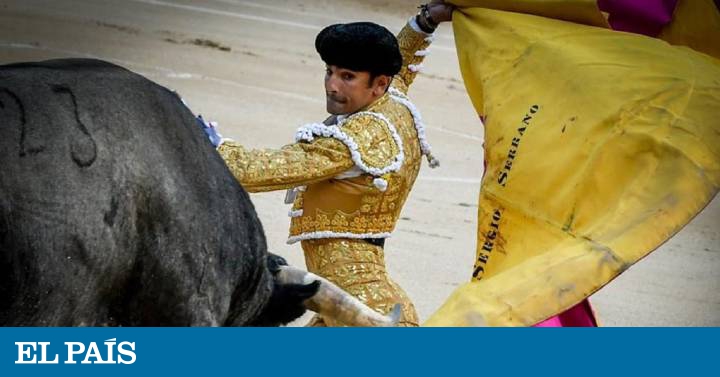 When Sergio Serrano, dressed in hazelnut and gold, appeared at the door of the gangs of the Plaza de Las Ventas on September 22, 2019, he was a bullfighter practically unknown to the Madrid fans.
Minutes later, while the bugles and timpani were sounding that announced the departure of the third bull in the afternoon, he left the burladero and headed towards bullpen to wait on his knees for a bull from Saltillo, Astifino and fierce, according to the chronicles.
Those who saw him say that Serrano showed himself to be a confident, brave and dedicated bullfighter, and changed the ear that he had earned for a return to the ring by failing in the supreme luck.
What many did not know is that the bullfighter was not a young and inexperienced beardless man with a dream of glory, but a 34-year-old man at that time and a bullfighter with 10 seasons behind him, who arrived in Madrid with his suitcases packed to leave. of bullfighting that afternoon if his presence had gone unnoticed.
"I went to Las Ventas to enjoy the afternoon, with the tranquility that the experience offers, and the assurance that everything depends on your effort and ability," says Serrano.
"I arrived ready to risk my life, but without anxiety, and with the hope of feeling good," he continues. Today is the day, I thought, for which I have fought and sacrificed for a long time.
The bullfighter is convinced that that bullfight was a turning point in his professional career.
"Yes, Madrid has given me a boost and has confirmed that there may be something in me. His hobby is knowing how to see the background of a man who arrives with his naked truth and captures it in the arena, even if he has defects; And I got the message: wait, don't run, hang on a little longer, maybe there might be something for you. What I could not imagine is that the pandemic would come … "
Sergio Serrano (Albacete, 1985) took the alternative in his hometown square, "to which I am very grateful because it has offered me possibilities, but it is a late cycle, in the month of September, when the fairs are already done, and the only thing I got is a position for the following year. It is very difficult to hold on with one or two runs per season; until Madrid arrived… ".
– Would you have retired if you did not attract attention in Las Ventas?
– "Definitely. Today I would be in my house calm and happy, and with that honesty that men must have when they know that they have run out of letters. He was not willing to wait again for the Albacete fair ".
Despite his seniority in the ranks, Serrano has not fought more than 20 runs, but ensures that he keeps intact the illusion of his younger days.
"Passion is the only secret to keep me on my feet; Knowing that the bull is my life, what makes me happy, with what I feel identified, and because, despite all the vicissitudes and some blows, you stand in front of an animal, even if it is in the field, and you heals everything. Anyway, although, at times, you may feel unhappy, you know that the love of the bull keeps you alive. Bullfighting moves me ".
– Can you become happy in your situation?
– "At times, yes. If I didn't have the escape valve to train when my workday ends, I would be missing something. It is true that, at the moment, I cannot live from bullfighting, but I do live thanks to it. I say that the man works to support the bullfighter, but, in the end, I wake up every day with the illusion of being prepared as if they were going to call me tomorrow. I think this is something spiritual that I wish many people had the opportunity to share ".
Sergio Serrano works as a salesman in a training company owned by one of his brothers, he has been married for three years to a woman whom he proposed to marry at a festival toast, and he hopes that the open door in Las Ventas will give him offer a new career path.
"I think my train hasn't arrived yet; I bought the ticket and I wait on the platform ", he continues. "Before, I didn't even have the ticket, but I did have the awareness that something would be achieved thanks to the sacrifice and perseverance that I have learned in my family. I have not reached the goal I dreamed of, but Madrid has been a small gift, and it is very nice, especially when you come to survive with one hand in front and the other behind ".
The bullfighter tells that he comes from a very humble family, the youngest of four brothers, and remembers the summers of his childhood with a flock of sheep. "When you are a child you do not understand that others have vacations and you do not, but that experience offers you a great dimension of the importance of work."
"I am a very lucky man," he emphasizes. "And not only for my family, but for the people who surround me in my profession; because they have put their time at the disposal of my dream, and that is not easy, and I must value it ".
– Eleven years waiting for a win is a long time …
– "It is true, and the causes can be diverse: the circumstances, the bullfighting system or myself. Perhaps, I have not lived up to some commitment or I am a victim of a world that is not wonderful, who knows … Perhaps, life has saved a piece for me to digest and grow as a person and a bullfighter. Things must happen to an artist to capture them and then vomit them out in the square. If you have not lived and you have been infected with experiences, you are an empty being as an artist ".
– You yourself have ever remembered that the bench either cures you or rots you.
– "So is. At the moment, it is hardening me, but it can also rot you, and more as the profession is today, it is very difficult to stick your head out ".
Sergio Serrano was looking forward to the 2020 season after a good taste in his mouth that he left in Madrid, but the pandemic broke his dreams. Only two paseoíllos: Añover del Tajo and Manzanares (in the latter with Ponce and Curro Díaz and with television), and in both he left a certain record of his good conditions. At the moment, the 2021 agenda is empty, but the bullfighter does not lose hope.
"I have the peace of mind that my needs are covered with my work, and that I cannot aspire to great goals. I go to the field, I have a manager convinced that, sooner or later, we will pick some fruit, and, above all, that what seemed like a full stop has become a full stop ".