Sergio Ramos, the last great white icon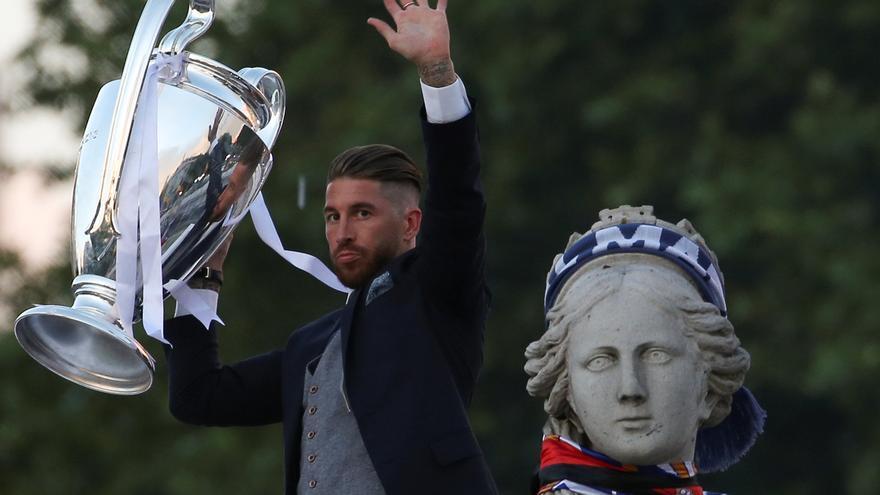 Sergio Ramos he leaves Real Madrid 16 seasons later. Leave the club a player who was key to win the 10th Champions League with his header in the 93rd minute and that changed the recent history of the white team. His leadership and his goals earned him the right to be an icon of Real Madrid, which this Thursday says goodbye with 22 titles behind him.
He was born in the Sevillian town of Camas on March 30, 1986. Formed in the quarry of Sevilla, where he was a forward, he played for Sevilla B until Joaquín Caparrós made him debut with the first squad, aged 17, on February 1, 2004 in the league game against Deportivo de La Coruña.
In those years he was already part of the lower teams, with Juan Santisteban's sub-16 (2002) and with the sub-19, with which he was proclaimed European champion on July 24, 2004, in Switzerland. In this last year, Iñaki Sáez took him to the U21.
In September 2004, the club, aware of his significant progress, extended his contract for one year until June 2008 and raised the termination clause from 12 to 18 million euros. On the 26th of that month he scored his first goal in Primera, against Real Sociedad, and that season he took a starting job and was one of the revelations.
He began to be in the crosshairs of Spanish teams, including Real Madrid, and Europeans, so Sevilla revised his contract in January 2005, raising his clause to 27 million euros.
Luis Aragonés took him to the senior team in March 2005. He played his first international match on the 26th of that month in the friendly against China, in Salamanca, where he replaced Carles Puyol in the second half, and four days later, on his 19th birthday, as a starter in the match valid for qualifying of the World Cup against Serbia-Montenegro.
Arrival at Real Madrid
His fate changed on August 31, 2005 when Florentino Pérez, the same president who will have by his side this Thursday in his farewell, decided to pay his clause in an operation that attracted attention for the sum of money, but that after all these years became a bargain.
He made his debut with Real Madrid on September 10 of that year against Celta at the Bernabéu (2-3). From the first moment he took over the position of starting central in Real Madrid of the "galacticos", led by Wanderlei Luxemburg and then by Fabio Capello, who on some occasions placed him as a side, a position in which he usually played as a fixed in the Aragonese selection. In Pellegrini's stage as Madrid coach, he alternated the two demarcations.
At Real Madrid, where he was second captain from 2010-11 and happened in the captaincy to Casillas in July 2015, has achieved five league titles (2006-07, 2007-08, 2011-12, 2016-17 and 2019-20), three King's Cups (2011, 2013 and 2014) and four Super Cups of Spain (2008, 2012, 2017 and 2019), cFour European Cups (2014, 2016, these two against Atlético de Madrid, 2017 and 2018) and four Club World Cups (2014, where he was the Golden Ball for the best player, 2016, 2017 and 2018).
Fixed in the national team with both Aragonés and Vicente del Bosque and Julen Lopetegui. Captain since August 2016, when he succeeded Iker Casillas, he is the player who has dressed 'La Roja' the most times, with 180 games, in which he scored 23 goals; On October 12, 2019, he played his 168th game, surpassing the record for the highest number of caps set by Casillas. He holds the world record for the most wins with a national team, scoring 122 wins in June 2019.
Sonada was his absence from this European Championship, a decision made by coach Luis Enrique after a 2021 in which injuries have marked the center-back's year. He barely played 1,790 minutes in 21 games divided between 15 in LaLiga Santander, 5 in the Champions League and one in the Spanish Super Cup, in which he scored four goals and gave an assist.
His career in the Spanish team is summarized in the triumphs in the European Cups of Austria and Switzerland (2008) and of Poland-Ukraine (2012) and in the most important title in the career of any player, the one achieved in the World Cup in South Africa (2010), in whose final Spain beat the Netherlands (1-0).
He has been included eleven times in the FIFA-International Federation of Professional Footballers (FIFPro) world eleven, corresponding to the years 2008, 2011, 2012, 2013, 2014, 2015, 2016, 2017, 2018, 2019 and 2020. In addition, he was elected best player in the 2016 Champions League final, and in two editions best defense of UEFA (2016-17 and 2017-18). He was sixth for the 2017 "France Football" Ballon d'Or.
He is in possession of the gold medal of the Royal Order of Sports Merit (2011) and together with the rest of the team of the selection they received the Prince of Asturias Award for Sports (2010).
1011880