Sergio Miguel Camarero "We are physically and mentally prepared to give it our all"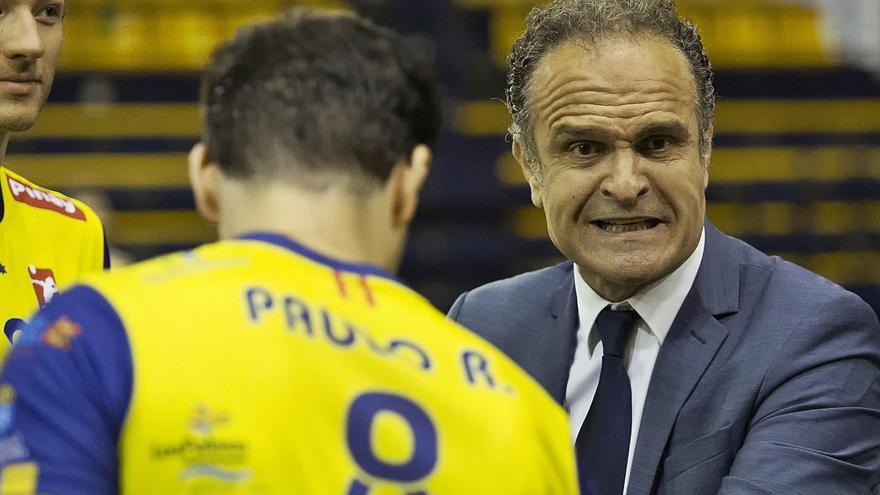 Excited with the option of getting the first title of the new Guaguas era at the Insular Sports Center?
Yes, a lot. After the close experience we lived in the European competition, where we were only one set away from entering the Final Four and making history in what was our first participation in a continental tournament, now we have the opportunity to fight for the Cup del Rey at home, the Insular Sports Center. The only downside is the public issue, because the team improves a lot in its performance with the support of the fans in the stands. It's a shame.
Does the team arrive in good time for this appointment?
Yes. We have been preparing this competition thoroughly for a long time, and we reached the maximum in enthusiasm and desire. We go for all, but respecting the rest of the groups that participate; they all have a high level. The first match against Boiro will be difficult and we only focus on this match. This is our end, and then what has to come will come.
Teruel, firm leader of the Men's Super League, is emerging as the great rival of Guaguas, second in the league table and host, in the fight for this Copa del Rey title.
For me the great rival is Boiro, our opponent in the quarterfinals. We are going to go game by game, point by point. I am of the same philosophy as Cholo Simeone, the Atlético de Madrid soccer coach. We do not sell the bear's skin before we hunt it. We are very focused on the first match, studying the rival very well. It is a young team that makes its debut in the Cup, competes very well and comes without pressure. We have to be right to overcome it. The Copa del Rey is known as the KO competition and anyone can be left out. There you have the case of football, where Madrid and Atlético fell and Barça passed it is not known how. We know that this is a difficult competition and that we have to go for it from minute one.
"We go game by game, point by point, because in the Copa del Rey anything can happen"
But it is true that the trajectory of the Guaguas invites optimism …
We are a team with grit and spirit, that quickly hooks up with the fans and excites us. But this is sport, and anything can happen. We are very cautious with what comes to us. We are not lacking in enthusiasm and enthusiasm, but we go game by game, point by point. If on Sunday we are in the final and we manage to win it, we will all enjoy it. The pity is that if we get to that decisive meeting we will not have the public on the court with us.
Can the pressure that comes with being a host take its toll on them, or shouldn't it be the case for the experience of the players you manage?
Every time you enter a court, in any professional sport, there is always pressure; if there isn't, it's better to leave. I have proven and experienced players who already know what it is like to play this type of tournament. I fully trust them, because they are preparing very well. The team is physically and mentally ready to give everything, to give a thousand per thousand of each in all the games.
The Cup always has a special flavor, and you know what it is like to enjoy and suffer disappointments in this tournament as a player and as a coach, at the female level as well.
I think I have won about five or six, and I will have lived it about 20 between male and female. He told the players that I don't even know how to take it anymore. In the end you don't know. If you face it with a lot of pressure, it can turn out very well or badly; if you take it easy, the same. The only thing we do have to do is control what we can control, our game, our tactical system, arrive as best as possible … But what the other team raises is uncontrollable, and more against teams of this level.
"Our great rival is Boiro, because it is the first adversary we face"
The two games of the Men's Super League against Galician Boiro, his team's first rival in the Copa del Rey, have not gone bad for Guaguas. Gives confidence?
Boiro is a new team. In his court it was difficult for us to beat him a lot despite the 0-3, and then in the Insular Sports Center the same (3-0). He has two or three high-level players and a good coach. It is a young team that rises as the season progresses. We are going to meet a very fighting rival who comes to give everything to try to surprise us. They have little to lose. But we are fully confident in the potential as a group that we have, we are highly motivated and we are going to give everything so that victory smiles on us, as happened in the Super League matches.