Sergio Alzola: «I have never been one for conventional and 'popular' songs with an easy rhyme»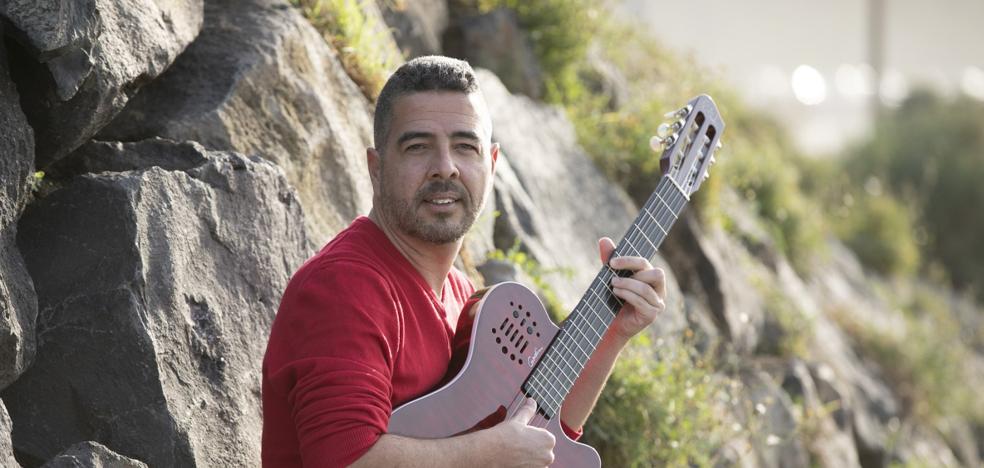 This Saturday, at 8:00 p.m., the singer-songwriter from Gran Canaria celebrates his 20-year career at the Cicca with an acoustic concert with "surprise" guests
Two decades has
singer-songwriter Sergio Alzola singing what inspires his rich inner world and the one that surrounds him daily. Quite a feat for an independent artist, oblivious to passing fads and the opinions of simple formulas demanded by multinationals and producers who only aspire to earn money in the simplest way.
Tonight,
from 8:00 p.m., at the Cicca from the capital of Gran Canaria stars in the acoustic concert titled
'Two sound decades'in which he will review his career accompanied in some cases by musicians whose names he prefers not to reveal in order to surprise the audience.
SOME DETAILS
Tonight
"It's a celebration concert in which I include a selection of songs from all my albums."

Trajectory
"I have written songs that I can continue singing now, but I have noticed a clear evolution."

Change
«At the beginning people sometimes told me that they didn't understand me, I've learned to make a simple and complex text at the same time».

Poetics
"Unconsciously, my mind keeps looking for verses and forms that I later want to write."
He acknowledges that he arrives with great enthusiasm for this reunion with the public on his native island. And she does it without nostalgic airs.
"It is a matter of celebration. Sometimes, when it comes to developing an artistic career, many people fail to maintain the perseverance and rigor that is required within that roller coaster that is this artistic world.. I think it is very symbolic to celebrate two decades. Time has passed too quickly, "says the musician.
The choice of the repertoire that he will undertake acoustically was chosen in a "very organic" way. «At the Cicca I premiere these concerts celebrating the two decades.
I include a selection of songs from all my record works. From the first demo to the last one that I recently composed, I think I have about 150 or 200 songs, "he says.
'Two famous decades' has forced him to carry out a review that he considers enriching.
«I have written songs that I can continue singing now, but I have noticed an evolution. I am a musician who started as a self-taught person and then studied. The evolution is noticeable in musical compositions and also when writing, since I do it with greater skill and rigor every time. I had no fucking idea of ​​singing when I started and I did it in a daring way. Now I begin to know how to interpret a song », he confesses between laughs and with humility.
That yes, clarifies that "never" has been "conventional songs and 'poperas' with an easy rhyme."
"In the beginning, people sometimes told me that they didn't understand what I meant, because my metaphors were far-fetched.. Over time I have learned to make a simple and complex text at the same time, so that the message arrives in the best way without losing the literary and poetic taste », he admits.
The poetic aspect is one of the signs of identity in most of his songs.
«Unconsciously, my mind keeps searching for verses and forms that I later want to write. I have gotten up on occasion from bed because an idea comes to me and I know that if I don't write it down, it will go away. Or I have woken up very lucid and on the fly I have written that verse or idea that I remember », she assures by telephone.
He underlines that during these two decades he has avoided staying "in a comfort zone" at all times.
«I have always felt that I have to broaden horizons. It takes a small dose of well-understood madness to get out of the norm. It is essential not to repeat a formula when you have an independent author proposal", clarifies who is very clear about the musical space he occupies. «I represent our Canarian culture with a Latin influence, what is called airs from the South and the interculturality that we have and that is noticeable in my music, because I shoot at many different palos. In the lyrics I think that poetic stamp is evident and my voice has some peculiar characteristics that are evolving », he points out.
"The pandemic has hurt me a lot. Isolation for someone social like me is very hard»

The covid-19 pandemic has been a very bitter pill for Sergio Alzola. Not only from an artistic point of view, since the activity on the stages was completely paralyzed for many months and then it has been recovering with ups and downs and at a slow pace. "The pandemic has hurt me a lot. The isolation for someone social like me, who seeks to meet and share, is very hard. I have suffered a lot and return to the word and hugs I consider it very necessary, because we are robotizing and digitizing too much. I have suffered as a person and as an artist, obviously, but so have those around the one on stage, who have not been able to work either. I am concerned about the pandemic at a health and economic level, but also about mental health, "acknowledges the island singer-songwriter.
In the harshest periods of the health situation that still persists, Alzola says that he tried to open up to new forms of work, specifically "digital and audiovisual formulas on the Internet." Now he is enthusiastic about the fact that the direct ones are coming back with a bang. Some are waiting for him on the Iberian Peninsula and he hopes to attend a festival in Cuba that had to be suspended due to the health situation. "Going outside enriches me and helps me to continue," he confesses.
He recognizes that the current moment is difficult and isolating himself from that reality to compose is not easy. But he considers it capital, even from a therapeutic point of view. «There are many artists, especially writers, who during all stages and times were seekers of beauty in very bad times. We must try to feel like we are in paradisiacal places and get people to abstract from the problems they have. It is an important social function. You can also choose to protest. In times like these both functions are valid».