Sell ​​even furniture when savings run out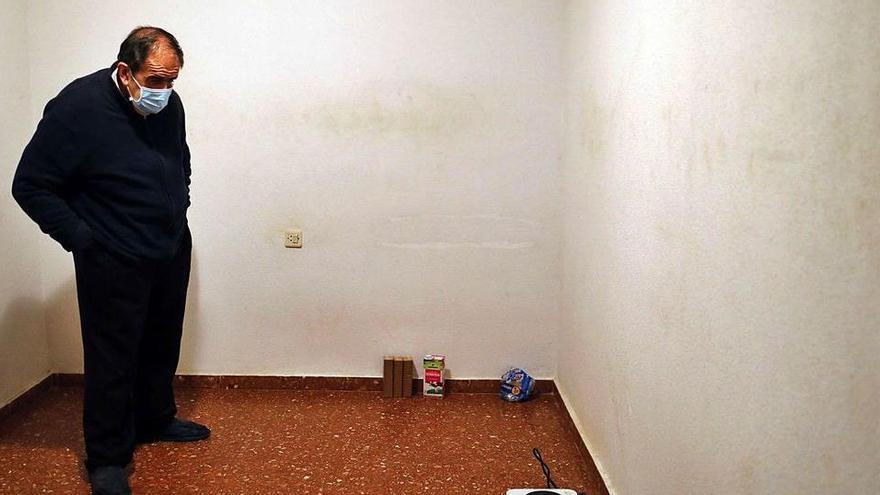 He just turned 58, his name is Roberto Terradez Buendía and has been without work for more than ten. He shows his bank book: one euro. That's what you have left after exhausting your savings in a decade. When he ran out job he had 24,500 euros. It was 2010 and he requested the Active Insertion Income (RAI), a benefit that is charged three times in alternate years. Only received aid in 2010 and 2012. When he wanted to formalize the third collection, the government of Mariano Rajoy he had lowered the requirements and was left out.
So he began to "pull" exclusively from savings. Six years mean 2,190 days without income. And so, with an average daily expenditure of 11 euros, the 24,500 euros disappeared in food and bills for basic supplies. Roberto did not think that he could be a user of social services and process some kind of help.
When the savings account began to come to an end decided to sell what he had. It started with the appliances. To this day he lives without a refrigerator, a washing machine, a dishwasher, or a microwave.s. In fact, his kitchen is "closed" and he manages with a tiny stove in an empty room where there are only cookies and tuna in a nonexistent pantry. Wash clothes by hand and scrub in the sink.
Just before the state of alarm sold the furniture. An acquaintance of hers took the dining room chairs, two triplet chairs, and the marble table. It was hard for him to get rid of the furniture his parents had given him.
Only the roof remains
However, vender your esteemed collection of movie soundtracks -with 319 vinyls, some of them signed, unpublished or exclusive- broke his heart, but misery was already knocking on his door. The complete computer equipment was the last thing that left the entrance of his house, never to return. Neither bathroom mirror has. He is wearing his coat. He does not want to "waste" electricity either.
The roof remains. Because the house is yours and you already have it paid for. He bought it at the end of the 90s for 6.5 million pesetas in a farm that was built for social protection and has been part of the free market for years in a revalued area of ​​Valencia.
Entering the courtyard of the farm takes your breath away, after a marble work where four elevators have also been renovated and that amounts to about 5,000 euros of spillage per door. Unacceptable for Roberto who fears that this debt will make life even more difficult for him. "If my home is seized, it will be my living death, but how am I going to pay? Was it necessary to do this expensive work? ", He assures.
Roberto began seeking help at the end of October, when he could no longer cope with the receipts of basic supplies: 92 euros of water and electricity bills pending since March that add up to 252 euros. With his mobile phone (borrowed and prepaid) he called the Caritas headquarters, where he was referred to the parish in his neighborhood. "They took care of the water bill but for electricity they told me to call the neighborhood social services. I have been offered to teach Spanish to a Nigerian girl in exchange for weekly food vouchers of 5 euros. I am not a handout person, I want to work because I have been a worker all my life. I start on the 17th, "he explains.
In the parish they recharged 5 euros for the phone and they give him a voucher of 5 euros every Monday to spend in a supermarket. His first purchase was three loaves of bread (37 euro cents), a pack of cans of tuna with tomato (1.53 euros), an 8-liter jug ​​of water (75 cents) and shaving foam "because I was shaving dry and I really needed it. " In the parish they also gave him cookies and milk "But behind me, in the queue, there was a mother with children and I gave her milk for the children because my soul was breaking ".
Roberto has found a foothold in some of his neighbors. One leaves masks in the mailbox, another lent him television and a third has paid him copies of his ID because after requesting Minimum Living Income "They tell me now that the DNI is not read well ". In other neighbors he has found criticism and misunderstanding although "they are the least" and can be counted on the fingers of one hand.
Look for work on the street, connecting to the wifi of nearby stores. You have lost all hope of finding a job. "First is age, which does not benefit me. But what excludes me is my weight. I am 1.85 and I weigh 110 kilos and they reject me more for my appearance than for my age. "Wearing broken shoes doesn't help," he laments. A neighbor also noticed, gave him money and Roberto debuted shoes this Friday.