See the "I do" on the screen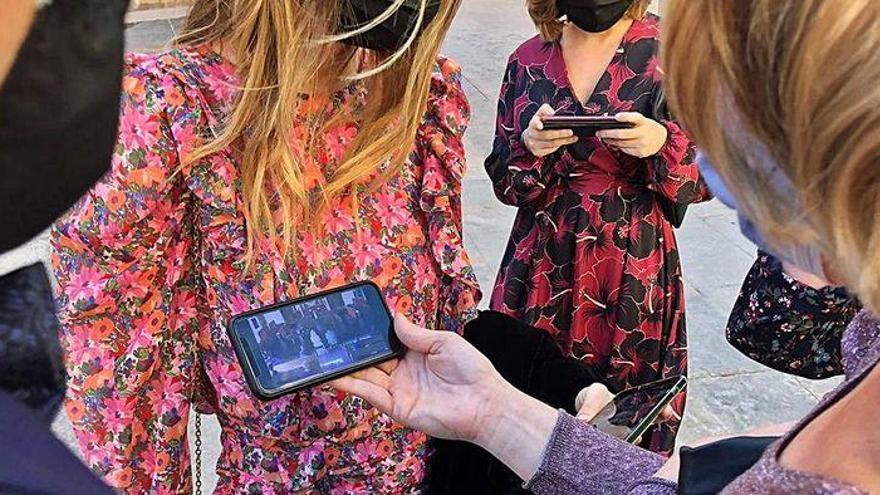 What Irene and Diego would never imagine is that they would say "I do" with a celebration so intimate and full of sanitary protocols because of the pandemic of Covid-19 that would force more than half of the guests to view the link from a screen.
The civil marriages that are taking place in the province of Alicante have great capacity limitations, which They get worse if the municipality has special restrictions to stop community transmission of the virus, such as Elche. Links like that of this couple from Elche, yesterday, have been among the first to be officiated in the city since Health applied these new limitations that affect capacity and closing hours of establishments at 11 pm. For this reason, only 19 people can be in the room, including the public representative who encourages reading the votes, spouses, witnesses and 14 guests. The rest only have the option of watching the link by streaming, so the picture that is usually appreciated at this time is that of friends of the bride and groom having a snack on the terrace of a bar while they watch the celebration on their mobile. In this case, the City Council runs with the support to broadcast the moment. The guests cannot praise the bride and groom at the exit of the Consistory either with rice, confetti cannons or fireworks to avoid attracting spectators.
Irene and Diego decided to get married in January. They went to court and gave them an appointment for October. The health crisis took hold of practically everything and after rethinking it they decided to go ahead with the date, which meant that many guests "fell out of fear of getting infected or being patients at risk," both indicate. On the other hand, and added to the usual preparations to make this day special, the couple, now husband and wife, also had to consider which 14 guests could have the "privilege" of witnessing the wedding in person, since only 60 in total A quarter of the total were able to enter the municipal compound, who also had to pass the temperature control at the entrance, and their names were on a list to keep track of who accesses. "We have always made it clear that we would choose in the fairest way, choosing the closest family and with the same number of relatives of him and mine as direct uncles, our parents and my sister ", Irene explains.
Similarly, the closure of the hotel business at 11 pm in Elche also forces the parties to advance the wedding to tomorrow's schedule so that they can celebrate the banquet without problems Due to health protocols, although there are also those who have directly opted to enjoy the most playful part in other municipalities where they had more scope to enjoy nightlife.