"Scientists have had a weight on La Palma that we did not have on El Hierro"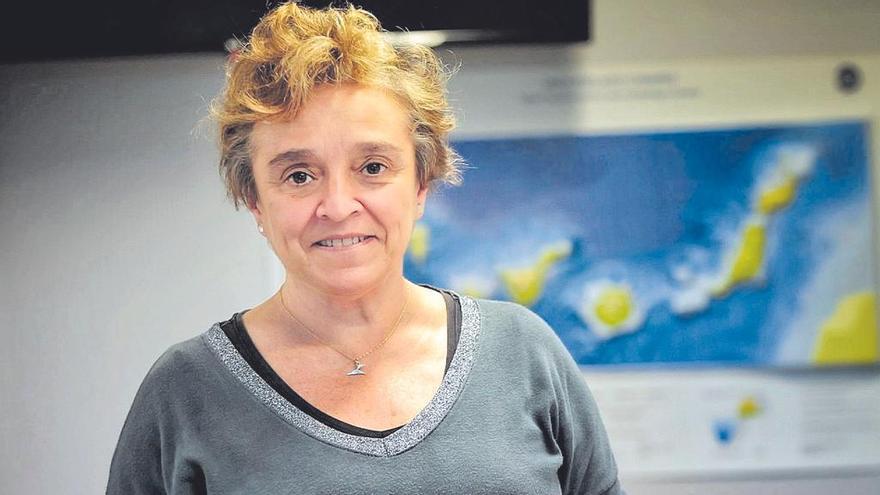 It has been the visible head of scientific management in La Palma. Did the Pevolca Scientific Committee have this time more female representation?
Also on the Pevolca Scientific Committee were Carmen López (IGN), Inés Galindo (IGME), Nieves Sánchez (IGME) and the two heads of the advanced command post, Marta Moreno and Montse Román. This nucleus has been permanently involved in the management and analysis of volcanic evolution data, in such a way that scientists have had a weight that they did not have in the Tagoro eruption. In the eruption of the island of El Hierro there were more men. There has been an important change from Tagoro to Cumbre Vieja.
And in just 10 years. It could be considered fast forward.
It may be circumstantial that there are now more women than before, but the logical thing would be for this trend to continue until both genders are equal. In our office, for example, there are more men than women, but in the oppositions to the IGN there is more and more equality between the number of men and women who enter. However, there is a section that has not fulfilled that equity in the IGN, and that is that there has not yet been any director or technical deputy director of the Geographic. All the deputy directors that have been appointed were in charge of the management.
However, you are the director of the Canarian provincial delegation, which is a first step towards breaking that glass ceiling.
Yes, but I insist: the last step remains is that there be a deputy director and director of the IGN, which for now has not been possible.
Society has to change to make it possible to reconcile work with family
When you entered the National Geographic Institute, how did you find it?
When I arrived, many years ago, in the 14 peripheral services of the IGN –which was what the delegations outside of Madrid were called–, I was the only woman. It is still like that, because there are not as many women as men. But in the Geographic, the weight of women is becoming more relevant.
Did you have any reference to opt for physics?
I liked working in nature and, in fact, I was thinking of dedicating myself to some kind of engineering related to forests or water. I always remember a phrase that my father told me many times back then: "Can you imagine a pregnant woman with chirucas in the mountains?" That phrase led me to rethink it and since I liked to understand how things worked, I decided to do physics, since in my family my parents are both chemists. I studied physics and do you know how I ended up? Pregnant, through the mountains and with chirucas. With this I mean that it does not matter where you go, that if you like something you will end up making it possible. I had no references in physics, nor in geophysics or seismology, but I liked it. As far as volcanology is concerned, it really is that I had never even considered the possibility of studying volcanoes because I always thought about earthquakes. But things changed when I came here for the Canary Islands.
You have broken many stereotypes throughout your career, do you realize that you have probably become a role model for many girls?
I do not intend to be a reference. It's that in my generation there wasn't, so you don't consider being one, simply because you haven't had it. However, if that is true for girls to realize that they can study what they like and achieve professional fulfillment with effort, perfect.
When talking about the priority struggles in terms of equality, many women refer to conciliation, do you think that this is the path that the feminist struggle should follow?
The first thing to achieve is equal rights and, within it, is conciliation. Still today, unconsciously, women mostly choose professions that allow compatibility with caring for the family, both children and parents. This is becoming easier each time because men, for the most part, no longer consider that care is the exclusive patrimony of women. But it is true that society still has to change to allow work and family to be reconciled. The most advanced countries have come to make it more compatible than us, with which it is a natural tendency.
"That there was an anonymous address in Pevolca diluted the personalisms"
What does 8M mean to you?
I am an advocate for women's rights. In my family I have two daughters who are studying for science and I don't want them to find themselves in a situation of differences in rights between men and women. For many years, due to different circumstances, women have been subject to a society that gave a predominant role to men. Hopefully a day will come when 8-M does not have to exist but, for now, these differences are still very striking and sometimes lead to the most painful aspect, sexist violence. Women must know the rights they have and demand them.
What advice would you give girls?
The most important thing is that they know that they don't have to do anything they don't want to do and that whatever they want to do, they can do. They are the two aspects of power.
Women, especially in science, refuse to access certain careers because they consider that in the future they will not be able to make it compatible with their lives. Something that is also reflected in the lack of access to managerial positions. How can this be changed?
It is difficult because there is an attitude. Women integrate better in group work and perhaps we don't need so much personal recognition, but an assessment of the result of a group. For example, in the Scientific Committee of the Pevolca in La Palma, a lot of group work has been done.
My daughters study science and I don't want them to run into differences in rights
Do you think that group work is related to the greater female representation in Pevolca?
Yes I think so. In addition, the fact that there was an anonymous address, which we did not see in the meetings of the scientific committee, made the protagonisms be diluted and it was a group work that was made visible. I believe that this has given solidity to the management of the Pevolca Scientific Committee. It was what it seemed, an entity that made us all work for him.
Have you received a lot of affection after work during the eruption?
The red vests with the initials of the IGN in silver are already part of Pevolca's image. El Geografico has had a very visible role in the media and it is curious that even children in La Palma this carnival have dressed up as IGN scientists. It fills me with satisfaction to see them all with their helmets and their vests. They also identify us when we go down the street and, both children and adults, dedicate kind words to us and thank science.
Have you seen more children interested in volcanology or science in general?
There have been several times where they have told us that they want to be geologists. And it has surprised me, because it is a science that although it is taught in institutes, very little is chosen. It is true that I like it because if we have managed to get Canary Islanders interested in geology and, in particular, in volcanic geology, then it is already a great achievement.
Do you think that the population is now more aware that they live in a volcanic archipelago?
I think so, but you also have to take into account that society forgets very quickly. We are so bombarded by so many different news that we end up forgetting where we live. That is why I believe that the students who study it in the institutes will get the family to remember from time to time that they live in a volcanically active archipelago.