"School dropout may increase if we continue with distance education or blended learning" | Economy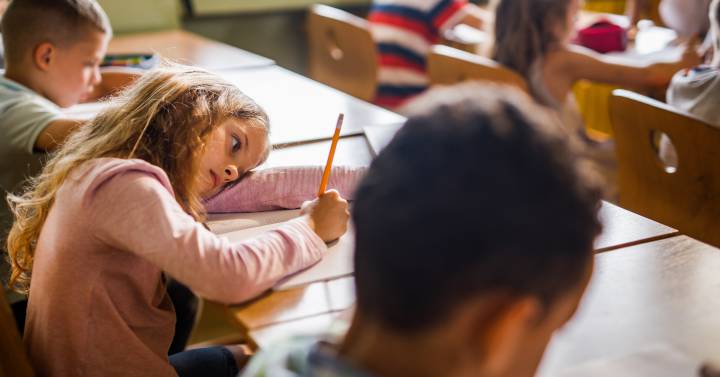 Without a doubt, this is a ranking in which no country wishes to stand out. Spanish early school leaving, that of people aged 18 to 24 who have dropped out of school without completing the second stage of secondary education, remains the highest in the entire European Union: 17.3% in 2019, seven points above the community average (10.3%), despite having decreased significantly over the last decade. A figure that reaches greater drama if it is broken down by gender, since it reaches 13% among women, but 21.4% among men, that is, 65% higher.
The uncertainty that dominates everything related to the next academic year does not help either. After an end of the course marked in an exceptional way by the closure of schools and distance training, in which Government and autonomies agreed to make the promotion of students more flexible, and the current increase in covid-19 cases in much of the Spanish geography, the fear of a higher school dropout lurks in the shadows that are difficult to discern of what may happen in the coming months.
If the digital divide made it difficult to follow the classes among students from families with a low socioeconomic level, the continuity of distance education could break this slow downward trend in the dropout rate: "Disengagement, absence of motivation, low school performance and school dropout may increase if blendedness or distance education prevail over face-to-face education in the 2020-2021 academic year, if health circumstances force it ", says Andrés Payà, professor of Pedagogy at the University of Valencia and lecturer in Thinking Heads. "The absence of contact with the group of classmates and with the school community that coexistence in the classroom represents, further increases the vulnerability and uprooting of the school; the student will feel more alone and less accompanied, and will value education much less ".
Why does school dropout occur?
The causes that explain the relevance of this problem are multiple and of a very different kind. They have to do with the student herself, with her socio-family environment, with the school context in particular and the educational system in general; and the solutions have as many edges as the factors that promote it.
The reasons of a personal nature, that do depend on the student who drops out, ranging from their own abilities to interests, motivations, competencies, commitment or even their own emotional state: "That is, how you are on a psychological level, either because you have a psychopathology or because, without actually doing so, they may have emotional, anxiety, self-esteem problems and even a low mood or a personal situation at a certain time, such as, at certain ages, a love breakup ", says Andrea Navarrete , psychologist and psychotherapist.
In the social and family environment, the attitude and expectations that parents have towards education play a fundamental role, because they will decisively influence the message they will transmit to their children; but also the promotion of reading or the quality of communication between parents and children: "When he comes with school failures or saying that he does not want to go, instead of punishing him, you have to be able to reason with him, ask him if he has any type of problem and if you can help him ", explains Payà. "During the pandemic, there have been families who have wanted to help but have not been able, because they were limited in that sense."
But there are, in addition, many other factors: "If the family has problems, if it is dysfunctional or if it has suffered a traumatic event that directly influences the student, and even the family's own economic situation, which may cause situations of stress or anxiety that determine how the adolescent perceives the environment within their family nucleus ", adds Navarrete.
And what about the school environment? Here the conversation gets complicated and the edges multiply. "There has never been a comprehensive reform aimed at motivating the student more, making learning more attractive and personalized (…) The Spanish educational system suffers from being more practical and motivating," says Navarrete. Other aspects that can influence are the repetition of the course (the one who repeats two or three times, it is possible that they get fed up and leave the educational system); the socioeconomic level of the center or the student's self-perception of what he is doing and what studying is useful.
Nor should teachers' own expectations of their students be forgotten. "It is the so-called Pygmalion effect, or the self-fulfilling prophecy, which continues to work a lot at the classroom level: when the expectations you have of a student are very good, you pay more attention to them and individualize the teaching much more … And vice versa: When the teacher thinks that he is not going to get anything out of a student, he is maintaining a negative message, and those expectations he had end up being fulfilled. These unconscious expectations towards people make us give them more opportunities and dedicate more time to them, with which they have a greater chance of success ", reflects Payà.
How to reduce early abandonment?
Reducing dropouts is a global priority that is part of the UN Sustainable Development Goals and of the 2030 Agenda, which with respect to education set the goal of "ensuring equal access for all men and women to quality technical, professional and higher education, including university education" between now and the end of the decade. In this context, the objective set for Spain was to reduce the dropout rate to 15% by 2020, something already highly unlikely if we take into account that with 2019 data we are still at 17.3%, and that none of the educational laws enacted in Spain during democracy it has managed to lower that percentage to at least European levels. To achieve this, Andrés Payà points out as necessary eight actions that would entail a radical reform of the educational system:
one. Reduce ratios at all stages, to make teaching more individualized.
two. Increase the number of teachers, and not only to have fewer students per classroom, but also to have reinforcement teachers and increase the time of tutorials, school guidance, support and unfolding.
3. Provide centers with specialized professionals: not only teachers, but also teachers of therapeutic pedagogy, speech therapists, pedagogues and psychopedagogues, who are the ones who will collaborate in the detection, prevention and intervention of school dropouts.
Four. Strengthen programs and measures of attention to the diversity of the student body, which is being done, but not enough.
5. Promote an effective system guidance and vocational training during compulsory education. One issue, that of VET, the Government has already put the batteries in and has realized that it is not a second way, but a super-necessary way.
6. Increase investment in scholarships and study aid, as well as compensatory measures for vulnerable groups.
7. Promote a common and coordinated strategy between educational programs and administrations. The ministry cannot do one thing, the council another and the city council another … Of the few resources that we invest in education, sometimes we are duplicating them and they do not always go in the same direction, when they are directed to the same people.
8. Work with families to improve its roots with the educational community: this is what is being done now with the famous learning communities. It is not just about families participating in education, but about making their educational center their own.
9. You have to value much more the work and role of the teacher; empower them and give prestige to teaching. The teacher does not teach because he has nothing else; it does a very important job, and it should be recognized.
High-ability students
Early school leaving not only affects the population at risk, since anyone can be at risk of dropping out. And, among them, students with high capacities (or gifted), who need those specific professionals mentioned above and constant monitoring to prevent them from disconnecting and leaving an educational system that does not satisfy them. "When we talk about making curricula more flexible, repeating and promoting courses, we always think of making it easier for people who don't have as many abilities, but we don't think of it the other way, that the curriculum is much more complicated and complex, that the promotion of courses is possible and that someone can skip two courses ", argues Payà. "That is why the adaptation of these curricula and content is so important."
For Navarrete, a situation of dropping out of school can also lead to a parenthesis of personal growth and maturation, when there are personal, emotional and psychological factors that are negatively influencing him: "Sometimes, that abandonment can result in something positive, if it is used time to work on these problems and then go back to school. If he is given the necessary support, if a way is found to reengage him in the educational system and to re-inspire him, that student does not have to lose himself ".