School concerts open to streaming with 'Musician-Emotions'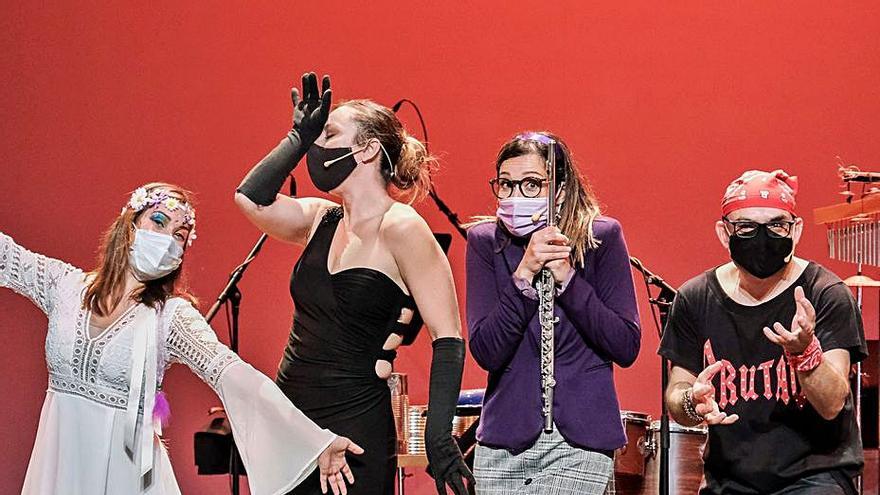 The season of school and family concerts of the Fundación Orquesta Filarmónica de Gran Canaria and the DISA Foundation opens to the streaming of their educational shows, an initiative that seeks to give greater coverage and bring music closer to all those schools that they cannot access them due to the restrictions of the Covid-19 pandemic.
The Guiniguada Theater, the venue where the OFGC school concerts were born almost 30 years ago, is the setting this week for these broadcasts focused on the small-format concert Las Músico-Emociones, which has been taking place in school functions since the past Tuesday, and that conclude today Thursday, with the last of the functions at 10.30 am.
The session of yesterday Wednesday was broadcast for the students of those centers that have been able to participate in this concert in person due to their restrictions on extracurricular outings: the CEIP Bañaderos, from Arucas, and Chano Sánchez, from Ingenio.
The Juan Ramón Jiménez Theater hosts the family screening of this production on Sunday
According to OFGC, this streaming transmission allows this proposal to reach 225 more schoolchildren, representing 9 classes of 25 schoolchildren each.
The Musician-Emotions is one of the premiere proposals in the school and family concert season. A show aimed at children between 8 and 12 years old, in the second and third cycle of Primary, which recreates human emotions through music. Its protagonists, Allegra and her friends Tristana, Iracundo and Panic set out in search of an ending to a story for children. All the proposed endings make up a longer story, full of adventures and sensations, until reaching a happy ending.
Directed and staged by Rafael Rodríguez and Luis O'Malley as artistic advisor, the cast of Las Músico-Emociones includes Tania Rodríguez (original idea, script, piano and voice), Conchi Pérez (original composition and arrangements), Ximo Martínez (percussion and voice), Nayra Adrián (flute, bass and voice) and Saray Castro (voice).
The Juan Ramón Jiménez Theater in Telde will host this Sunday the 14th the family performance of Las Músico-Emociones.