School and covid-19: it's time for the 'edutubers' | Economy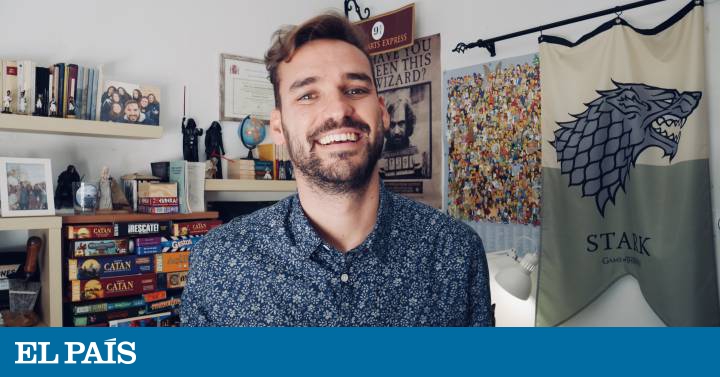 Incorporating technology in the classroom was no longer an option last March, when the coronavirus pandemic caused the sudden closure of schools in Spain and many other countries. With more or less fortune, and in a matter of days, teachers had to find the best way to continue teaching remotely, making use of the technological tools at their disposal: platforms such as Zoom, Google Classroom, Microsoft Teams … and YouTube, a recurring resource in the learning of Internet users. According to data from Google, seven out of ten users of the platform They use it to learn, and if 300 videos were uploaded around the world in January and February with the words "distance learning" in the title, in March alone that number exceeded 23,000. Months later, and when the academic year begins in the midst of strong security measures to contain the number of infections, technology is already an essential tool for educators, students and their families.
In this context of uncertainty about how the new course will develop, the figure of the edutubers, or educators on YouTube, takes on a special relevance. Educational channels with years of experience as Unicoosby Professor David Calle (1.4 million followers who learn mathematics, physics, chemistry and technology with him); The cradle of Halicarnassus, by the professor of History and Geography José Antonio Lucero (150 thousand) or AntonioProfe, by the Andalusian Antonio Pérez (26,900 Physics and Chemistry students), mark the path of an interactive and participatory teaching style, based on a flipped classroom model (or flipped classroom) that adapts without problems to the type of teaching that is needed at all times, whether face-to-face, blended or distance.
"Now everyone is concerned about a safe return to class, and that is great, but it is not talking about what we changed, how we should approach the lessons differently, or how to get students to get involved and participate in videoconferences ", reflects Calle aloud. For this teacher, there is a lack of training and resources from the educational administrations, so that teachers can approach their digital teaching with all the guarantees.
It's not just about sending videos
All the teachers consulted agree on one point: teaching online is not simply sending a list of 50 or 100 videos to your students, or connecting to a video conference to do exactly what you would do in the classroom. "You have to change what is taught and how it is taught, trying to introduce different dynamics to motivate them and involve them in other initiatives that interest them, because if not … If you already fall asleep in class, imagine at nine o'clock in the morning. tomorrow at home, "says Calle. In the flipped classroom model, students view content on their own before class, so that time spent with the teacher is spent answering questions and engaging in collaborative activities.
"I do not explain in the classroom", confesses Antonio Pérez, professor of Physics and Chemistry of ESO and Baccalaureate in Los Barrios (Cádiz). "We dedicated the classes to answering questions, just like we did during confinement: they saw the theory at home and we solved the questions by videoconference. That is why it is such an interesting methodology, because it perfectly caters to diversity. As the class is recorded, the student who has the most trouble can see it as many times as he or she needs, so that when we return to class we are all at the same level ", he assures. Pérez, who is a finalist for Gobal Teacher Prize 2020 and what stars the documentary I am EduTuber, which will be seen soon at the Alcances documentary film festival, in Cádiz, has accumulated on its channel almost 500 videos that cover the entire Physics and Chemistry syllabus from 2nd of ESO to 2nd of Baccalaureate, with the most important exercises on each subject . "I like to be innovative, and try new things; and the truth is that, when you start using active methodologies like this one, the results improve, a lot ".
José Antonio Lucero created La cuna de Halicarnaso in 2015 to offer his students audiovisual content that they could use to study or review at home. But, as in the case of Calle and Pérez, what began as a small project, thanks to the Internet, acquired an unexpected reach that crossed borders, especially last year. And, also like them, he adopted the same model of inverted classes. "I ask them to watch a video a week, that they have to work at home taking notes according to a model (that of the Cornell notes) that I teach them at the beginning of the course. And then, what is generated in class is time to reflect on the historical question that we are raising, through cooperative tasks or projects. Generating a debate is essential not only for learning, but also for developing a critical spirit ".
Among the activities that he uses after viewing the videos, Lucero cites some such as an analysis of images, carrying out questions and answers for other classmates or investigations in the classroom, using computer resources. But he insists on one point: these resources are very valid, but they are not everything: "For my students, video can mean between 10 and 20% of what they learn. It must be combined with other activities and active methodologies in the classroom, which serve to reflect and learn in many ways ". And Calle remembers that "Teachers are no longer the only source of knowledge. That is why it is essential to guide them, teach them what kinds of things they should see and that they can discriminate reliable sources from those that are not; ask them questions; work as a team with them; to debate; get to know them a little more … "
In addition to covering the history syllabus, La cuna de Halicarnaso also addresses, from an objective point of view, current issues that are not without controversy to explain to a secondary school student: why do they call me a façade if I carry the flag of Spain? Why do we have a king? Why don't as many women as men appear in textbooks? An initiative that tries to refute the general impression that History is only a subject to memorize past events: "I believe that History serves, above all, to understand and reflect on our present," says Lucero.
So are videos all advantages?
Not at all. For this teacher, they have the disadvantage that the teacher is not there to answer the doubts that may arise in the students, and that is why he tries to make them write them down and then formulate them in class; and always without forgetting that there may be students who do not have good access to the Internet or who may have a single computer for several people, and for them they have to prepare other strategies.
"It is very common for the student studying at home to have a question, but when he returns to class he has already forgotten it," says Pérez. To avoid this, he encourages them to leave their doubts or questions in the comments of the video or through social networks such as Facebook, Instagram or Twitter, in which the teacher maintains direct contact with his students. "On Instagram, for example, I usually upload photos of the practices they do at home; Or they send me a photo of a problem that doesn't come out, and if I'm at home at that moment, working on something like that, I will resolve the question on the spot. Or we have it there and the next day, in class, we open that social network and answer it ".
Maintain a passion for learning
"Perhaps, what this educational system has generated on many occasions it's a disappointment to learn, and it has caused that little by little they lose that curiosity and illusion that children feel at three, four, five years old, "Lucero reflects. "In the end, what it is about is to generate love for knowledge, especially in Secondary. Because when a boy is transmitted that love of learning, that never goes away. It doesn't matter to me that my students leave ESO knowing a lot of dates, names and historical facts; but don't lose your love for my subject, for continuing to learn history ". For this expert, we are used to a behavioral system in which the teacher leads and the student goes on rails; so, at the end of his educational stage, "it is as if he had been sitting all the time on the witch's train, receiving. This generates in many students the feeling that they are not building their own learning, but that it is imposed on them, and generates disconnection because they do not see the attractiveness of the system ".
If you can generate that passion for learning, the results will not only be greater, but also more lasting. Students will become more involved and take greater responsibility for their own learning. Something that Antonio Pérez also agrees on, who gives his students total freedom when doing internships: "They can do whatever they want. I give you an example of a second year of ESO. One day one of them came to me and said: "Antonio, I want to make a rocket!" "A rocket, kid?" "Yes Yes". "Well, nothing, get in there, look for the information, tell me what you want to do and I'll help you." They do the entire process: they look for the information, the materials, they do the experiment, they explain what happened … As they are following the entire scientific method, from observation to obtaining results, it is valid for any subject ". And he adds: "Maybe it is not directly related to what you are giving at that moment, but that content is left to them, it is a significant learning that also fulfills the purpose of the practices, which is that they know how science works" .
Unicoos, from crisis to pandemic
When in 2011, and due to the economic crisis, the small academy that David Calle had in Velilla de San Antonio (Madrid) was left without half of its students, he was so sad that he decided to overcome his stage fright and began to record videos for help your students. It was going to be something for thirty students … And today, nine years later, Unicoos is already a virtual community of almost a million and a half students, teachers and even parents, it has your own website and even a app for Android, and has passed the contents of mathematics, physics, chemistry and technology to tackle all the subjects, with the BeUnicoos project. They have compared him with Salman Khan, creator of the Khan Academy website and recipient of the 2019 Princess of Asturias Award for International Cooperation, "with a small difference: that he receives 100 million dollars a year in grants and we do not even 100 euros … I wish I could also have 200 employees, and do much more with Unicoos. Because they don't stop asking us, "he confesses.
It has grown so much that now, in addition to almost 900 free videos, they even have a premium part "with all the theory they need, self-correcting exams, solved exercises, a chat and a question and answer forum that, in two years, has already solved 600,000 questions, "explains Calle, and they have even developed some tools for teachers, such as BeCam, a videoconferencing platform that has a multi-user whiteboard on which teacher and student can paint at the same time, or BeQuest, an application to gamify classes through an interactive question and answer game.

Learn everything related to the ideal tools to cover business management needs such as business administration, finances or marketing plans, among others.

Do you like to organize and lead teams? Can you imagine preparing and executing budgets or making crucial decisions in times of crisis? Learn to plan and manage audiovisual projects!

With this training, you will be able both to develop your own film and television projects, as well as to play the new roles that the sector needs.