Schedule and where to see the classification of the GP of Emilia-Romagna of Formula 1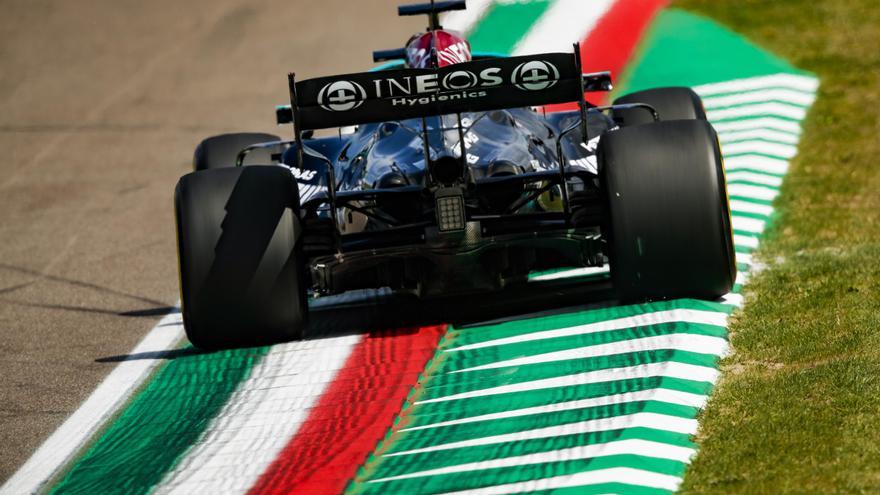 The Italian circuit of Imola will host this weekend the Grand Prix of Emilia-Romagna, second quote from Formula 1 World Cup what Carlos Sainz (Ferrari) faces wanting to shine at the 'Scuderia' and Fernando Alonso (Alpine) is looking for his first points on his return to competition.
Formula 1 has recovered its most usual landscape, with Mercedes leading the standings on the first day of free practice at the Grand Prix of Emilia Romagna. Three weeks after Red Bull appeared in Bahrain as an alternative to dominating the silver arrows, Mercedes slammed the table. He came, however, to triumph at the hand of the British Lewis hamilton in Sakhir.
This Friday he placed his best driver – World Championship leader and seven-time world champion – in second place, after the Finn Valtteri Bottas. Between them they reduced the euphoria that was unleashed in the preseason in the energy drink team. Red Bull didn't have its day at Imola.
In Free Practice 1, the Mexican Sergio perez he missed the last third of the session after a touch with the French Esteban Ocon, from the Alpine team. In FP2, the problems were transferred to the car of the Dutch Max Verstappen, which ended up sunk in thirteenth place, after just five laps at the Enzo e Dino Ferrari Autodrome.
Valtteri Bottas and Lewis HamiltonInstead, they completed 25 and 26 laps, respectively, and solidified Mercedes' dominance in the second session. In the first they had already added another 23 and 25, equally enough to command the table. The margin between Bottas and Hamilton was reduced to 10 thousandths in the afternoon session, in which Frenchman Pierre Gasly (AlphaTauri) stood out. He was third, 0.078 seconds behind the Finn. Bottas rolled in 1: 15.551.
Relatively close to the man who set the best time of the day was the Spaniard Carlos Sainz (+0.283). He placed his Ferrari in fourth place in Free Practice 2.
Mexican Sergio Pérez finished sixth, 0.860 seconds behind Bottas. Japan's Yuki Tsunoda (AlphaTauri), Britain's Lando Norris (McLaren) and Canadian Lance Stroll (Aston Martin) completed the top-10. The Spanish Fernando Alonso, thirteenth at the end of the day in Imola, was left out of that place.
-Saturday.
Third practice session 11.00 – 12.00.
Qualification session 14.00 – 15.00.
-Sunday.
Race 15.00.