Schedule and where to see the classification of the Austrian GP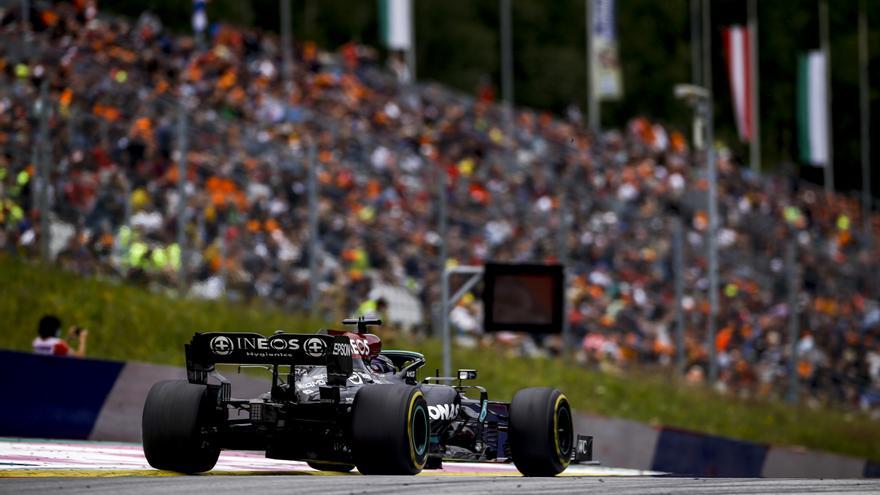 The British pilot Lewis hamilton (Mercedes) was the dominator of friday in the Austrian Grand Prix, ninth quote of Formula 1 World Cup and second in a row at the Red Bull Ring, with his partner Valtteri Bottas second and pressing both to a Max verstappen (Red bull) who won the previous race and had been the best in the first batch.
The Mercedes put the batteries in the second sessionn free to dominate with Hamilton and Bottas and send a warning to a Verstappen who, anyway, stayed two tenths, very close, of a Hamilton who seems to have the morale gained lately.
Dutch won the Styrian Grand Prix on a Red Bull Ring that is 'home' for your team. And, despite dominating in the morning and giving up the baton to the two Mercedes, he still has a lot to say on a date where he also started well Aston marin, with Lance Stroll Y Sebastian vettel fourth and fifth in the second session.
Hamilton set the best time in 1: 04.523, 189 thousandths better than his partner Bottas and with Verstappen at 217 thousandths. Much more equal than in the first round, when Verstappen scored a 1: 05.143 beating 266 thousandth Charles Leclerc and in 288 to Spanish Carlos Sainz, in a very good start for the Italian team.
Nevertheless, Ferrari recoiled, or did not want to press, in the afternoon. Carlos Sainz was thirteenth and Leclerc sixteenth. Too far as, to see the seen in the morning, to think that they could not give more. Also, it was a colder second batch, not too fast, and with shy threats of water.
In the afternoon the Spanish participated Fernando Alonso, eighth with his Alpine -at 870 thousandths of Hamilton- that in the morning he yielded, steering wheel with his name and number included, to the pilot of the Alpine academy and current leader of Formula 2, the Chinese Guanyu Zhou, who in his debut in F1 it was fourteenth.
Austrian GP qualifying schedule
Saturday
Third practice session 12.00 – 13.00.
Qualification session 15.00 – 16.00.