Scariolo hopes that Spain reduces the distance with the medal candidates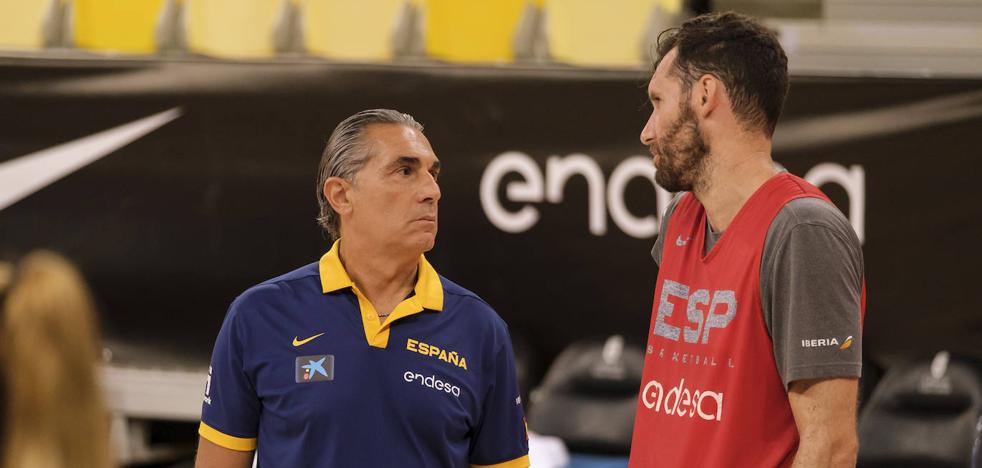 eurobasketball
The Spanish basketball coach spoke to the media on Monday on the eve of the friendly match against Lithuania, scheduled for this Tuesday, starting at 6:30 p.m., at the Gran Canaria Arena
The Spanish basketball coach, Sergio Scariolo, expressed this Monday in Gran Canaria, on the eve of this week's first friendly against Lithuania, his wish that the national team
reduce the distance that keeps them from being a candidate for a medal in the next Eurobasket 2022.
«
Everyone says that we are far from the fight for the medals and we must work to get closer, and then see where the competition puts us, "said the Italian coach.
Scariolo added that "arrogance or bravado" are not good "allies" when facing a competition, "especially if it takes us away from reality", so they must avoid "
a naive overvaluationwhich has no reason to be", such as hanging the favorites sign beforehand.
In his opinion, Spain has to «
compete as always, show your face and an image of a cohesive team that fightswho plays basketball well, with pride, toughness, intensity and concentration", and the definition of "favorites" should be ignored by both coaches and players "when the motivations are different, and the gaze and concentration are on other focuses".
Scariolo explained that they continue to "progress"
in the "work of renewal and growth" in a selection in which many of its players have had to adapt "to a different role, to be complementary to more protagonists."
The Spanish coach values ​​the
"demanding" rivals that they have in this preparation period, such as Greece, already with two games played -defeat in Athens and victory in Madrid-, or since this Tuesday Lithuania, "another team that everyone sees as a medal favourite", which They will also meet on Thursday in Vilnius, the Lithuanian capital.
Scariolo recognizes that Lithuania is a rival «
much stronger physically», something that they will try to be noticed «as little as possible», for which they have to «take a step forward, make the impact hardness high, keep their big men away from the paint as much as possible and compete with a low number of errors.
The Italian coach admits that the rival has a "very high physical-athletic rhythm", plays a
"excellent basketball" and has very good players "in all positions", while Spain's strengths are "enthusiasm, energy and the desire to improve".
Asked about the physical condition of power forward Usman Garuba,
Scariolo believes that he still has a "long way" to be available, since he is late With respect to his teammates, "not so much because of the recovery of the ankle, but because of his physical condition after being unemployed for so long", and he is a player who needs "to be physically well to perform and contribute".
And with regard to Juan Núñez and his signing for the German team ratiopharm Ulm, after ending his contract with Real Madrid,
the Spanish coach knew his destiny "for a long time" "And I have always seen him calm, the kid has taken it well", and considers that for the young point guard it is an "unbeatable" opportunity to have minutes "in a competitive and demanding team".