Scare when Grosjean's car exploded after crashing in Bahrain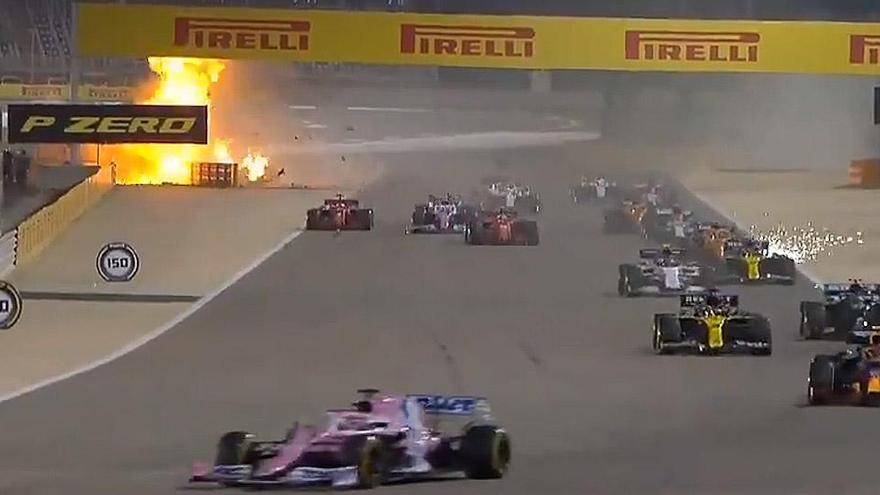 The French pilot Romain grosjean (Haas) stands "well" and out of danger after suffering a serious accident at the beginning of Bahrain Grand Prix, penultimate quote of Formula 1 World Cup, in which his car crashed into the guardrails, split in two and was engulfed in flames.
Sakhir's track held his breath in perhaps the most serious accident in recent years at the 'Great Circus', which miraculously ended without misfortune. On the first lap of the race, the French driver's car he played with that of the Russian Daniil Kvyat (AlphaTauri) and deviated from his trajectory to go straight to the guardrail at high speed.
On impact, the car was split in two as the wheels jumped through the air, and an explosion alarmed everyone on the Bahrain circuit. The very long minutes of uncertainty ended when the television images showed Grosjean safe and sound, and the contained silence was broken by the applause of all those present in the pits.
Grosjean made it out of the flames after 27 seconds thanks to a vital space between the guardrail and the car. "This was awful. Romain is out of the car and doing well," Haas confirmed. Thus, the Frenchman, visibly "stunned", was taken by helicopter to the hospital to undergo some tests, although apparently he only suffers "burns to hands and ankles".
.