Scandal in a cadet game in Girona: "If the referee doesn't see you, you can beat him up"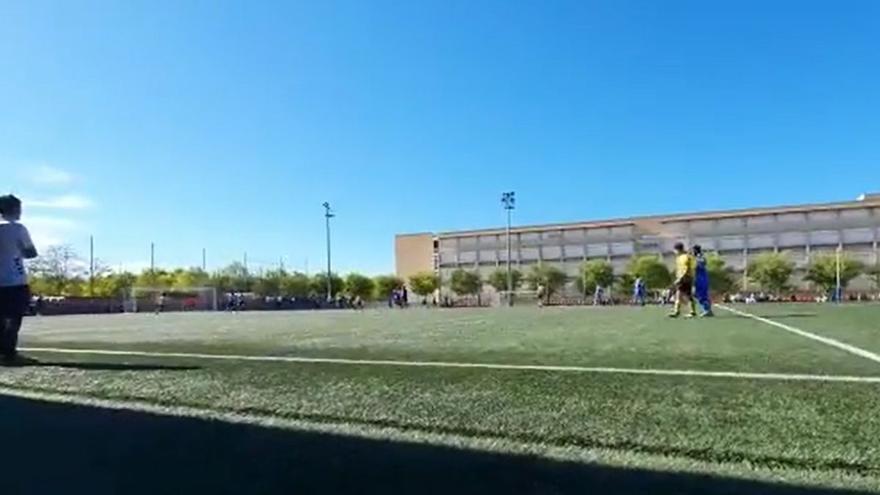 Last Saturday, at the Municipal de Can Gibert de Girona, faced Santa Eugenia and Fornells C. One more match of the Second Division in the cadet category, which would not have transpired beyond the visitor victory by 2-3, but which has ended up becoming a viral phenomenon. Some images, lasting only 22 seconds, have spread like wildfire and have not left anyone indifferent, showing a new case of violence in formative categories. The video in question is facilitated in the social networks Izan Campos, from Fornells, and does it to denounce as one of the local players, the number 37 provokes a rival footballer by kicking him accompanied by some shoves. To round it off, a voice is heard from off the pitch encouraging you to do so: "As long as the referee does not see you, you can swell. As long as the referee does not see you, you can beat him up". It is investigated if the instigator of the aggression is an amateur or a technician of the local team.
Given this, Campos decided to disseminate these images with a tweet in which the following could be read: "Any help / dissemination is appreciated for ending these ailments in the soccer". With more than a thousand "likes" and hundreds of responses, users say theirs and the official account of the Catalan Football Federation is also added: "We regret these images, we have sent them to the Subcommittee of Social Networks so that they send a report to the competent Sports Discipline Committee. "The body has therefore decided to act, which has set up the machinery to make it so. Fornells, as a club, He has not filed any complaint, but with the flight that the matter has taken, a procedure is already underway so that the thing does not end at all.
Oriol Camacho, Secretary General of the Catalan Federation, spoke about it yesterday on the RAC1 microphones. "Most likely, the player will be sanctioned and an attempt will be made to identify the person behind it by inciting him. We always try to find the individuals who are causing the problem. What we want is to eliminate them from the football fields." The case is now in the hands of the Girona Competition Subcommittee, which will open a file and apply the corresponding sanctions. In such cases, we work side by side with the Mossos d'Esquadra "so that those people who are the protagonists of serious incidents can be punished." The Federation does not have the capacity to punish spectators and it is for this reason that collaboration with the forces of order is required.