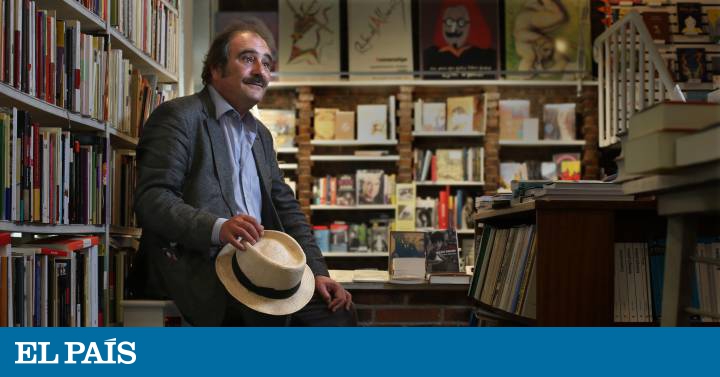 Readers of his personal blog, worked over 10 years ago, knew that Rafael Reig (Cangas de Onís, 1963) had an infrequent ability to turn his daily life into first-rate literature: those modest-looking blog posts, written while the author's most visible face indulged in controversy (as the opinion chief of a newspaper and, shortly before, as a sarcastic moralist of the literary world in a cultural supplement), intertwined humorous literary judgments with celebrations of family life with his daughter, who became a character. They also demonstrated a deep biographical drive: a salvation from the everyday in writing and a subtle pact between expectations and reality, an ego quarantined.
So, in a sense, a book like Untimely love, Rafael Reig's first strictly autobiographical project, was something foreseeable: almost a logical consequence of his writing, even though he made himself wait. And the result is so satisfactory, so decanted in the exact doses of irony, humor, sadness, bitterness and empathy, that one feels that the passage of time has played in its favor.
Articulated as a learning novel (those in which the search for the meaning of life, of the "experience" curdled into "moral", ends up being rather the acceptance of the nonsense of life), Untimely love it revolves around three main reasons: the formation of the writer, with a disenchanted generational reading; life, work and sentimental projects, and the assimilation of misfortune within the family: "The feeling of doom and ugliness (…) that tried to take a seat in our house", the gradual damage of parents of a happy nature, and tragic end.
Regarding the writer's formative years, Reig faces his parody: "I wanted to answer a question, did I just like being a writer or did I really like to write too?" A more subtle vindication than it seems, even somewhat heroic and idealistic (and naive) of literature at a time when "we feathered feathers had become mamarrachos." Reig sings the everlasting song to the lost generation, to his friends the novelists Antonio Orejudo and Chavi Azpeitia and the professor of Literature Eduardo Becerra. Seen in perspective, it is evident that this group replaced, at a certain point, the social figure of the successful (and current) novelist with a genealogical work, a reading as cultured as political and popular, as well-humored as it was serious, of the literary tradition. However, this is an opinion of this critic, because Reig does not take advantage of the pages of Untimely Love for disguised promotional exercises. He and his friends are "the fools of the class" and the book maintains a cartoonish tone, of disappointment saved by an empathetic irony: "For decades the press got used to talking about me often," he writes, "although always with the puzzling pseudonym of: and other writers. "
The same genealogical quality can be applied to Reig's style. Even in the most hurried moments, in which the autobiographical project runs that gender-specific risk of ending up in an inventory, Reig saves it with the fortune of an ingenious, tender and "conceptist" style. Allow me this anachronism, but Reig's prose draws its strength from an inaccurate rereading of Spanish prose, charged with double meanings and subtle darts that modulate (displace and miss) emotion. But if there is one thing that cultured writing is afraid of, it seems pedantic: it is finer and more subtle the more popular. And this is evident in what I have called "work and sentimental life projects", and I add: sexual. The adventures in American universities, with their strange alcoholic companions and libraries, and the abundant erotic chapters (with some gymnastic drive) are both a plebeian defense of literature and of life (not even meat is sad, nor have I read it all), in addition to an effective rhythmic counterbalance to the heart of Untimely love, its essential drama: the misfortune of the author's parents.
The portrait of this atypical couple who lived their best years in Colombia (where the father was an engineer) and who did not find, back in Spain, a reality adequate to their optimism is a faith of life: "This is how we had been educated: to be happy ". Also, due to his reluctance to melodrama, the family portrait undoubtedly becomes more painful: "That late courtship, untimely love, in a hospital hallway", when the mother lost two fingers in a domestic accident and the father, who slowly overcomes a stroke, has had a heart attack. A few years later, the parents will die in a fire at home.
But the wonder of this book, of undoubted therapeutic capacity, is in the absence of victimhood. Reig has found, he will say ironically, "a place to hide. These pages maybe. A perfect hideaway. There is no better place to hide than a confession. " But rather he has found a place to live: "Writing is for me the best and sharpest way of thinking," he writes. And if there is a lesson on the pages of Untimely love is that love for life and love for literature are not distinguished, because they are both the same thing. Literature is a survival. Writing, Reig has forgiven himself for surviving his own; for having survived himself. I cannot think of a better example of tragic salvation through literature.

SEARCH ONLINE 'INTEMPESTIVE LOVE'
Author: Rafael Reig.
Editorial: Tusquets, 2020.
Format: soft cover (256 pages, 19 euros) and e-book (8.99 euros).