Saul Craviotto stars in an episode of 'Planeta Calleja' on La Palma during the eruption of the volcano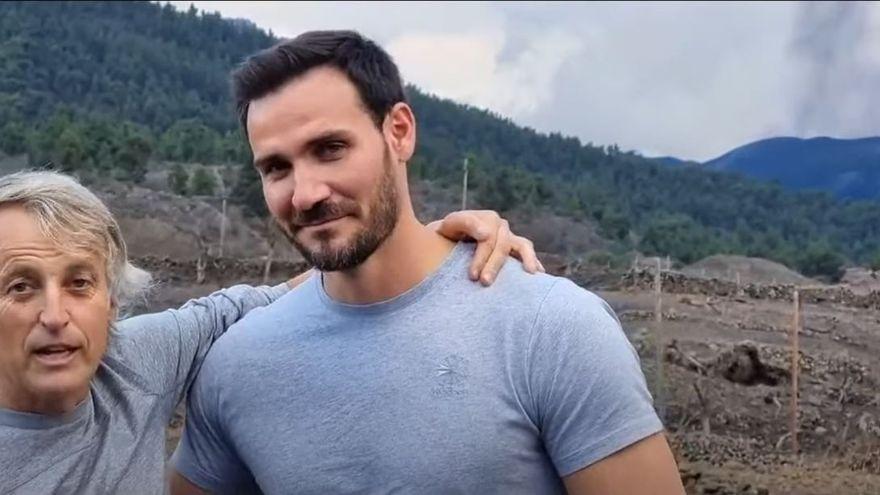 The popular TV presenter Jesús Calleja and the Olympic canoeist Saul Craviotto are currently on the island of La Palma filming one of the chapters of Cuatro's program Planet Calleja. Both have published on their Instagram accounts several publications in which they highlight the spectacular nature of the Island and the kindness of its people. "Friends, what a wonder of the island and what a wonder its people @saul_craviotto and all my team are happy filming this island. I recommend that you come and meet her! Thank you clappers for opening your houses to us and getting to know you better! MOLAIS MUCHO! ", Can be read in one of the television host's publications.
"It was time to make a Calleja Planet in La Palma, you have to be next to La Palma trees because this Island offers many things beyond the volcano," the presenter recently highlighted, who also specified that in addition to visiting the Tajogaite volcano, the intention will also be to visit the rest of La Palma to bring its viewers the adventures and landscapes that the island has in its entirety. "It was time to be next to the clappers doing a Planet Calleja, there is much to tell about this wonder of the island and its people, "said the presenter in a post on Twitter.
Since 2014 Planet Calleja has been part of the television grid, adding already a total of 56 episodes spread over 9 seasons thanks to its adventure format. In this program, every week Jesús Calleja takes a famous guest to live an extreme adventure in the middle of nature to any point on the planet. Nepal, the Arctic Pole, Thailand, Peru, Alaska, Vietnam, Madagascar, Benin or Greenland are just some of the geographical points that the popular program has visited. Guests from the world of sports, politics or entertainment, among others, have already ventured to live this experience that has managed to reach the two million viewers.
It is not the first time that Calleja has resorted to the Islands as one of the settings for his television program. The presenter has already declared himself in love with the Canary Islands and visited Tenerife last year 2015 in a program that was seen by more than 800,000 people. At that time, the presenter toured during the program he toured some parts of the Island accompanied by locals. During the hour of the program, Jesús Calleja flew over Garachico, Buenavista del Norte, the hamlet of Masca or Icod de los Vinos, among other areas of the island. Likewise, the chapter dedicated to the island offered images captured with an underwater robot from the Organs of the Rapadura – a million-year-old basalt formation submerged in the bottoms of the municipality of Santa Úrsula.
In 2018 the program traveled to El Hierro to investigate the beaked whales, an unknown cetacean that lives in the nearby waters of the island, a privileged environment due to its biodiversity and its climatic conditions. "The presence of these cetaceans in El Hierro confirms a unique reality: we live in a country of extraordinary animal wealth"Jesus Calleja explained then. "Creatures as unique as beaked whales are just a sample of what we have around us and the obligation that falls on all of us to protect, promote and improve the living conditions and ecosystems of these wonders of nature."