Sarabia raises its status with Spain at the crossroads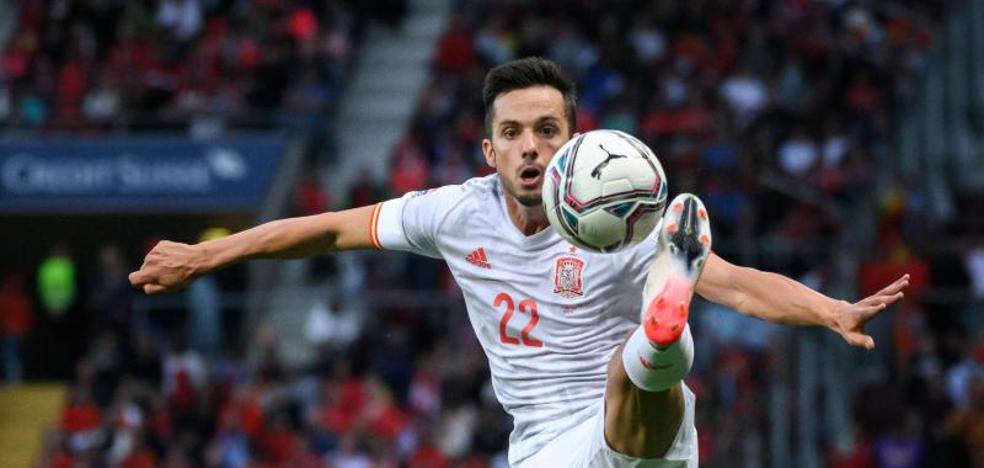 League of Nations
The man from Madrid, a starter in eight of the last nine games for La Roja and an increasingly prominent figure, has his future up in the air
Luis Enrique was asked prior to the duel between Spain and Switzerland on Thursday in Geneva if he was concerned that there were a dozen internationals whose immediate professional horizon was up in the air. "I don't even know which ten players are out of contract. And if so, how lucky they are, because they will be able to decide their future. In their career they will rarely be in that situation. In my career I was only once like this. I don't even know who they are."
said the man from Gijón, which had an impact on the fact that he saw his entire troop "hyper-concentrated and hyper-prepared". Among those footballers to whom uncertainty does not seem to make any dent is Pablo Sarabia. Author of the goal against the Swiss block that certified the
first victory of the Spanish team in this third edition of the League of Nations, the attacker from Madrid continues to raise his status within the national team, while facing another crossroads in his career.
The former Real Madrid youth squad has just signed a spectacular campaign in the ranks of Sporting de Portugal, a team he joined last summer in search of the necessary continuity to ensure his presence in the World Cup in Qatar. Something that seemed impossible at PSG, where the presence of three stars of the caliber of Mbappé, Neymar and Messi blocked the options he had to play a leading role.
A brave bet by Sarabia that has been more than rewarded. The striker sealed 21 goals and distributed 9 assists in the 45 games he played this season with the Lisbon side, where he landed on loan. The lions, of course, would love to continue to have his services. The footballer would not look badly either to continue his career in Portugal, where he has registered one of the highest performance peaks in his long career. But he still has one year left on his contract with PSG, his salary of 13 million euros gross is prohibitive for the coffers of the Portuguese team and there are many 'girlfriends' knocking on the door.
Because to these excellent performances with Sporting de Portugal is added Sarabia's explosion with the Spanish team, to the point of becoming one of Luis Enrique's favorite footballers. The Asturian surprised many when he included him in the list for the last European Championship because, despite the fact that he had already taken the alternative as an international with Robert Moreno in September 2019, he had not been in the national team for almost two years and there were few who they granted credits to be among those chosen for the multisite tournament. "It was a happy day and I think it was key in my career," he still recognized at the Stade de Genève about that call Sarabia, who squeezed the opportunity out of him and conquered Lucho, who already has him as a fixture in his plans.
Many girlfriends'

Since then, he has not missed a single call-up and has started eight of the team's last nine games, the only exception being the friendly between Spain and Iceland at the end of March at Riazor, where he replaced Dani Olmo in the minute 59 of the clash. More than enough time to sign his first double as an international, after two assists from Marcos Alonso. Only Unai Simón and Gavi have started as many times as Sarabia in that period of matches.
His capacity for work and versatility have transformed him into an outstanding asset for Luis Enrique, who is also making a lot of profit from the sense of smell of a footballer who is on a roll. In his last four appearances, Sarabia has participated in as many goals: three goals and one assist. But there is more. Since he broke into the national team again in June of last year, nobody has seen the door as many times as the man from Madrid, author of seven goals and two decisive deliveries that make him the most productive attacker of La Roja in those twelve months.
«I am going through moments in which I have gained experience, but I want to continue learning. Day by day I try to be better and enjoy this, "said Sarabia at the end of the match against Switzerland, insisting that he will not analyze his next steps until Sunday's dispute with the Czech Republic in La Rosaleda. "The decision will be very thoughtful," clarified a player who is not losing sight of teams in the League such as Sevilla, where he completed three brilliant campaigns that served as a springboard to PSG, or Atlético, who consider him a great wild card for Simeone .