Sara Sorribes: «The casualties of Badosa and Muguruza are another challenge»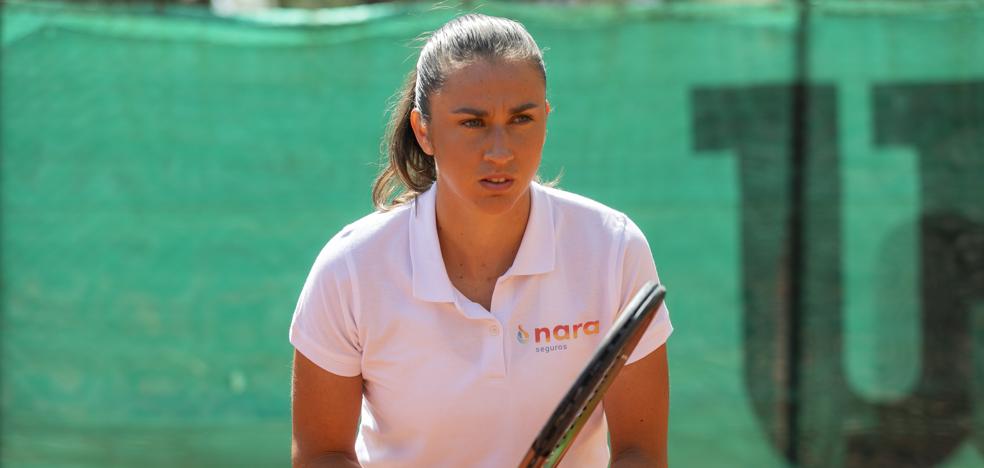 interview
Spain is risking its presence in the Finals of the Billie Jean King Cup with the Spanish player as number one against the Netherlands
The Billie Jean King Cup (former Federation Cup) begins this Friday with Anabel Medina's team playing against the Netherlands to qualify for the Finals on the clay of S'Hertogenbosch. She will do it without Paula Badosa and Garbiñe Muguruza, both suffering from physical problems. A scenario that is not new for Sara Sorribes, from Castellón, who will take on the role of number one to try to get Spain to be among the best teams in the world. Sorribes will play this Friday against Lesley Pattinama, after Nuria Párrizas opens the tie against Arantxa Rus.
-
What feelings do you have ahead of this confrontation?
-Very good. We are a team that we already know each other from other qualifiers and the most important thing is to adapt to clay courts, because for some this is the first week of the season that we play on clay.
-
How have the casualties of Muguruza and Badosa affected you?
-These are things that happen. We have taken it as another challenge, another way of uniting and trying to do a good job. Each one has their reasons, they have been different reasons and we will try to go with everything we have against the Netherlands.
-
Does it increase the pressure for you? He goes from being number three on the team to number one.
-Logically, it is different when you know that you have people in front of you when, by ranking, you are the first. It doesn't mean anything that you have to play or not, but the way to deal with it is more or less different. Luckily I have experience in this competition and each time I try to do better by learning from the other times.
-
The group spirit has already resurfaced in the last Finals, when Muguruza and Badosa could not be counted on either.
-I believe that Spain will always compete well. Beyond the result, we, and a large part of the Spaniards, have a fighting character, brave, quarrelsome, and that on our part will not be lacking. The rest no longer depends on us, so we will give that part for sure.
-
Is Spanish tennis going through one of the best moments in its history?
-Yes I think so. Having two 'top ten' players is something very positive, and in boys, having the figure of Rafa (Nadal) is amazing. Everyone, both boys and girls, are doing very well and it's being a very nice time for the viewer as well.
-Now it is rarer to see scenarios like the BJK Cup or the Davis Cup, with an audience completely against it.
I think it's just different. The only thing that matters is that the public is not disrespectful. If they encourage and simply applaud the successes of theirs and some of your mistakes, as is normal in these competitions, it can be carried away. The problem is when there may be a person or a few people who cross the line and it could affect you more.
-
How does it affect you personally?
-I'm lucky enough that when I play I don't find out anything. I try to avoid everything. I haven't had many problems, perhaps the most when I debuted in Argentina in the Fed Cup, but because it's a warmer crowd. I took it well. I try to think a lot about myself and that it doesn't affect me.
-
I think there are few tennis players who know Paula Badosa better than you. They have been great friends since childhood, has her explosion surprised you?
-No, not really. I have always thought that Paula has a high level, a lot of potential, since the first time I saw her play. It doesn't surprise me at all that she is where she is.
-
Are you ready to be number one in the world?
-I don't want to say it so as not to put more pressure on him than he already supposes. But I do see her capable of enjoying tennis for many years and hopefully she can achieve great things. Bigger still.
-
Did Ashleig Barty's withdrawal catch you by surprise?
-I think Barty had different aspirations in life. I have always thought that he had a lot of class, that he was a little above everything. I felt very bad that he left, but he did not surprise me. I think he is totally understandable and respectable. I felt bad because I loved watching her play.
-
For the fan it is also a shame because, after so many alternatives and ups and downs, Barty had managed to dominate.
-It was very good. So she had to dominate yes or yes. I loved his way of playing. I remember that when I played against her, during the warm-up, she couldn't even hit the ball. I could only look at her because it seemed amazing to have her in front of her, to see her from so close to her. She had a lot of class.