Santos Timochenko: Politicians who are 'booktubers' | Culture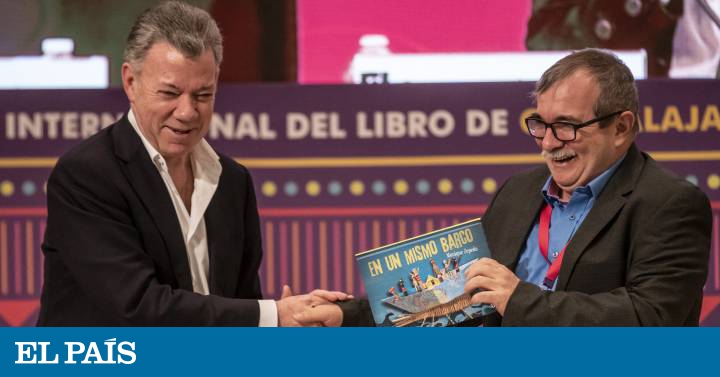 The good thing about FIL is that it provokes a mood in its visitors that, rightly, leads them to think that giving a book can be a symbol of friendship, the perfect summary of their best feelings. No one would think of giving away the first season of Game of Thrones. When the president of Colombia Juan Manuel Santos and the head of the FARC Rodrigo Londoño TimochenkoThey met in Havana four years ago to negotiate peace agreements, the first asked the second to row in the same direction because they were in the same boat. Last Saturday they saw each other again in Guadalajara (Mexico) for a public colloquium that closed with Santos, who has a granddaughter of 18 months, giving his former enemy a book for his son, 5, entitled In the same boat.
Published in 2016 by Fondo de Cultura Económica in its priceless collections of children's literature – which house jewels such as Belisario, by Gaëtan Dorémus, or the tales of Oliver Jeffers-, In the same boat It is a 40-page album written and illustrated by Mexican Monique Zepeda, author of about twenty titles and winner of the Steamboat Award. This Monday there was still a copy in the huge stand that the Fund has in the FIL. Paco Ignacio Taibo II, director of the publishing house and well known to Spanish readers for his Asturian origins – who walked around so many problems They brought him a year ago – and for his work at the helm of Gijón Black Week. Taibo was not aware of the presidential gift nor did the clerks have noticed a special demand for a book. Since Saturday they had only sold one copy. If we did not know that López Obrador loves symbols, we would think that among the objectives of his Government – that on Sunday he celebrated his first anniversary with grandeur First centenary – is to abolish marketing.
There must be an intermediate point between the claim effect that caused the news that another Nobel Peace Prize -Obama- was reading Freedom, by Jonathan Franzen, and the laughter caused by Peña Nieto – predecessor of AMLO – when, visiting this same fair in his pre-candidate times, he attributed to Carlos Krauze the novel by Carlos Fuentes The Eagle Chair. Especially since Zepeda's book, a true vademecum for any negotiator, is very funny. In it alternate the collages with a call to coexistence without prejudice in which we are warned: "Ideas can be a cage. And the cages … are almost never a good idea. "
(tagsToTranslate) politician (t) be (t) booktubers (t) juan manuel santos (t) nobel de la paz (t) give away (t) timochenko (t) ex-guerrilla (t) book (t) monique zepeda (t) gesture (t) have (t) translate (t) sale



Source link