Santiago Segura supports Flo after his controversial words about comics: "If you can misinterpret something, you misinterpret it"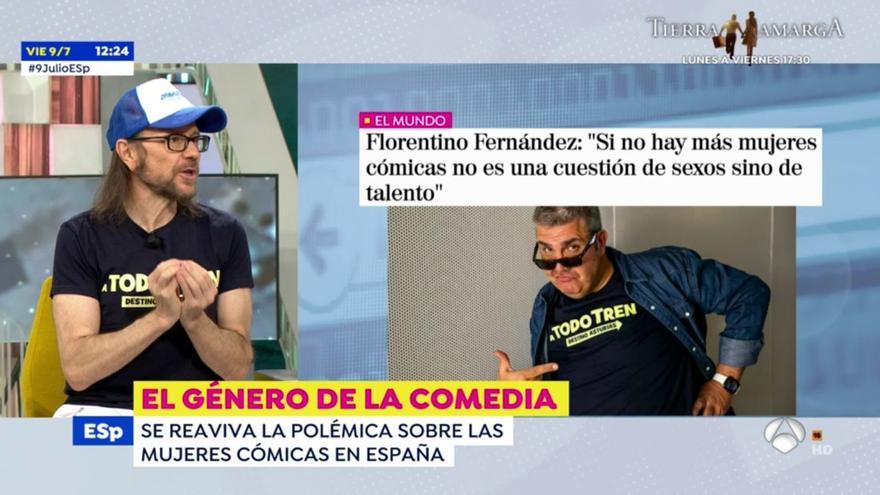 The controversial statements by Florentino Fernández about the comics continue to generate reactions. One of the last has been that of Santiago Segura, who has defended his friend and comedian when asked about these statements during his visit to 'Public Mirror': "When reading it, I understand that I would hire Martita de Graná a thousand times earlier than dozens of comic men. Why? Because of sex? No, because of the talent (…) I think if you can misunderstand something, you misunderstand it. "
"You do 20 or 30 interviews and talk about everything, they don't just ask you about the movie. It is difficult to look good with everyone. You try to get around but Flo got a controversial headline out of it", said the director and protagonist of 'A todo tren' when asked about her in the talk she had with Susanna Griso and her collaborators.
In his speech, Seguro also recalled the publication he posted on his account Twitter to defend him, putting him as an example regarding the issue of misinterpretations: "I put that I have known Flo for 20 years and I think she values ​​humorous talent above all else. Come as a man, as a trans, as a woman or as a chimpanzee. One said Why did I compare all of them, but it was humorous, I could have said olive, but I didn't say it because they could say it was a living being or that I was messing with the olive growers ".
Specifically, Florentino Fernández became a Trending Topic this past Thursday after social networks echoed some controversial statements about machismo in the world of comedy. In an interview for the newspaper 'El Mundo' in which he reviews his career as a comedian, the comedian said: "If there are no more women, it is not a question of gender but of talent."
The comedian states that "it does not matter the sex or the race " and he highlights, for example, that in Andalusia "there is a talentaco of the host because there are many hours of sun and an atmosphere of the host. "If you go to Denmark, there are no comedians, because it is all dark and people are almost there to see what they can do to avoid committing suicide, they mount models in the living room or whatever. He who has talent, surfaces", he assures.
"We have had great comedians in the history of Spain and if there are fewer now, well, there are no comedians either, children or the elderly," says Fernández, who emphasizes "talent" and adds: "What happens is that each one later vindicates its history. "It is that they had to hire more women." Well, if they have talent, they should be hired and, if not, then no. Just like men. "