Santiago Díaz: "Reality is often worse than fiction"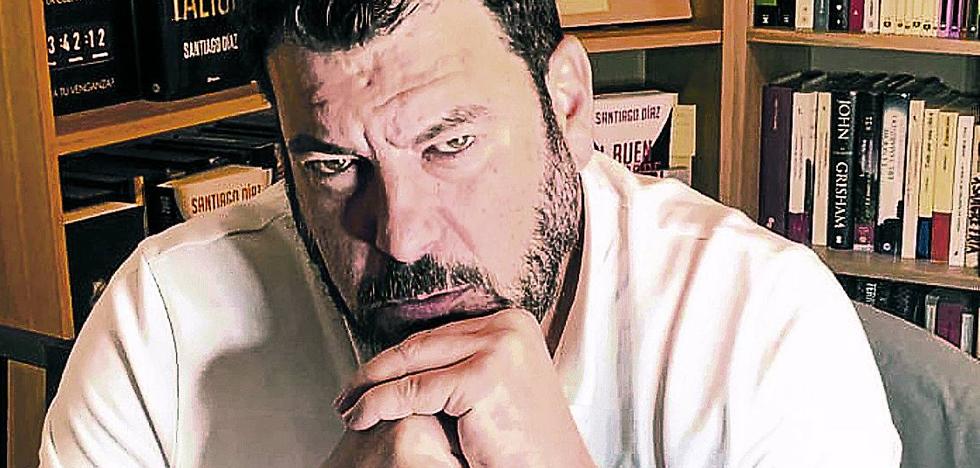 The week of...
Passionate about basketball, golf and spoon dishes, in his latest novel he tells a story about the return of Antonio Anglés, Alcasser's murderer. "There is news on TV that I discard because no one would believe it"
not stop As soon as the interview is over, he has a videoconference meeting with Los Angeles on account of a projected biopic and then a direct on Instagram. She has woken up in Burgos, where she went to promote 'The other girls' (Reservoir Books) and has had time to see the cathedral before taking the Alvia back to Madrid. Santiago Díaz -1.95 meters, 125 kilos- is excessive, no matter where you look at it. Television scriptwriter, he has just started shooting a series, 'El scandal' (Mediaset), and in his latest novel he dares nothing less than to fabulate about the fate of Antonio Anglés, the murderer of the Alcasser girls. No one had tried it in 30 years and he has done it by putting together a novel that leaves him breathless, again at the hands of his fetish inspector, the obsessive-compulsive Indira Ramos, whip of criminals and microbes. And all this in the moments that golf, basketball with his school gang and horror movies leave him, which he devours until he passes out. It's seeing him with a knife and you can't imagine what he's capable of.
Monday

7:30 a.m. I don't need an alarm clock. It is opening your eyes and picking up a book. An hour, maybe a little more. Now I am with a manuscript that I have been asked to read and of which I cannot reveal anything and also biographies related to my work as a screenwriter. Then I have breakfast, the same every day. Two rolls with Burgos cheese, yogurt and a piece of fruit. I'm a bore, I know.
9:00 a.m. After the shower, I'm going to take a 10 kilometer "walk" through a huge pine forest that I have near home. I don't do it every day either, because it takes me two hours and the morning goes by.
11:30 a.m. I'm getting involved with the novel I'm writing, the third installment of Inspector Indira Ramos, after 'The Good Father' and 'The Other Girls', which I have to deliver before the summer. The truth is that I'm having a great time, especially now that I've already defined the plot and have done all the documentation work. I have a blackboard with colorful post-its that I use to balance the plots, so that they are not unbalanced. It's not that I'm 100% faithful to him, but it keeps me from wandering off and getting into trouble.
Tuesday

10:00 a.m. I have to promote 'The other girls' in Burgos, so I take the Alvia that transfers in Valladolid. Before, I needed complete peace of mind to work and now on the train I have some of the most productive moments. I have seen the news before leaving home. Ukraine, the pandemic, shortages... Sometimes I hear things that I myself would discard in a novel because no one would believe them.
7:00 p.m. Hotel, lunch with the booksellers and the press, signing copies, an interview in a Channel 8 TV magazine, a presentation at the Palacio de La Isla... They ask me if the black novel that we do in Spain is not getting more and more lurid. I believe that people ask for a little more each time, perhaps because they carry a broader baggage, and those cravings must be satisfied. Before, only plots set in the lumpen belonged to this genre, and now it seems that 'normal' people are the scariest. Imagine your neighbor: you don't know him, you ignore everything about his past, it seems that he wouldn't kill a fly and then...
9:30 p.m. Here where you see me, at 50 years old and weighing 125 kilos, I'm still playing basketball. And I do it with my lifelong youth team, Fendetestas, like Alfredo Landa's bandit. Today I skipped training for work, but I don't usually fail. We play tournaments all over Spain, the next Over40 Basket in Seville.
Wednesday

3:00 p.m. Not even three hours ago I was visiting the cathedral of Burgos and I'm back home. I'm a eater, but rather little cooks, I leave that to Patricia, my girl, with whom I have lived for 15 years. I set the table, I clean up, I put the dishwasher... well. I kill for a stew, for a spoon dish, and if I already accompany him with a bottle of wine, he doesn't go anymore. Too bad it's not the weekend, because if I fall asleep... they can give me seven o'clock!
8:00 p.m. I have many direct Instagram and book clubs, like last Monday I played one in a bookstore in Atocha. We started with the last novel and ended up talking about all of them. What key must be pressed to trap the reader? The main thing is not to bore, not to put straw, chapters that if you do without them no one would notice the difference. You have to offer twists, advance the action, make it addictive... nothing pleases more than hearing a reader who has swallowed your book in two days. That and let the characters do. I used to think that they have a life of their own was bullshit, but I've discovered that it's true. If you put them in a situation that does not correspond to them, they go the other way.
Thursday

11:00 a.m. I have a hobby that doesn't suit me at all, but that I love: playing golf. What happens is that every day I am worse, I have a handicap of 21. Be careful, there are worse! We are a group that stays when work leaves us a hole; sometimes in the Santander Bank field in Boadilla, others in the Federation field, which is next to the M-30... People think not, but don't look at the exercise you do.
10:00 p.m. We are a lifelong gang, that I remember since we were 15 years old. Now with the pandemic many hugs have been broken, but some of us still go out to dinner at a place called El Panorama, here in Majadahonda, and then we end up in a bar, Mamaluca, with live music and where we finish off with a drink. Sometimes we make a mess, what happens is that the next day you have to give up, and if you are not formal it ends up being a drama.
Friday

10:00 a.m. I am involved in 'The scandal', a series that I write with two other colleagues. I have had chapters 3 and 7 (each one can take me a couple of months). Today it's time to read the script with the team: production, direction, costumes, actors... Writing scripts is complicated. You have to agree on all your decisions with the team and refine a lot: the spectator who leaves is no longer recovered.
9:30 p.m. The only thing I'm good at in the kitchen is baked fish, so I've put a sea bass on a bed of vegetables. Patricia goes to bed early (she works in a construction company and gets up very early), so I usually take the opportunity to watch series ('Years & years' and the best in the history of mankind, 'The Sopranos') and horror movies. All the 'series B' that you can imagine, so many and so bad that I forget. Of course, without chocolate: as between a tablet at home I have no measure. Same with the NBA. If I hook a game, they can give me two in the morning.