Santi Balmes: «Now we are able to adapt any style or style to Love of Lesbian»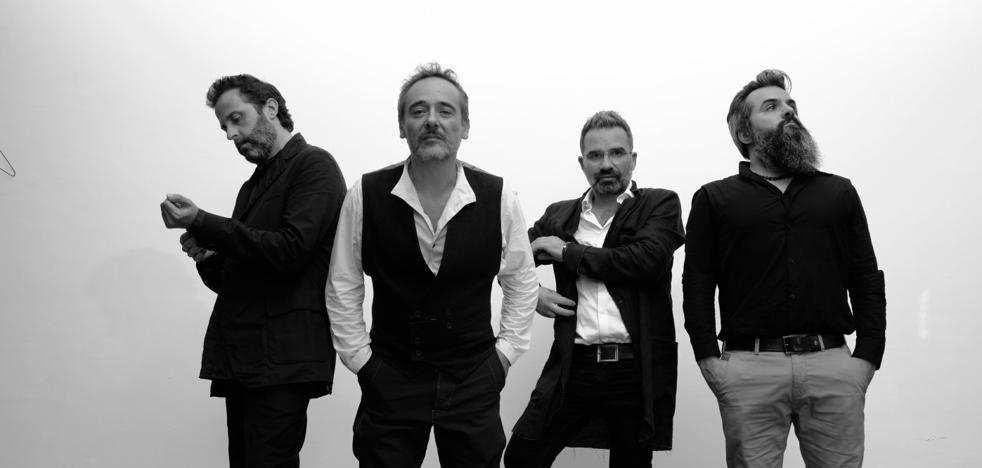 The Barcelona band plays at Infecar, on September 30, starting at 9:00 p.m., as part of the Gran Canaria Sum Festival
Love of Lesbian has its sights set on the present and the future. To such an extent that his
singer Santi Balmes acknowledges that they have nothing defined at this point for next year, when the members of this 'indie pop' group reach their first quarter of a century on stage. "You just reminded me what we do
25 years. We are not very nostalgic, because we are always with new projects and because we are a bit reluctant to retrospectives. But the date deserves that we do something", explains by telephone the leader of a gang that
will play next Friday, September 30, starting at 9:00 p.m., on the Mahou stage of the Gran Canaria Sum Festivalwhich will take place in Infecar, in the capital of Gran Canaria.
They land on the island to bring to life the most representative songs from their repertoire and some of those that make up their latest album,
'VEHN (Epic Journey Toward Nowhere)', which was released last year, although it was composed and recorded before the pandemic turned everything upside down. «We were clear that it was going to be one of the hardest albums at the emotional level of the group, but since we are not one hundred percent terrorists, we also tried to move it towards land with more light. That's how I think it has been, that's why the album is opening up little by little", recognizes the member of this musical group together with
Jordi Roig, Julián Saldarriaga, Ricky Falkner and Oriol Bonet.
'VEHN (Epic Journey Toward Nothingness)' reflects maturity, both musically and lyrically, as well as the band's ability to adapt to circumstances, as it showed even during the concerts it starred in during the darkest times. hard of the pandemic. «We have been adapting the direct to the different legal openings and restrictions.
We have been opening up like a butterfly in spring. Seen from a distance, it was a bit sad to see the public as if it were part of the 'Walking Dead' due to the sanitary restrictions... but people have been much more encouraged than before the pandemic. People have been out in droves, holding group events.
It shows a lot the desire that the public has in the concerts», assures Santi Balmes.
On a technical level, Love of Lesbian has also adjusted to the reality of its own creative moment. «There was an album in which I was almost without inspiration. I didn't want to talk about love and I ended up making a love album,
'The Poet Halley', dedicated to the world of inspiration, where he was precisely stuck. In this last album, he was going through a personal stagnation, a block, and I think that is reflected, as well as the later opening.
It was recorded a year before the pandemic and it is curious to see that the lyrics speak of situations of existential claustrophobia and land in the middle of a society that was plunged precisely into that, "he emphasizes.
music take off

'Crisálida', 'Escuela de danza aire', 'Los unrompibles' and 'Sesenta memorias perdidas', among other songs from 'VEHN (Epic Journey Toward Nothingness)', have also been possible thanks to the musical growth experienced by the members of Love of Lesbians. «We have taken advantage of the fact that we are now able to take any style or style to adapt it to Love of Lesbian.
We now have a musical and technical base that we lacked before. We wanted them to be songs that, unlike other albums, would not cost us to take live. Now we wanted to surf with pleasure. We are playing very well together, because we have climbed three steps at a technical level.
ANDwas what worried us most before, because the duende existed from the beginning, but we were a bit self-conscious. We have overcome all of that with this new album", acknowledges Balmes.
And he warns those who drop by Infecar to listen to them at the Gran Canaria Sum Festival. «
Live, the album sounds like a killing machine. We really wanted to play it on stage since we recorded it, because we already imagined how good it was going to sound, "he advances.
This album has led them to star in a tour of the United States, which also ended up in Mexico and Argentina. «
For the United States we did very well. There are many Hispanic people who are there for work or other reasons and it was obvious that they were excited to listen to us. When a Spanish group that interests them goes, they head straight to the concerts. For them it is like a reunion, "recalls the singer.
Adapt to a new way of consuming music production

Santi Balmes, singer of Love of Lesbian, does not throw his hands in the head before the way in which musical production is currently consumed, especially among the new generations. "In general, we are aware of everything. There is a brutal diversity of styles. People now make their 'play list', which includes everything from Pink Floyd to the latest song by the current rapper. What I perceive at home, which I don't know if it is the general, is that the young people are very eclectic. And that there is no deepening, as was the case before, when we knew five albums by five different bands by heart. Now they know thousands of songs, but not in depth, neither the album they belong to nor the artist or the band. That ritual of listening to an entire album is in frank decline », he stresses.
Faced with the loss of a "romantic and artisanal" conception of musical productions, he says that he has "resigned himself" to thinking that in this new form of consumption "a guy who releases one or two songs a year is as valid as the one who releases A disc". «It must also be recognized that before, on many albums only two or three songs were worthwhile and the rest were filler. Those of us who are obsessed with albums without filler songs will move on », he points out.
On September 30, Love of Lesbian shares the bill at the Gran Canaria Sum Festival with: Niña Polaca (6:00 p.m.), Shinova (7:00 p.m.), Anni B Sweet (8:00 p.m.), Dani Fernández (10:30 p.m.), Antonio Orozco (12:00 a.m.) and Kiko Poison (01.30 am).
The next day, October 1, the festival is completed with concerts by: Nena Daconte (6:00 p.m.), La Bien Querida (7:00 p.m.), Ara Malikian (8:00 p.m.), La La Love You (9:00 p.m.), Dorian (10:00 p.m.), Elephants (23.00), Izal (00.00) and Varry Brava (01.30).