Santa Rita takes advantage against Unión Gáldar thanks to a great Beneharo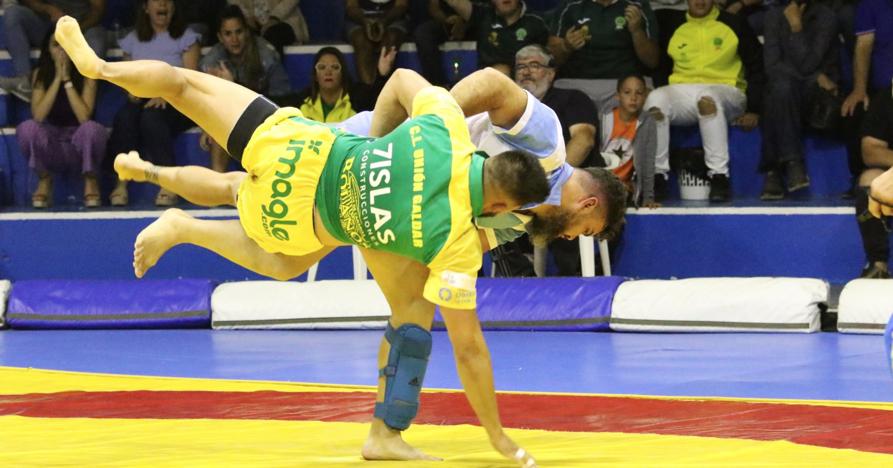 canary wrestling
The League runners-up hit first in the Cup, waiting to play the second leg
The first semifinal of the
Caja de Canarias Foundation Cup of Second Category faced the
current league runner-upthe
Santa Rita Soldadura José Caldera and the BNI
Union Galdarwho came undefeated from the first phase.
The victory was by the minimum 12-11 for the locals, which leaves the tie open for the second leg next Friday in the northern city. The clash had different alternatives, since the visitors began quickly ahead 1-4, but between Hacomar Zurita and Cristian Marrero they took the equality to the scoreboard 4-4.
New pull of the northerners thanks to Fran Moreno and Mario Roger4-6, but José Mendoza gave the first to captain Fran Moreno who was injured in the second and Marrero had no problems with the youthful Néstor Vega, 6-6.
Until Beneharo put the team on his back

With 8-7 and after giving the first to the outstanding Kiki Ojeda,
Mendoza was injured with possible shoulder dislocation and Marrero was eliminated due to one more warning against the outstanding A visitor, Moisés Pérez, 8-10.
Beneharo Hernández put the team on his back and first he could With Javier González while Marcos Correia and Moisés Pérez separated, 10-11.
Later he gave the two in a row to the other outstanding B Galdense, Carlos Santana,
11-11 and in the final grabs he did the same with Kiki Ojedaalthough he had the opportunity on some occasion to take him to the tatami, but the outstanding local B remained standing and ended the fight with a pardelera that lifted the public from the seats.