Sánchez sees a "downward path" in immigration figures despite the latest rebound in the Canary Islands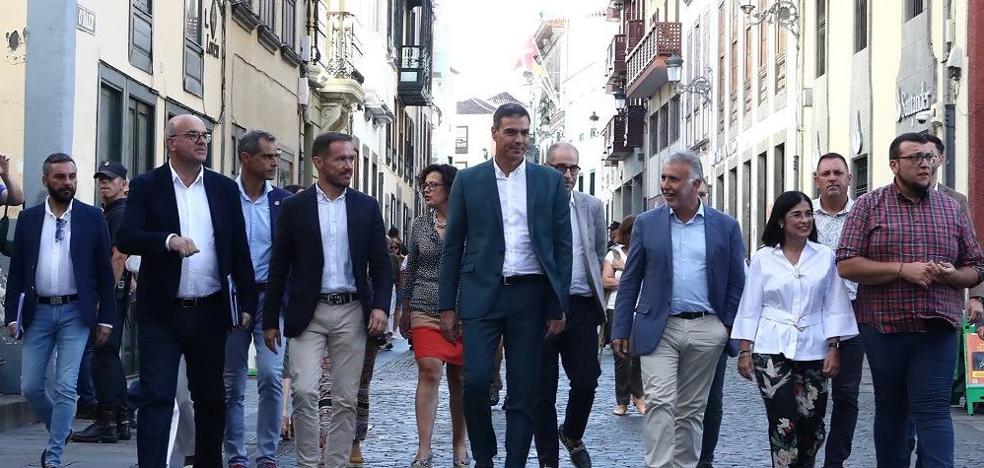 Pedro Sanchez in La Palma
The president has "deeply" regretted the latest deaths recorded in Canarian waters and has expressed his "solidarity" with the affected families
The president of the Government,
Pedro Sanchez, pointed out this Tuesday during his tenth visit to the island of La Palma that there is a
"downward path" in the arrival of immigrants compared to last year, something that "must be celebrated" and that, in his opinion, is a sign that "good work is being done" with transit countries.
All this, despite the rebound that has been registered in recent days in the archipelago, especially in Lanzarote, an island where Sánchez has spent the summer for years, with the
rescue of 700 migrants,four of them deceased. The president has lamented this tragedy and has shown his solidarity with the affected families.
Along these lines, he has emphasized that this drama begins "thousands of kilometers from our shores" and that it is motivated by the
"lack of freedom, of opportunities, persecution, that is why they ask for asylum, or even due to the effect of climate change", Therefore, "a much richer vision" of what immigration represents must be had, beyond border protection.
For this reason, he recalled that the Executive has increased the
development cooperation items both with the countries of origin and with those of transit, especially with Morocco.
About the new wave of boats arriving in the archipelago

The new wave of small boats arriving in the Canary Islands is a matter of great concern. «A Spanish and European policy on migration is needed. There is a lack of a policy in relation to the African continent. Meanwhile, there is only room for security and humanitarian aid to save lives," said the Vice President of the Government of the Canary Islands and Minister of Finance, Budgets and European Affairs, Román Rodríguez, in relation to the matter.
The General Director of External Relations of the Canarian Government, Francisco Trujillo, has also addressed the issue.