Sánchez insists on intervening in the electricity market "when it is clear that there are problems"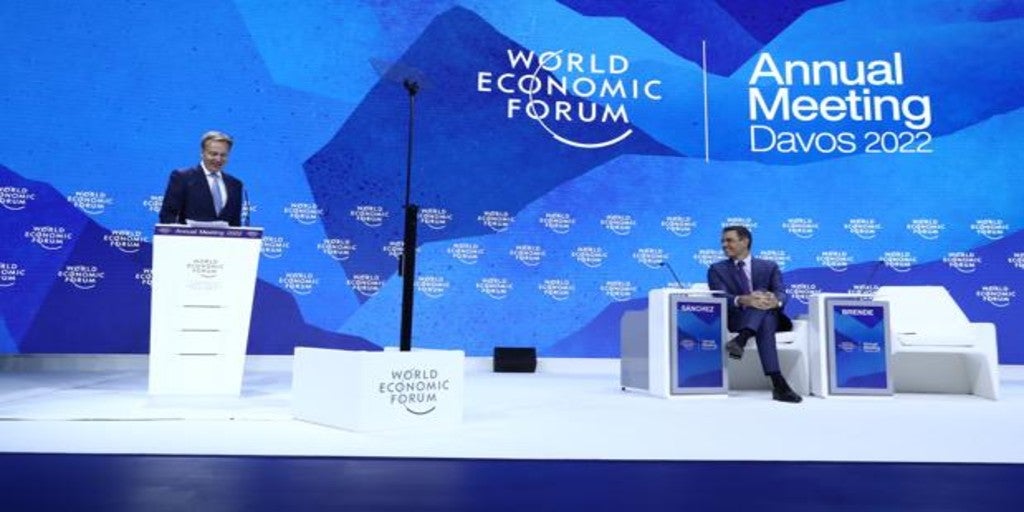 Rosalia SanchezFOLLOW, CONTINUECORRESPONDENT IN BERLIN Updated: 05/24/2022 16:55h
Save
Related news
"I can't understand why in Europe we are willing to intervene in the financial system if something is not working, but we are unable to intervene in the energy market when it is clear that there are problems." This has been the complaint of the Spanish president, Pedro Sánchez, during his participation in a colloquium at the World Economic Forum in Davos.
The Vice President of the European Commission, Frans Timmermans, has pointed out that "it is clear that there are possible improvements in the price system, but it cannot be changed from one day to the next and it must be done very carefully so as not to cause serious damage" . Timmermans understands that «Spain has a good proportion of renewables and pays for clean electricity at the price of gas, we have an agency that is dealing with that and the Commission is putting proposals on the table, but it is important not to destroy the markets along the way ».
His arguments, however, have not convinced Sánchez, who has insisted that "it is not so much a question of financing as of political will" and has stressed that "we have to talk about this now, because it makes no sense to pay these prices that end they reach industries and families. We have to be more ambitious at a European level, it is clear that it is always difficult to change the status quo, but we are at a defining moment and we run the risk of using the pandemic, the war in Ukraine, as excuses for not modernizing a market subject to financial speculation.
Sánchez has also boasted about the scope of renewables in the Spanish mix and has pointed out that southern Europe, and very particularly Spain, has the necessary capacities to respond to the shortage of gas supply from Russia, which threatens to paralyze economies like Germany. "We have the capacity, what is missing are the interconnections and in this sense the EU must think about how to establish them", he said, recalling that "Spain represents 37% of the total regasification capacity of the European Union", and that "together with Portugal it hosts about half of the EU's liquefied natural gas storage", suggesting that this time it may be southern Europe that rescues rich countries in the energy crisis triggered by the Russian invasion of Ukraine.
"This war has also given us a very important lesson, and that is that renewable energies, hydrogen, energy efficiency, are not only a great ally for countries and economies to face the efforts of climate change, but, in this complex and uncertain geopolitical scenario will also provide us with the means to increase our resilience and autonomy", he added.
View commentsTopics

Source link