Sánchez announces a budget modification to accelerate aid to La Palma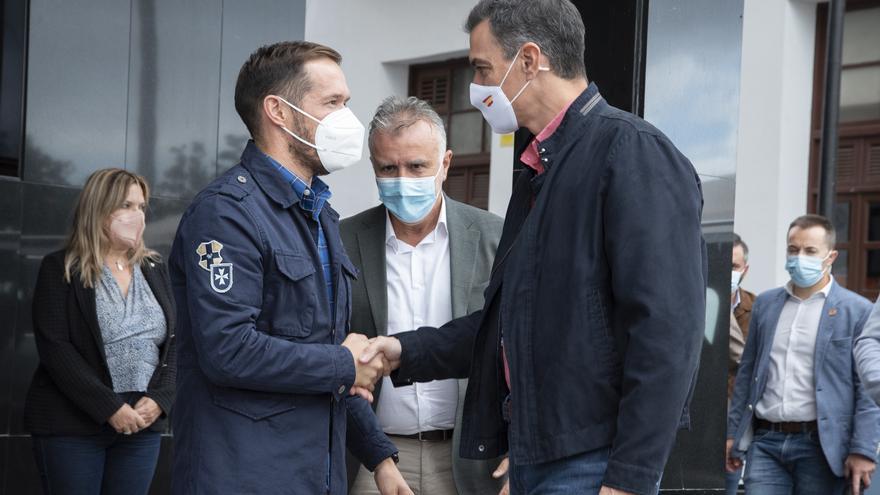 The President of the Government, Pedro Sánchez, announced this Saturday a budgetary modification to the Contingency Fund to accelerate aid to those affected by La Palma volcano eruption, especially in the areas of employment, agriculture and fishing.
This has been indicated during an appearance before the media with the president of the Canary Islands, Ángel Víctor Torres, and at President of the Cabildo de La Palma, Mariano Hernández Zapata, after attending the meeting of the Steering Committee of the Special Plan for Civil Protection and Emergency Assistance for Volcanic Risk of the Canary Islands (Pevolca).
"In the Council of Ministers this Tuesday we are going to make a budgetary modification to the Contingency Fund to further accelerate the arrival of resources from both the Employment Plan, some 63 million euros registered in the Reconstruction Plan, as well as aid from the Ministry of Agriculture and Fisheries, which is 6.8 million, "he said.
Sánchez added that, likewise, next Tuesday a new social shield will be approved incorporating an additional provision to correct the defects that the self-employed workers on La Palma, noting that "all the demands" raised by this group will be resolved.
On the other hand, the president reiterated the commitment of the Government of Spain with the islanders and with the future of La Palma, a future that, he said, will be "hopeful" once the eruption that this Sunday celebrates five weeks ends.
"The Government of Spain is here", says Sánchez on his new visit to La Palma
Likewise, he transferred all his empathy to La Palma tree citizens. "I personally take care of the so dramatic situation that they are living, what they feel and what they suffer, "he stated to urge them not to give up hope because the solidarity of all Spaniards" is here. "
"The Government of Spain is here, on La Palma, and we will be here each and every day that this crisis and each and every day after the lava ends. The Government of Spain is going to be here, where it has to be, "said Sánchez.
He explained that the objective is to give a prompt response to the emergency current and also to the task of reconstruction "so huge" that you have to do. For this, he stressed the unity of all administrations, something that, he understood, La Palma trees need.
"The example of unity is what the palmeros ask for and what they deserve, that we all work together, side by side, rowing in the same direction to transfer certainties, serenity, security and hope," he concluded.