Samsung Galaxy S22 Launch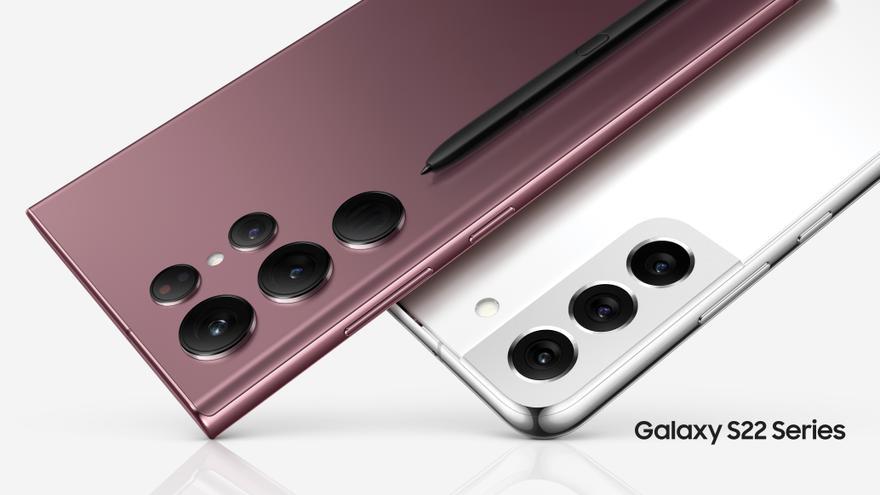 One of the most anticipated releases of the year is the new Samsung Galaxy S22 series that has been unveiled today. Discover all the news of the new devices
Samsung Electronics Co., Ltd. today introduced the Galaxy S22 and S22+, built with bold design and sustainable materials, designed to be beautiful and environmentally responsible. Both devices have built-in dynamic cameras with advanced intelligent image processing to make every moment epic. TM Roh, president and director of MX (Mobile eXperience) of Samsung Electronics, has assured that "the cameras of our smartphones have transformed the way we create, share and communicate. Through photos and videos, we express ourselves and connect with the people we care about."
The most revolutionary camera on the market
Galaxy S22 and S22+ offer next-level camera experiences, so people can connect and share from anywhere. Thanks to the revolutionary functions of Nightography of the Galaxy S22 series, such as the 23% larger sensor than S21 and S21+ and Adaptive Pixel technology, your camera is designed to let in more light, bring out details and capture colors that make your content stand out, even in the dark.
Both devices have a powerful 50 MP main camera, a 10 MP telephoto lens and a 12 MP ultra wide angle lens, which will achieve the highest quality photos. When shooting videos, the new auto framing feature detects and tracks up to 10 people and automatically adjusts the camera's focus so everyone is captured clearly. In addition, incorporate the advanced VDIS technology, which minimizes vibrations, with the aim of achieving smooth and clear recordings even when there is movement.
With the pro-grade AI camera features of the latest Galaxy S series, users can create, capture and share their best moments.

Galaxy S22 and S22+ are equipped with Samsung's latest AI technology that takes photos to the next level. In addition, getting the perfect shot in portrait mode is made easier by a new stereoscopic AI depth map and a sophisticated AI algorithm that makes even the smallest details appear much sharper and clearer. The subjects of your images will look better than ever. And this can be seen when you want to take pictures of your pet, as this mode prevents pet hair from blending into the background.
Smart technology
The 4nm processor is the most advanced to date in AI and ML, offering unmatched performance for all your computing needs. streaming and productivity of our users. Network behavior analysis speeds up application performance by automatically detecting which application is using it and directing most of the power towards it, so that the streamingbrowsing the web and apps are smoother than ever.
In addition to the blazing-fast processor, Galaxy S22 comes with a big all-day battery and 25W fast charging, and Galaxy S22+ has a super-powerful battery that can last even more than a day on a single charge and also has super-fast charging. of 45W.
The screen of both smartphones is Dynamic AMOLED 2x adaptive 120 Hz, designed to enjoy gaming and streaming to the fullest. The Galaxy S22 comes equipped with a 6.1-inch premium display and the Galaxy S22 Plus with a 6.6-inch one. Each screen is built with intelligent Vision Booster technology that automatically adjusts the screen to surrounding lighting and enhances color contrast, so you get the best possible view of your content. Additionally, hardware performance improvements have corrected screen brightness: the S22 peaks at 1,300nit while the S22+ peaks at 1,750nit.
They also allow you to always stay connected and be productive longer. Thanks to the collaboration with Google, users can enjoy the Google Duo live Sharing feature to view photos in Gallery with friends or write meeting notes with co-workers on Samsung Notes, even when they are in different places.
Perfect and durable design
Both Galaxy S22 and S22+ feature the iconic fan-favorite S Series Contour-Cut design that seamlessly integrates the camera into the back. To create a more elegant and refined look, Samsung built both devices with a distinctive flat screen, finished in a luxurious matte glass. Now, the S-series camera has been designed to match the color of the device's body, with a slim and symmetrical metal frame for a seamless look. The result is a balanced and unified design that is modern, elegant. Both Samsung Galaxy S22 and S22+ are available in Phantom Black, Phantom White, Green and Pink Gold.
Plus, this design is built to last: the Galaxy S22 series features Samsung's most durable mobile devices to date. Galaxy S22 and S22+ are the first S Series models made with Armor Aluminum, our strongest aluminum frame, so you can take your phone anywhere with peace of mind. The Galaxy S22 series phones are also the first smartphones to incorporate the new Corning® Gorilla® Victus®+ glass. They are equipped with this tough glass on the front and back, so users don't have to worry as much about accidental drops.
Also offering users the best possible performance and mobile experience, the entire Galaxy S22 series will be compatible with up to four generations of Android OS updates. In this way, millions of Galaxy users can further extend the life cycle of their smartphone without missing out on the latest security, productivity and other exciting features. Samsung will extend this effort across its entire product range to ensure the user is fully supported across its entire Galaxy ecosystem.
The Galaxy S series also makes it easy to fully customize each device. Users can use Samsung's new clean and intuitive One UI to customize the look of their home screen and widgets. From icon colors, widgets, color palette, and more, you can tailor your personal preferences to create a mobile experience that reflects your true personality. One UI also makes it easy to access a host of emojis, GIFs, and stickers directly on the keyboard, so users can instantly communicate exactly how they feel without having to type a single word.
Galaxy for the Planet: the sustainable future
As Samsung's greenest devices, the Galaxy S22 series pioneers mobile technology while supporting the planet. Plastic pollution poses a serious threat to the environment, and discarded fishing nets are especially harmful to marine life and the oceans. By collaborating with leading organizations, Samsung helps reclaim discarded fishing nets and transforms them into high-performance material for your smartphones. This material – used in the key holder of the Galaxy S22 series – contains 20% recycled plastic from discarded fishing nets. The Galaxy S22 series also incorporates post-consumer recycled material in its speaker module, as well as in the internal parts of the power and volume keys.
In addition to ocean-based plastics, 100% recycled paper has been used for Galaxy S22 packaging, along with a protective film made from recycled plastic. All cases are also designed with UL-certified eco-friendly materials, such as post-consumer recycled plastics or bio-based substances. These purposeful innovations are the latest example of Samsung's commitment to do more with less as part of Galaxy for the Planet.
Greater security
The Galaxy S22 series is protected by Samsung's Knox Vault security platform, which includes a secure processor and memory that completely isolates sensitive data, such as passwords, biometrics or Blockchain keys, from the phone's main operating system. The One UI indicator and privacy panel make it easy to see which apps are accessing data and the camera, so users can decide whether to grant or deny permission to each app. The Galaxy S22 series also introduces several new security features, such as the ARM microarchitecture, which prevents cyberattacks targeting the operating system and memory.
In addition, the Galaxy S22 series hits the market with Samsung Wallet, a perfect, comfortable and secure experience to facilitate our users' daily lives. Samsung Wallet combines digital payment, identification, keys and asset management in a single tool to simplify the different routines of each user, from showing the student ID to collecting travel documents before a flight.
Always connected
In addition to the new S22 series, Samsung is introducing a new line of tablets and an updated Galaxy Watch4 feature pack, so Galaxy users can stay connected in all aspects of their lives. Created for a new era of connectivity, the Galaxy Tab S8 series—including the Tab S8, Tab S8+, and Tab S8 Ultra—is Samsung's most versatile line of tablets, built and designed to meet the ever-changing needs of those who work, study, , play and create.