Salaries grew 2.9% last year, the biggest rise in a decade | Economy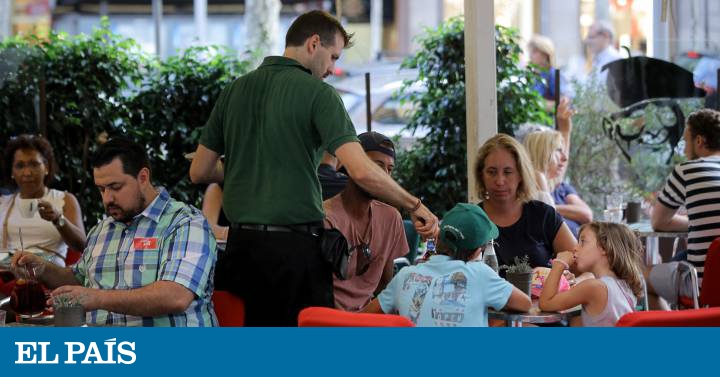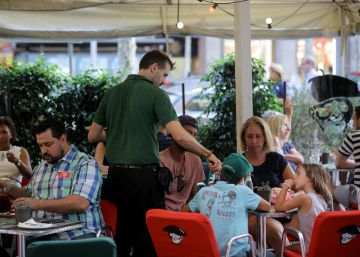 After the harsh crisis of 2008 and the recovery that began in 2014, wages finally begin to take flight. The average gross salary last year rose 2.9%, to 1,944.4 euros per month. This is an important increase, especially when compared to the most recent history: since 2011 there was only one year in which the 1% barrier was exceeded. According data from the active population survey (EPA) published on Friday by the INE, the comeback in wages has had to wait four years since the GDP began to rise.
The average salary of women was 1,708.4 euros, while that of men reached 2,161.3 euros, which implies a gap of 20.9%. In addition, men had a higher relative concentration in high salaries, since 35.1% had a gross income of more than 2,187.2 euros, compared to 24.5% of women.
The INE explains this gender inequality in underlying factors such as part-time employment or temporary employment, more frequent among women, who also work in lower-paid branches of activity.
The median salary (the one that divides the number of workers into two equal parts: those with a higher salary and those with a lower salary) stood at 1,642.3 euros, 3.26% higher than in 2017. 40% of the wage earners earned between 1,260.9 and 2,187.2 euros, 30% earned more than 2,187.2 euros and the remaining 30%, less than 1,260.9 euros.
There is also an age gap, as younger workers concentrate lower wages, while older workers have a higher relative weight in higher wages, which is also conditioned by the type of contract and seniority. in the workplace. In this way, the average gross salary goes from 1,091.7 euros per month for children under 25 to 2,205.6 euros for employees from 55 years of age.
The temporary gap was 35.1%, because wage earners with an indefinite contract received a monthly gross average salary of 2,142.2 euros, compared to 1,389.7 euros for temporary hired workers.
Training also influences the salary level, since the average salary received by employees who at most had first stage secondary education was estimated at 1,276.3 euros gross, while for those who had higher education it rose to 2,455.3 Euros
Working time is decisive, since working less than the usual workday implies a greater probability of being in lower pay periods. The average monthly gross salary of full-time employees was 2,177.1 euros in 2018, while that of part-time employees was 746.1 euros.
The highest average salaries were in the activity of supply of electricity, gas, steam and air conditioning (3,633.5 euros) and in financial and insurance activities (3,350.6 euros). The lowest corresponded to domestic staff (750.2 euros), hospitality (1,235.1 euros) and agriculture, livestock, forestry and fishing (1,249.8 euros).
Other variables reflect that the managerial positions earn more than the elementary occupations, that the salary increases with the size of the company and that in the public sector it is charged more than average than in the private one.
In the case of public employees, the INE explains that their best salaries are largely determined by the higher percentage of employees with higher education, by the lower weight of part-time work and the greater seniority.
The Autonomous Communities with the highest average salary were the Community of Madrid (2,264.6 euros), the Basque Country (2,241.8 euros) and Catalonia (2,067.6 euros), while the lowest average salaries were observed in Extremadura (1,612.3 euros), the Canary Islands (1,679.3 euros) and Andalusia (1,749 euros).
(tagsToTranslate) salary (t) grow (t) 2 (t) 9% (t) year (t) spend (t) greater (t) rise (t) decade (t) woman (t) earn (t) 1,708 euros (t) 2,161 (t) man (t) imply (t) wage gap (t) (t) 20 (t) 9%



Source link