Sainz: "The Royal Household is our best ambassador"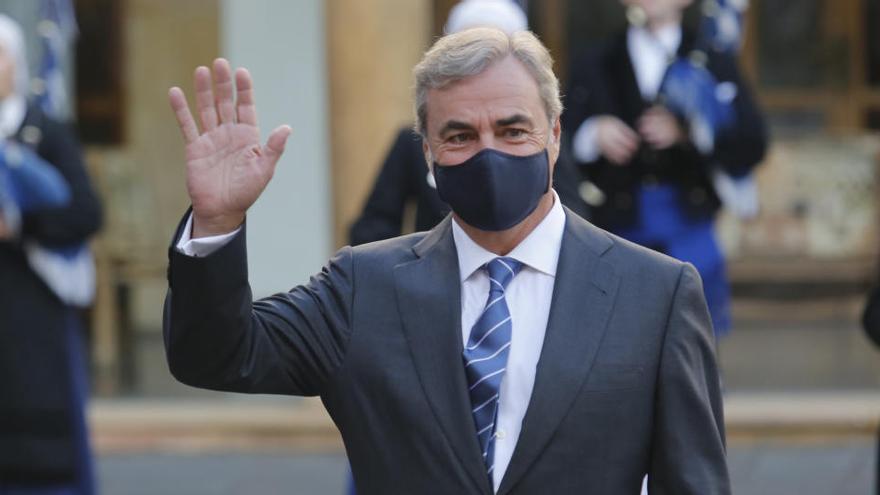 He Princess of Asturias award of Sports 2020, Carlos Sainz, has thanked the entire Royal Family "the unconditional support and affection that for so many years have shown sports in general and all Spanish athletes in particular. "" The Royal House has been and continues to be our best ambassador. "
This is how the Spanish rally driver, three-time Dakar Rally champion and two-time world rally champion, spoke during his speech at the 2020 Princess of Asturias Awards ceremony which was held this Friday, October 16 at the Hotel de la Reconquista in Oviedo. A celebration that in its fortieth edition, far from the Campoamor Theater, has reduced capacity and strict security measures.
Sainz has thanked the Monarchy, to the Princess of Asturias Foundation for the award, to the fans and his family; and he has sent a message of hope for young people to fight to achieve their dreams.
"During the last days I have given more laps to this speech than kilometers I have competed in a rally car and finally I have come to the conclusion that today is a day to say thanks," he said.
He thanked the Princess of Asturias Foundation and all the members of the jury for granting him this "so unique and special" award. "I am aware of the large number of athletes who could be here today in my place, so having been chosen is a tremendous pride for me," he explained.
Sainz has thanked the support of all the fans "for their passion and tireless encouragement". "In this very complicated year I want to make all Spaniards participate in this award and share with them my feeling of joy and gratitude. Throughout my sports career I have lived difficult moments that I have always been able to overcome with the help and warmth of the fans ", has an impact.
During your speech, He also remembered his parents, Antonio and Julita, to whom he sent a strong kiss, for having instilled in him the spirit of improvement and teaching the importance of personal effort. He also mentioned his wife Reyes and his three children Blanca, Carlos and Ana. "Without your support and especially without your understanding, I could not continue to be active at 58 years old and, therefore, I consider this award as mine as yours. ".
And he has remembered all those people and teams that in one way or another have been part of his long professional career, and especially those closest to him, who have always been by his side.
To end, Sainz has taken the opportunity to send a message of hope and optimism, especially the youngest. "A long time ago, when I was a child, I dreamed of being a driver and lifting trophies. An ambitious dream, a dream that seemed unattainable. Many years later, after two World Rally Championships and three World Rally Championship titles. Dakar, that dream continues more alive than ever and it is what pushes me to continue competing at the highest level ".
For this reason, he has encouraged the youngest to pursue their dreams with confidence, to fight for them, to be guided by illusion in their decisions and that effort, sacrifice and courage are their flag. "It will not be easy, they are not going to give it to you, but remember that dreams can be fulfilled and, above all, avoid the remorse of not having tried. Listen carefully and respectfully to the veterans, whom I also encourage to adapt to the new times and to continue active, enjoying life with passion ".
The winner of the 2020 Princess of Asturias Award for Sports concluded his speech by congratulating all the winners in the different categories and sending all his support "to the people who have been affected by this terrible pandemic that, without a doubt, we will be able to to win together, united and with responsibility ".