Sainz: "It's a great result, if you tell me before I'll take it without thinking"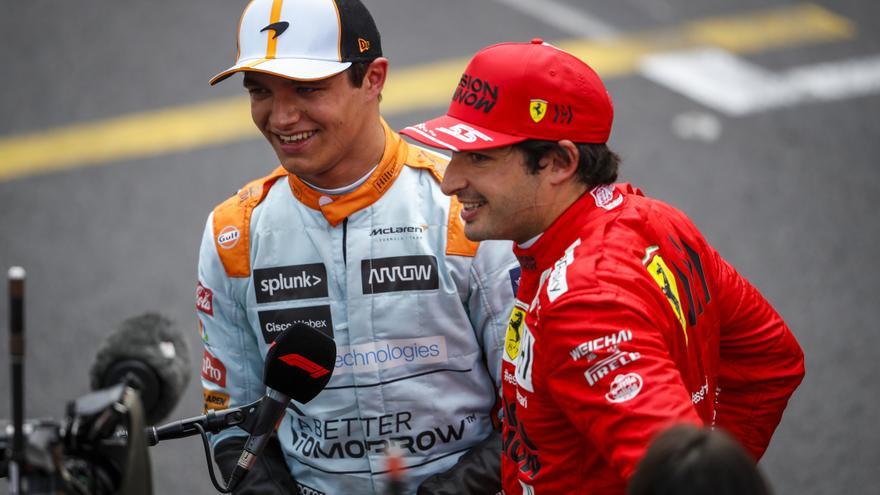 The Spanish Carlos Sainz (Ferrari), who finished second this Sunday in Monaco, where it equaled its best position in Formula One Y got his third podium since riding in the premier class, declared in Monte Carlo that he is happy with this "great result", which he would have taken without thinking if they had "told him before the Grand Prix".
"It is a great result. If you tell me before Big prize that finished second, I catch it quickly", he commented Sainz, 26, who signed his first podium with Ferrari, after being third in Brazil in 2019 and second in Monza (Italy) last year, both times with McLaren.
"However, given the circumstances of the whole weekend, it still doesn't taste that good," said Sainz, who on Saturday he was not happy with a fourth place in qualifying, in which he thought he could have achieved pole.
"But I am convinced that when I look back I will be very proud of this podium", said the talented Madrid rider this Sunday after finishing second in the Big prize most glamorous and important of the year.
Sainz shared the podium with two of his former teammates in F1, after a race won by Max Verstappen (Red Bull) -with whom he coincided at Toro Rosso-, the new leader of the World Championship; and that english Lando norris -his colleague the past two years at McLaren-, who is now third in the championship, finished third.
"I also think Ferrari will be proud of this second place," said Carlos in the post-race track interview, which was led by former Scottish driver David Coulthard and in which he joked with Lando Norris, with whom he enjoyed of a great relationship the past two seasons with the Woking team.
"I think that with the team we have made a great advance this season"; commented Sainz, who achieved, in his fifth race with Ferrari, his first podium with the 'Scuderia', his third in Formula One and the hundredth second of Spain in the premier category of motorsport.
"For me it was a great added responsibility the fact that, after (the Monegasque) Charles (Leclerc) signed the pole, he could not start the race today. We had a car on pole that couldn't start, but at least we got second place, "said Sainz, who with this result on the streets of the principality of the Côte d'Azur is already seventh in the World Cup, with 38 points.
"Then (the Finn) Valtteri (Bottas, from Mercedes, due to an error by his team in his pit stop) was left out and I advanced another place"explained the son of the double Spanish world rally champion of the same name.
"I had a good car, but I wanted to give the team a podium, so I'm happy with this result," added Sainz, who also joked with Coulthard, who pointed out the "great form" of the Madrid native.
"You're full. Don't sweat," the Scotsman snapped, laughing.
"The one who has lost something is you," the Spaniard replied, humorously again.