Sailing Latin, contest, Aguas de Teror The Unión San Cristóbal will come out first in the Memorial Contest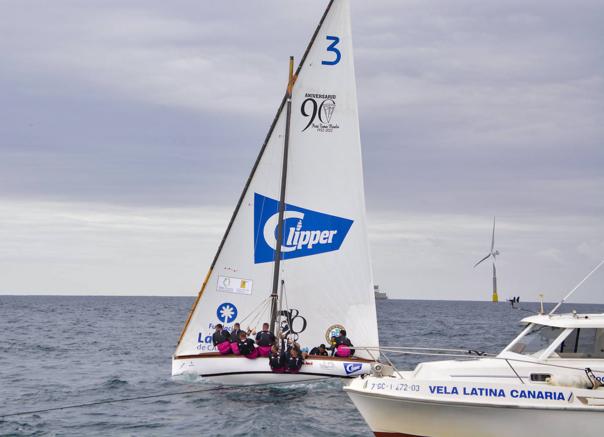 latin sail
The ragata that will be held this Saturday, starting at 5:00 p.m., will remember the figure of the minervista Manuel Cabrera La Fiera
The Unión San Cristóbal Restaurante Los Botes boat will be the first to take off this Saturday in the Vela Latina-Manuel La Feria Memorial Contest, third scoring event for the Gran Canaria Island Cup. A competition, after the first two contests, led by Hospital La Paloma Pueblo Guanche with 3 points, followed by Minerva Hotels Vistaflor - Idamar with 7 and Poeta Tomás Morales Clipper with 8.
This Contest will be in memory of one of the illustrious of our sport, Manuel Cabrera 'La Fiera'And it is that last March the traditional free participation contest could not be held, under the organization of the Sociedad de Vela Latina Canaria Minerva, due to bad weather conditions.
The output order is as follows:
Union San Cristobal Los Botes Restaurant, Tara del Mar Daida Dental Clinic Locksmith La Llave, Port Stevedores Fundación Belén María, Chacalote A Blue Thing in the Cloud, Spar Guerra de Río, Villa de Agüimes Ybarra, Disa Roque Nublo ULPGC, Villa de Teror. Puerto de la Luz Puertos de Las Palmas Foundation, Porteño Atlantec Sabor a Gloria, Poeta Tomás Morales Clipper, Minerva Vistaflor-Idamar Hotels and Hospital La Paloma Pueblo Guanche.
In its statement, the Canarian Latin Sailing Federation informs that the regatta can be followed live through the official channels on social networks of the Federation, and that the pertinent permits for the security device on land are still awaited.
For this Friday, at 5:30 p.m., at the Muelle Deportivo, the new Villa de Agüimes Ybarra project will be presented.
On the other hand, next Wednesday, May 4, at 11:00 a.m., also at the Sports Pier, the president
boat Tomás Morales will announce the various events that will take place on the occasion of the 90th anniversary from the boat of the populous neighborhood of San José.