Sabadell detects interest in TSB for more than 800 million euros for its sale in 2021 | Companies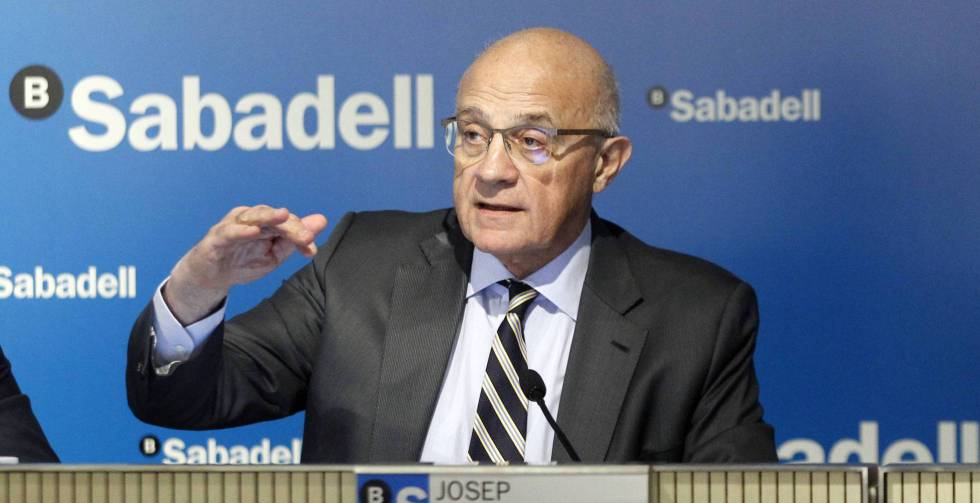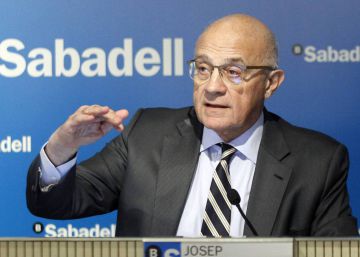 Banco Sabadell has already loaded its artillery to launch its private war that allows cost savings and efficiency improvements to live alone if it finally does not find a partner to close a merger in the coming months. With its plan B, it also intends to raise its valuation and start with a better situation to negotiate a share exchange with another bank for its merger, which could very well be BBVA again.
The entity chaired by Josep Oliu declared the talks with the blue bank also broken on November 27. The difference in the valuation of Banco Sabadell shares by BBVA over the price that the Catalan firm was asking for led Oliu to plant his counterpart Carlos Torres. Oliu demanded a price above the 25% offered by Torres. Oliu considers that Sabadell is worth more than 3,000 million, despite the fact that its capitalization is 2,076 million, since the entity is listed at a discount on its book value of 80%.
Sabadell has already explained that its strategic plan to continue alone implies synergies superior to those of its merger with BBVA in the terms proposed by the bank of Basque origin. It would be able to get closer to its book value, going from a price quotation of its value of 0.2 times to 0.4, according to calculations handled by the bank, financial sources explain.
But several financial sources, and even investment banks, consider that the BBVA-Sabadell option is one of the best for both banks, and they will not close the doors to resume negotiations in a few months. Once Sabadell has launched its new strategic plan, which it will present in the first quarter of 2021.
Meanwhile, Banco Sabadell has already started to survey potential interested parties for its British subsidiary TSB, now immersed in a reorganization plan. According to these initial surveys, several British investment funds, or banks in the country, without ruling out Banco Santander, would be interested in the purchase of TSB once this subsidiary has carried out its restructuring, although everything depends on the price. TSB's technology platform, which caused Sabadell so much trouble two years ago, is now its great attraction, as it is one of the most advanced in the British financial system.
Several investment banks place the value of TSB after its adjustment, which will occur in 2021, between 875 and 1.3 billion euros. Although there are also other firms, such as Barclays, which considers it unlikely that Sabadell will sell TSB at this time given the uncertainty about Brexit, according to a report released yesterday. Although if sold, he estimates that it would have a potential sale value of between 150 and 850 million euros.
Despite the fact that Sabadell has not set a date for the sale of its British subsidiary, its objective is, according to several sources familiar with the bank's project, to sell it in the second half of 2021, once all the provisions have been carried out, thereby its value will be considerably higher than at present.
Goldman
It will be then when Goldman Sachs begins the sale process. Only if the potential buyer pays around 275 million euros for TSB, the operation begins to be positive in capital ratios, even if the operation generates capital losses.
But while it has decided to leave the United Kingdom and focus on the domestic market, Sabadell now refuses to sell its bank in Mexico, a market in which it makes money and in which it considers it has growth potential. He believes that it is a profitable market for the group, despite the fact that its Mexican subsidiary is a small bank.
Sabadell is also seeking alliances with European banks. It has already begun to approach French, Italian and some Swiss banks. Sabadell already has an insurance alliance with Zurich, which it could strengthen.
Sabadell has already done business with BNP Paribas, to whom it sold its depository, or with Crédit Agricole (CA), a group to which its manager sold, acquired by Amundi, a CA subsidiary. Both French banks have publicly stated that they want to grow further in Spain. A Sabadell spokesperson has ruled out commenting on possible alliances with these entities. In the market there is also speculation about approaches for an alliance with Unicredit.
The bank will implement in 2021 a personnel adjustment similar to the one approved by the bank two weeks ago, for the departure of another 1,800 employees (representing a saving of 115 million). It will also transform a large part of its offices to focus on the SME business, its specialty and which it wants to further strengthen, while the retail business will exploit it more through digital channels, since this activity leaves fewer margins.
Bidders. The British bank Barclays yesterday issued a report in which it concluded that they consider it difficult to transfer the British subsidiary TSB of Banco Sabadell at a reasonable price, and position Banco Santander as one of the candidates to buy it. It maintains that if it succeeds in selling TSB at a reasonable price, BBVA could then offer 0.4 euros per share of the group chaired by Josep Oliu.
Savings. Following the recent agreement with unions to pre-retire 1,800 employees in Spain, the Barclays report foresees that cost reduction actions will focus on the bank's branch network. In this sense, it estimates that the closure of 5% of the branches would imply a restructuring cost of close to 50 million euros and would raise earnings per share by 6% (30 million euros before tax) in 2022.
Bank value in Mexico. On the other hand, it places the value of the business in Mexico between 100 and 400 million euros, which could reflect an impact of between 0 and 40 basis points in the CET 1 ratio.