Ryanair ignores the strike and does not cancel any flight in Spain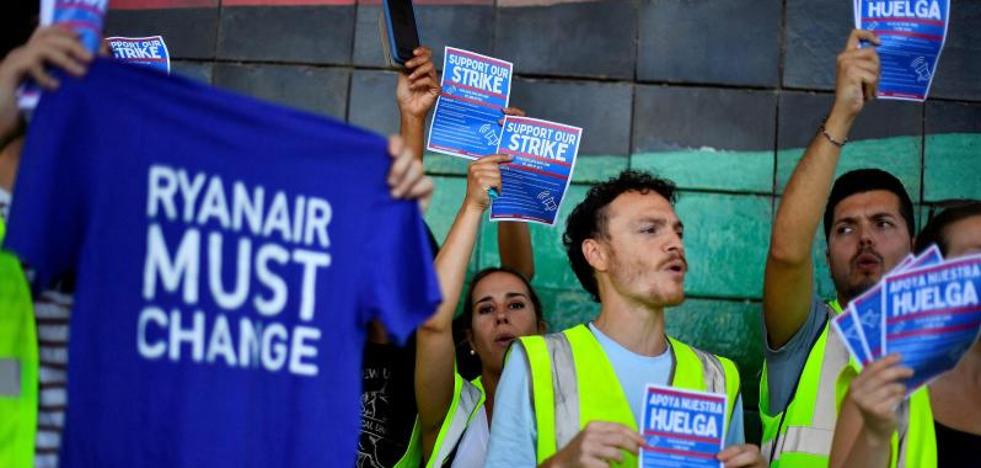 The stoppage of cabin crew will have little effect except on flights from Belgium, where the minimum services do not exist.
Ryanair decided this Friday, the first day of strike called by the cabin crew (TCP) of the Irish airline, to operate 100% of the flights it had planned in Spain, thus ignoring the announced strikes alluding to minimum services. Specifically, the company had a total of 438 flights operated by Spanish crew scheduled this Friday, all of which have been notified as minimum services, according to union sources. In addition, the company has summoned 80% more personnel than on a normal day to carry out "imaginary" shifts (shifts that take place inside the airport).
The USO and Sitcpla unions called a strike for the improvement of the conditions of the TCP on June 24, 25, 26 and 30 and July 1 and 2, in the ten bases of the airline in Spain. From the Ministry of Transport it had been reported that the strike will affect 2,649 operations and about 440,000 passengers in ten Spanish airports, for which minimum services were set that could reach in some cases up to 82% of scheduled flights.
But the unions denounce that Ryanair is "manifestly" failing to comply with the minimum services decree issued by the ministry since the airline wants to operate 100% of scheduled flights. The person in charge of Flight of the USO Air Sector, Ernesto Iglesias, criticized the measure imposed by the company: "They have curtailed and totally curtailed our right to strike." In statements to the media, Iglesias described as "abusive" the resolution of minimum services around 80% of the flights with arguments "as strange" as the NATO Summit meeting in Madrid the following week.
If the situation continues in this way, the strike will hardly have an impact on flights arriving or leaving Spain, except those whose destination or origin is Belgium, where there is no law that guarantees minimum services and the airline is having to suspend hundreds of flights. Between Friday and Sunday alone, the strike has forced Ryanair to cancel 127 flights arriving or departing from Charleroi airport (south of Brussels), where most of its activity in the country is concentrated.