Russian Soyuz MS-17 spacecraft lands in Kazakhstan with three crew members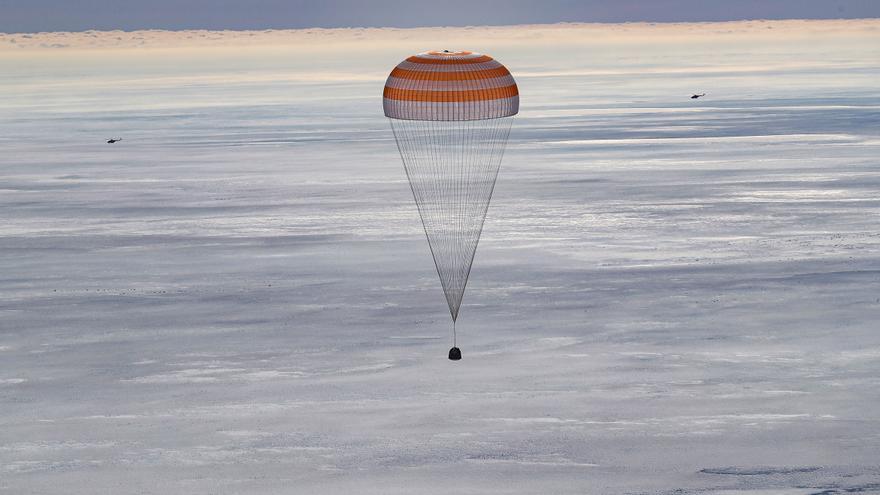 Russian manned Soyuz MS-17 spacecraft landed safely at dawn this Saturday in the steppe of Kazakhstan, according to the images broadcast live by the Russian space agency, Roscosmos. The descent capsule touched down at 04.56 GMT 147 kilometers southeast of the Kazakh city of Zhezkazgan with Russian cosmonauts Sergei Rízhikov and Sergei Kud-Sverchkov and the astronaut of the POT Kathleen Rubins on board. The three crew members have spent six months on the international orbital platform, where they have left the Russian cosmonauts Oleg Novitski, Pyotr Dubnov, the American astronauts Mark Vande Hei, Shannon Walker, Michael Hopkins, Victor Glover and their colleague from the Japanese agency JAXA Soichi Noguchi.
The capsule landed on the Kazakh steppe just over three hours after disengaging from the International Space Station. The first to leave the capsule, according to protocol, was the mission commander, Sergei Rízhikov, for which this was his second flight to the ISS. Judging by the first tests that were carried out on the crew of the Soyuz MS-17 on Earth, all three are in perfect health. Rízhikov, Kud-Sverchkov and Rubins stayed in space for 185 days, time in which they conducted about 50 scientific experiments. In November 2020, Russian cosmonauts in particular carried out a spacewalk that lasted seven hours.
The International Space Station, a project of more than 150,000 million dollars in which 15 nations participate, is currently made up of 15 permanent modules and orbits the Earth at a distance of 400 kilometers and a speed of more than 27,000 kilometers per hour.